Introduction and UEFI
Intel Skylake sixth-generation processors have been in the wild for some time now. There are, at the time of writing, 17 Core processors available, split over the i3, i5 and i7 families. In short, if you're building a decent PC box today, you need to be looking at these chips.
Motherboard support comes in the form of six chipsets - H110, B150, Q150, H170, Q170 and Z170 - though the enthusiast naturally veers towards the Z-series board because of its focus on overclocking and full feature set. Heck, you can even overclock 'locked' processors now.
Aggressive competition amongst the leading vendors has resulted in fine boards being available at the crucial £100 segment. Asus has the Z170-K, Gigabyte comes in with the Z170XP-SLI while MSI offers consumers the Z170A Tomahawk.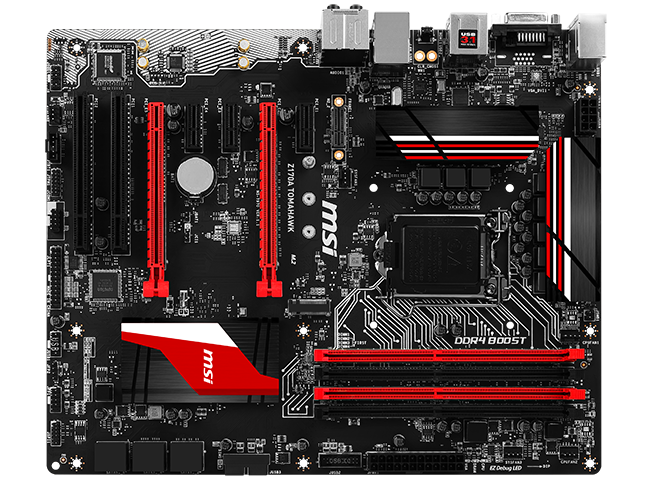 As you know, most manufacturers have reconsidered their line-ups and decided that it makes sense to populate the entry-level segment with features previously seen on mid-range and high-end motherboards from even two years ago.
This board falls under the newly-formed Arsenal banner - the colours are even reminiscent of the football team - and MSI has a few additional value-adds: it keeps the memory slots close to the PCB to minimise interference, so much so that official support is raised to DDR4-3,600 speeds.
There are LEDs a-plenty, too. The rear of the board is lined with red LEDs which give off a subtle hue and look good. XMP and diagnostic LEDs - CPU, memory and VGA - offer basic troubleshooting support.
Storage is provided by the usual six SATA ports from the chipset and a full-length M.2 situated just above the primary x16 PCIe and a second vertically mounted alongside. It's handy that the slots are a full x32 enabling the latest generation drives to fulfill their potential, though do note that running lots of I/O is likely to saturate the Z170 bus. Remember the SFF-8639 connector that was meant to be yet another conduit to super-fast storage? Well, it's now known as U.2 and the board features an optional card. We believe U.2 to become more popular as time goes on so it's good to see it available here.
The two nicely-spaced PCIe x16 slots have what MSI calls 'VGA Armor' which, it claims, makes the slots 35 per cent stronger. How? The rear of the board has more solder points than on previous MSI boards - we checked this visually - offering more defence against the slot bending under the weight of a high-end card.
So where are the shortcomings when the board costs £100? For starters, only AMD's CrossFire multi-card technology is present. Nvidia's SLI license costs additional money which naturally cuts into the small profit margins on these kinds of boards.
Expansion wise and high-speed connectivity are well catered for, with two PCI and three PCIe standard fare. USB 3.1 is represented in two forms; two Gen 1 headers off the board and going to a top-mounted chassis header, and four USB 3.1 (2x Gen 1, 2x Gen 2) on the rear. That's a decent array of speeds and add-in card potential.

It's pretty easy to spot USB 3.1. Gigabit LAN and 8-channel audio sit to the right of the ever-so-handy clear CMOS button which we always prefer to be on the back. Digitally, DVI and HDMI are sensible choices for outputting the onboard graphics but we'd also like to see DisplayPort make an appearance here; more and more mid-range monitors arrive with the connection in tow.
MSI has been sensible in adding useful extras to the base Z170 chipset, especially with the keen price point in mind. Let's hop on over to the BIOS.
UEFI Firmware
Click BIOS 5 is now available across all MSI Skylake boards. It's easy to use, intuitive, and split into six sections that are presented on both sides. Notice the 'buttons' on the top-left? A software version what is known as the Game Boost function is available here for motherboards that do not have the hardware buttons on the PCB, as with the Z170A Tomahawk. There's also a quick-set XMP button, too, and it works well.
Of particular note is how well the hardware monitoring and tweaking work. We believe MSI to have the best BIOS-based tweaking available from any company. Each fan's profile has four zones that are dragged to a new curve meaning you can set each very granularly; this is shown on the picture on the right-hand side.
Note that tweaking by temperature is only available to the CPU fan. The chassis' fans are based on DC voltage. Nevertheless, the system is good. There's a whole host of Windows-based tools that replicate the BIOS in the operating system, including a number of useful gaming apps and hotkey functions.