Introduction and BIOS
Competition for decent Intel Z170-based motherboards is hotting up nicely. Good availability of the two K-series Skylake processors is coupled with every board manufacturer now having a multitude of offerings in the marketplace. And you don't have to spend a great deal of money to purchase a perfectly serviceable Z170 - £100 buys you a base that's good enough for all but the real enthusiast. Gigabyte is also of this thinking, you see. The pick of the budget bunch is, arguably, the Z170XP-SLI, priced at £110, so let's take a look.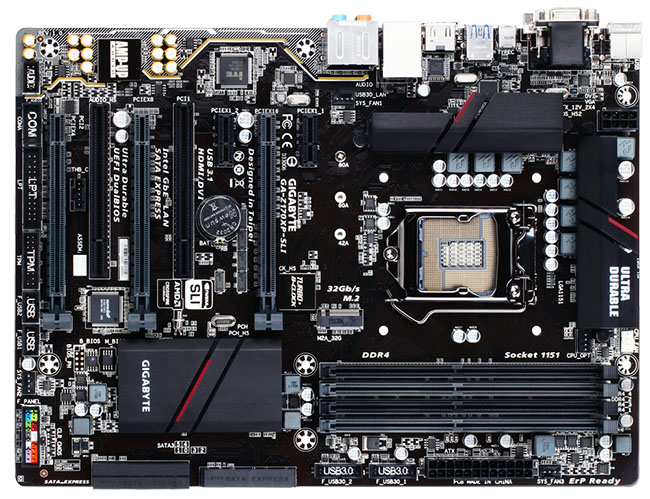 All the base ingredients are there for a capable board. Full-bandwidth M.2? Check. Three mechanical x16 PCIe slots? Check. Nvidia SLI and AMD CrossFire compatibility? Check. USB3.1? Check. Intel LAN? Check. Decent audio? Check.
This is a board that trims the features and overclocking excess used to sell so-called enthusiast Z170s. Many don't need voltage monitoring points, tonnes more SATA, debug LEDs, onboard buttons, improved circuitry and so on and so forth - though Gigabyte has you covered in case you do - meaning the Z170XP-SLI is the mass-market choice.
A deliberate lack of extra, uncalled-for features makes this a tidy-looking board. Installation of a massive Noctua NH-D15 cooler is a cinch. See the 8-pin ATX power connector? It's nicely rotated to enable easier connection of the thick cable.
The heatsinks are basic but perfunctory, and such is the spare space around the socket that Gigabyte has more than ample room for the full-length M.2 storage slot which connects to the backbone of the chipset at full speed. Five fan headers are enough, but it's hard to see all but the CPU's on first glance. For what it's worth to those of you with side windows, the PCB is actually a dark shade of brown, not black.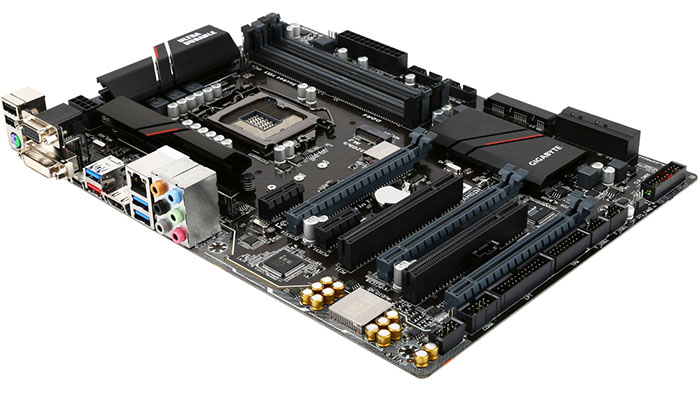 Gigabyte goes heavy on SATA Express storage by having 3 dedicated ports all emanating from the Z170 chipset. There's a dearth of compatible devices but as SATA Express doesn't use additional dedicated lanes of storage - M.2, SATA Express and certain SATA share bandwidth - there's no problem here.
PCIe lanes are spaced sensibly though the board's not primed for three-card usage because the third slot operates at x1 if all three slots are filled. Used in more common two-card formation, both have access to PCIe Gen 3 x8 bandwidth from the processor. Be aware that the third slot will always work at x1 should the top two be occupied by graphics, and this matters because anyone using an NVMe PCIe drive needs to take this into account. SLI or CrossFire along with NVMe PCIe is, for bandwidth purposes, a bit of a no-no. The smaller PCIe x1 slots are to be expected yet the inclusion of old PCI means Gigabyte wants compatibility to be the broadest possible.
It seems as if all motherboard manufacturers are installing their own dedicated base-clock generators; the Z170XP-SLI's offers support between 90-500MHz. And if you manage to screw up the primary BIOS by overclocking and tinkering too far, Gigabyte, as usual, has a second UEFI BIOS chip installed.
Realtek has been the go-to solution for premium onboard audio for a while now. The ALC1150 codec is teamed up with TI's OP1652 amplifier for decent sound. Intel weighs in again through the single Gigabit LAN.

Remember how we mentioned the board looks to cover all bases? It's not often you see a VGA output on a Z-series board. More common now are the Type-A and Type-C USB3.1 connectors running from an ASMedia controller.
Gigabyte championed a full-HD resolution UEFI interface recently. This seems to have been overlooked for a simpler, cleaner interface, dubbed Classic Mode previously, that we immediately feel more familiar with. Mouse movements remain a tad jerky but getting to the relevant sections feels far more intuitive.
The MIT section gives live readings of all the key parameters. Automatic upgrades are nice for the novice user but anyone expecting a 100 per cent overclock is going to be left sorely disappointed.
Gigabyte has a hit-and-miss affair with fan control. The preset parameters work well enough but going more granular causes confusion. Manual mode brings with it percentage values that correspond, in some fashion, to temperature. For example, the manual fan-speed percentages go something like this: '0.75 PWM value/°C' or '2.50 PWM value/°C'. Gigabyte needs to keep matters far more simple here by having a graph where individual fan speeds can be pushed and pulled to suit a particular temperature - Asus and ASRock use these successfully.
In Gigabyte's defence, the latest EasyTune and System Information Viewer Windows-based utilities do a far better job of replicating yet simplifying the BIOS in an operating system environment.