BIOS and software
MSI's BIOS has been updated to Click BIOS 5 although differences appear mainly cosmetic in nature compared to the predecessor. The BIOS still uses the same tiled design we observed in Click BIOS 4 whereby key BIOS functions are sorted into one of six blocks - settings, OC, M-Flash, OC profile, hardware monitor and board explorer. The majority of the performance tweaking options are nestled inside the OC tab where you can overclock the CPU, DRAM and tune various voltages and frequencies.
The software focus of MSI continues to be organised around Command Center which is the primary software for tweaking the CPU, DRAM and IGP as well as tuning fan profiles. A software version of the Game Boost function is also available here for motherboards that do not have the hardware button, board's that get the hardware button, the M7 for example, also support the software version.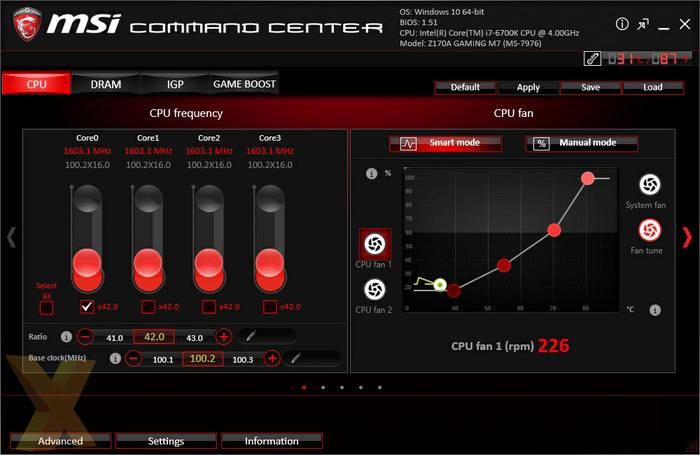 Much of MSI's software portfolio remains largely unchanged since Z97 but has been updated to support Skylake and Z170, these include tools like MSI LiveUpdate, which handles motherboard software and driver updates, and EcoCenter, which allows the user to turn off specific hardware controllers to save power.
The new focus of MSI's Z170 motherboards is the Nahimic audio processing software which is created by the third-party vendor Nahimic but is exclusive to MSI notebooks, All-In-Ones and Z170 motherboards. Nahimic allows the user to tweak various elements of their audio profile including bass boost, virtual surround and voice clarity. Additional tweaks such as volume normalisation and noise reduction can be applied to the microphone while a HD AudioRecorder function applies these audio tweaks to the audio stream before feeding that stream into XSplit GameCaster.