Introduction
Asus has augmented its considerable Intel X99 motherboard line-up with the recently announced TUF Sabertooth X99. Carrying a unique aesthetic and designed for users who need server-style reliability and enhanced five-year warranty, the TUF is a good fit for the high-end aspirations of the X99 chipset.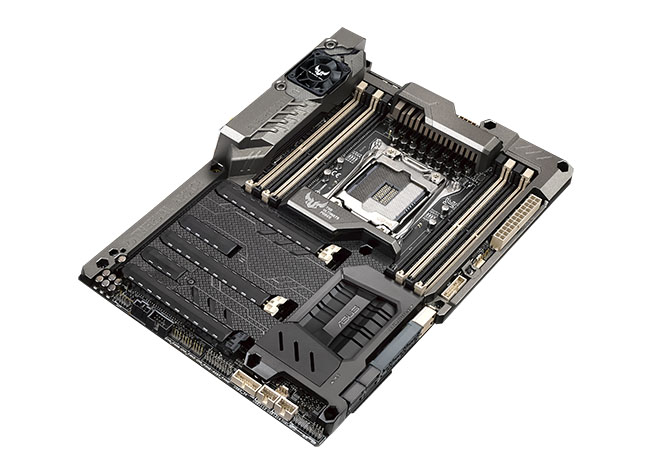 The Ultimate Force (TUF) boards span the B85, Z77, Z87, Z97 and X99 chipsets from Intel and 990FX from AMD. The X99 is the priciest of the bunch, understandably so given the platform, and retails for £300 in the UK.
What sets it apart from other X99 boards is its unique look and focus on extending reliability. TUF Armour envelopes the board to provide a first defence against dust build-up. The sheer weight of the board provides insight into Asus' all-round thinking, with a TUF Fortifier metal backplate adding an extra layer of rigidity over what is commonly seen. Does it make sense? There's no bowing when two Nvidia GeForce Titan X cards are in their respective slots and, Asus says, such a backplate reduces board temperature by up to 6°C.
Asus doesn't encroach on the CPU socket but uses every spare millimetre to cram in two large, heatpipe-connected heatsinks whose output is channeled upwards by a bundled, optional 'assistant' fan in the top-left corner. A 10-phase power supply should help keep things running smoothly when the CPU is overclocked, too.
The Taiwanese firm was the first to debut a specific LGA2011-3 socket designed for overclocking, known as OC Socket, and Asus is planning to release a 'CPU Socket' tool that makes it easier to remove and install a processor without damaging the pins underneath.
Four four-pin fan headers, plus two for the CPU, are standard fare on a premium motherboard and like other TUF versions we looked at in the past, additional so-called assistant fans can be connected for enhanced cooling. That's 11 in total on a single board, folks.
There are two more features that separate this TUF board from others in the range. The first is the Thermal Radar 2 feature that offers customised fan tuning, at-a-glance temperatures, and a myriad of other features which we'll come to later. The second is more interesting.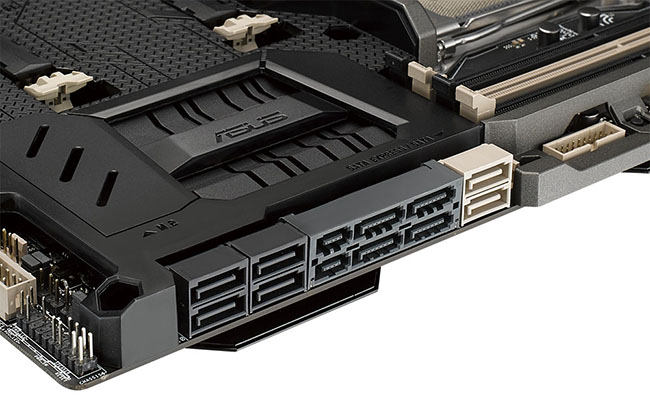 Asus goes heavy on SATA with provision for up to 10 ports, including SATA Express via the platform controller hub. The interesting part is that Asus bundles in a Hyper Kit that enables connection of a new breed of NVMe-compatible SSDs. The recently reviewed Intel SSD 750 is a case in point, connecting to the motherboard via PCIe x4, though the Asus-specific kit provisions for 2.5in drives using the newer SFF-8639 connector - the SSD 750 is available in this flavour - to also ride off the PCIe bus.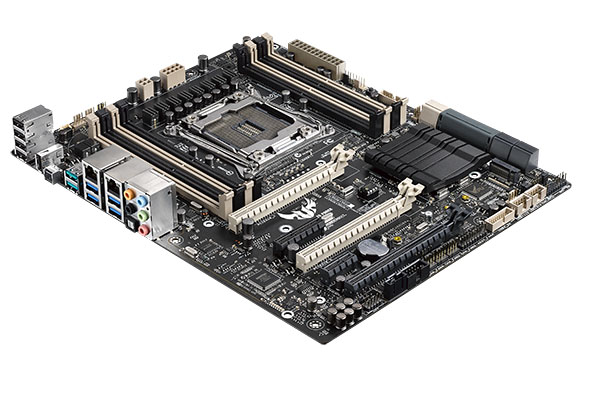 Stripped of its TUF covering, the X99 Sabertooth looks much like any other Asus motherboard of late. Three mechanical x16 slots work electrically at the full x16 for 40-lane CPUs (Core i7-5960X and 5930K) and x16/x8/x4 for the popular 5820K.
Releasing the board later than other X99s gives Asus the opportunity of adding USB 3.1 support by way of an ASMedia chip. The M.2 slot, also used for the newest generation of drives, connects to the system via PCIe Gen 3 x4. Knowing this, the third PCIe x16 slot shares the same bandwidth so both cannot be used concurrently.

Back in TUF regalia and looking at the rear, two Gigabit LAN ports (Intel and Realtek), two USB 3.1, a further four USB 3.0, four more USB 2.0, and audio jacks for the ALC1150 codec make up the expansive outputs.
The BIOS is practically identical to the Deluxe's, but there is one new feature worth talking about. Dubbed TUF Detective and connecting to a particular USB port on the back through a wire, users can attach an Android smartphone and app that shows at-a-glance information such as frequency and voltage, as well as being able to reset and start the system. It would be nicer if this was accomplished via Bluetooth or WiFi, though.
Asus has a collection of that provides some of the best fan-control available on any motherboard. Thermal Radar 2 provides the thermal status of 10 motherboard sensors - one more than the Z97 version - plus up to three additional probes that are in the bundle. Likewise, offering an array of options, up to 11 fan headers can also be monitored and controlled with a few clicks within this Windows-based GUI. Each fan's speed is carefully controlled through setting points in relation to temperature.
Hot on software and tidy in terms of hardware, let's get to the benchmarks.