Introduction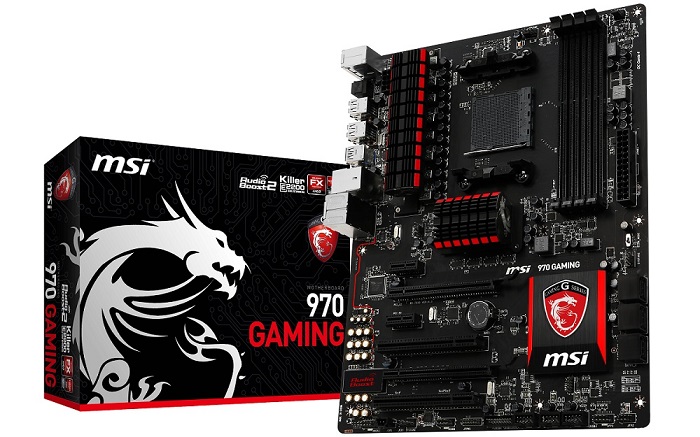 AMD's AM3+ socket and associated chipsets have been on the market since 2011, which is a long time in the fast-moving world of desktop PC technology. The age of AM3+ poses a challenge for consumers looking to get the best value for money in their next build. AMD's CPUs may be hitting the right notes on price to performance but the rather dated selection of AM3+ motherboards are less compelling, pushing a lot of consumers towards Intel's newer Z97 platform that's flooded with choice.
MSI is looking to change that with its 970 Gaming motherboard which revitalises a stagnant AM3+ motherboard market. As its name suggests, the 970 Gaming makes use of AMD's 970 chipset, which is not quite as high-spec as the 990X or 990FX chipsets, granted, but the choice of the lower-end chipset does allow MSI to hit an aggressive price point of £80 here in the UK. From a feature perspective the MSI 970 Gaming is as good as more expensive Z97 equivalents such as the MSI Z97 Gaming 3 and Gaming 5.
For a gaming motherboard the MSI 970 Gaming ticks all the usual boxes. The audio department is well-covered with the top-of-the-line Realtek ALC1150 codec and MSI's AudioBoost package which consists of gold-plated connectors, dual headphone amplifiers, EMI shielding and high-spec Nichicon capacitors. Networking is handled by the latest Killer E2205 Gigabit NIC, meaning it's the same network controller found on the MSI Z97 Gaming 3, 5 and 7 motherboards.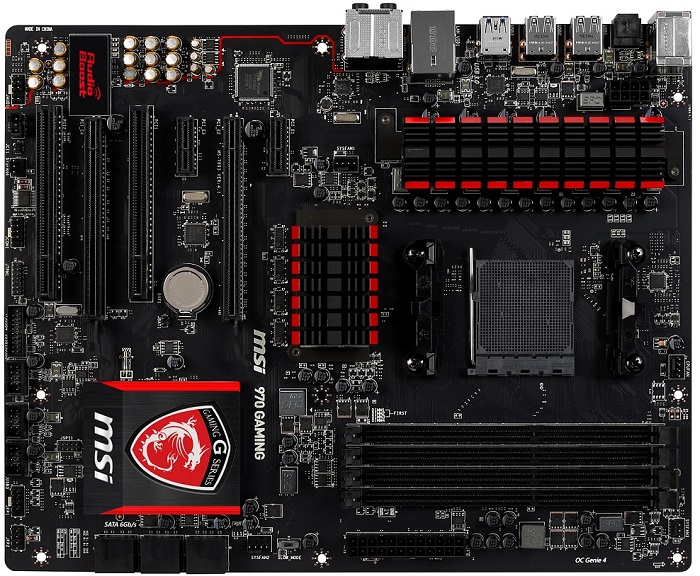 There's a reasonably stylish design on offer too, with the MSI 970 Gaming one of only a few AM3+ motherboards to get the red-and-black treatment that includes a matte-black PCB. The meaty heatsinks give the board a premium feel, and we think that the product is a strong offering for consumers who lean towards AMD CPUs.
The MSI 970 Gaming offers dual-GPU support that's certified for AMD CrossFireX and Nvidia SLI since the board sports two PCIe 2.0 x16 connections with x16 and x8 electrical wiring, respectively. Storage is reasonable enough, too: there are a grand total of six SATA 6Gbps ports on offer, identical to Z97.

The rear I/O differs slightly from most motherboards insofar as there are no video outputs as AMD FX CPUs lack onboard graphics. This frees up some extra space for USB connectivity where MSI delivers a healthy eight USB 2.0 and two USB 3.0 ports - the latter are provided by a VIA controller. Six analogue audio ports, an optical audio S/PDIF and Gigabit LAN round up the rest of the rear I/O.