Introduction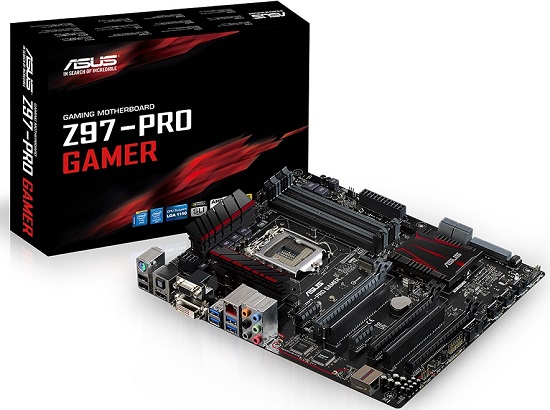 Intel's release of the Pentium G3258 Anniversary Edition processor was a significant move by the company, marking a shift in focus to more affordable market segments. Enthusiasts and gamers alike can now build overclockable systems for a fraction of the previous starting price when a Core i5 was the minimum baseline.
With an MSRP of £55 ($70) the Pentium G3258 requires motherboards that are also aggressively priced, but Intel still wants consumers to use the Z97 chipset to access overclocking functionality. Thus the Anniversary Edition launch spurred a new wave of motherboards from vendors designed to target Pentium G3258 users, and the ASUS Z97 Pro Gamer is one of those boards.
At just over £100 in the UK the ASUS Z97 Pro Gamer joins a fiercely-contested market segment. Every other major vendor has a gaming motherboard at this price point: ASRock has its Fatal1ty Z97X Killer, Gigabyte has the Z97X-Gaming 5 and MSI pushes the Z97 Gaming 5.
The Z97 Pro Gamer, though, is a landmark release from ASUS in that it's the first time the company has released a gaming motherboard for Intel's premium platform that doesn't wear the ROG attire. The Z97 Pro Gamer is part of the fairly new ASUS Gamer series which includes the H97 Pro Gamer and the A88X Gamer.
While geared towards Pentium G3258 users the Z97 Pro Gamer is just as capable for consumers with top-flight Haswell CPUs looking to save a bit of money to allocate to other system components such as the all-important graphics card.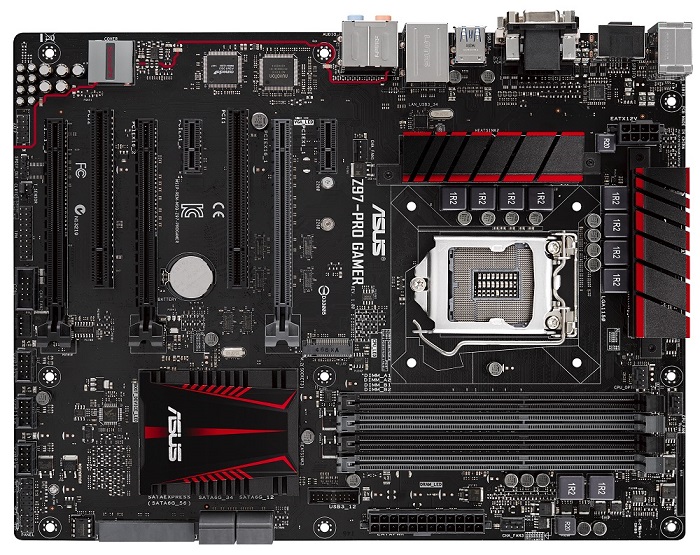 A brief visual assessment of the board indicates it's akin to an ROG board of a generation ago - i.e. Z87. It may be affordable but the ASUS Z97 Pro Gamer has all the hallmarks of a good gaming motherboard. There's support for dual-GPU configurations, high-quality audio with PCB isolation and an Intel I218V Gigabit networking chip.
The traditional black-and-red theme associated with gaming motherboards is also implemented by ASUS here, although it's not as stylish as the current Z97 ROG lineup. ASUS has opted for the full storage implementation of Z97 with this board; SATA Express, M.2 and SATA 6Gbps. That storage flexibility, while not gamer-specific, is a noteworthy inclusion since some rival boards have ditched the SATA Express element.

Around the back of the board we find an I/O implementation that's a couple of USB ports lighter than rival offerings. That said there's still a comprehensive selection to suit most users' needs. The RJ45 port makes use of the ASUS 'LANGuard' meaning additional ESD guards and surge protection compared to a typical port.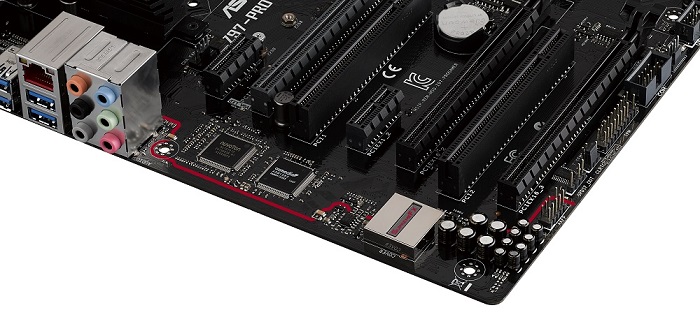 The ASUS Z97 Pro Gamer is one of the company's most affordable Z97 motherboards to get the flagship Realtek ALC1150 codec. That high-quality codec is blended with ELNA premium audio capacitors, EMI shielding, PCB separation and a headphone amplifier for an experience that's comparable to discrete entry-level soundcards.