Layout, features and BIOS
It's perhaps surprising how many motherboard manufacturers see merit in producing micro-ATX boards based on Intel's X99 platform. Requiring a huge socket for the LGA2011-v3 processors and at least four DIMM slots for quad-channel operation, plus a mandatory x16 PCIe tasked for graphics, layout for such boards is imperative, particularly if the motherboard maker wants to add additional features on top.
ASRock embraces the X99 chipset enthusiastically with two boards that retail at below £200 each. The best version is the £185 Fatal1ty X99M Killer - positioned as a gamer-optimised base on which to build a capable small-form-factor system.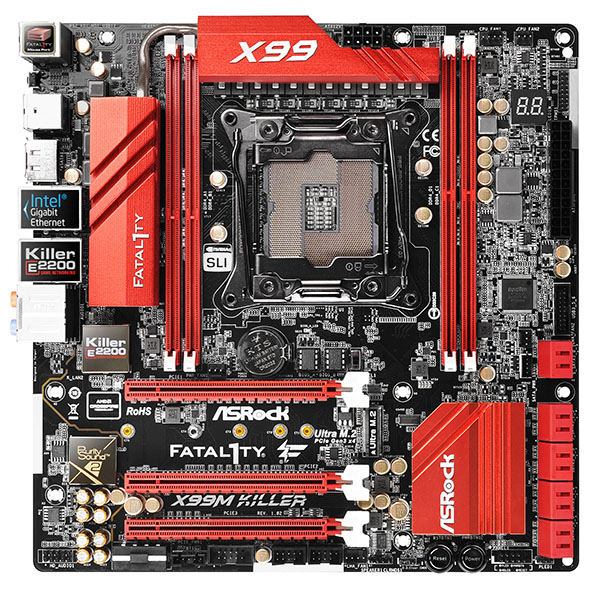 Subjectively speaking, the board looks great, with the red contrasting well against the black PCB. ASRock keeps the four DIMM slots very close to the socket, primarily to shorten the trace distance and potentially aid when overclocking, and then squeezes in a large heatsink on the left-hand side. Power is fed to the CPU via a 12-phase design, and the company improves upon generic components by using well-regarded Nichicon 12K Platinum caps and alloy chokes.
And while the X99M Killer doesn't have the full heatpipe array present on, say, the Gigabyte X99M, the sturdy heatsinks surrounding the socket are linked by a thick 'pipe. Checking off the enthusiast wish list by having both a debug LED at the top and power/reset buttons on the bottom, ASRock's compact board maxes out storage potential by specifying 10 SATA 6Gbps ports that are rotated on the right edge of the board. Sensibly, SATA Express, supported by very few drives, is given a miss here.
The company is keen to point out that the nascent M.2 storage standard is supported in all lengths - 30mm to 110mm - and at bleeding-edge speeds. The M.2 slot hitches right onto four of the CPU's PCIe 3.0 lanes, rather than the heatsink-clad PCH's, meaning there's a potential 32Gbit/s (4GB/s) on tap, but be aware there are very few super-fast drives available at the time of writing. The same slot also services SATA-interfacing M.2 SSDs, too.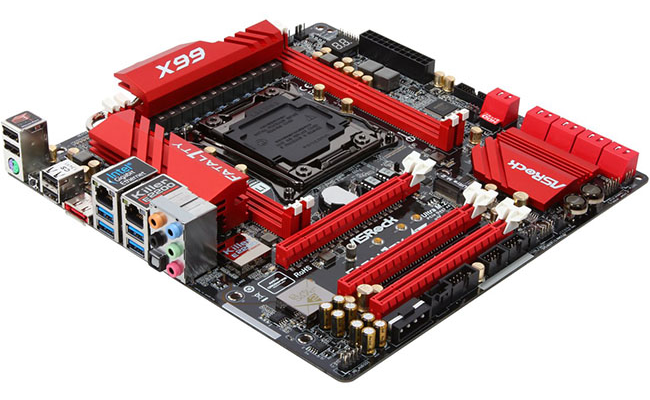 ASRock finds further space for dual BIOSes, upgraded audio through the Realtek ALC1150 codec interfacing with Nichicon audio caps and a Texas Instruments NE5532 headset amplifier. Collectively the audio is known as Purity Sound 2 and, ASRock says, able to produce a 115dB signal-to-noise ratio, supports high-impedance headphones, and has baked-in EMI shielding. Cooling is taken care of by four fan headers - two grouped by the debug LED, used for CPU fans, and two more found in the middle and at the bottom, though only the primary CPU's is of the preferred four-pin variety.
The board's Killer name derives from the Qualcomm E2200 networking that prioritises gaming traffic over general Internet browsing. Qualcomm has marketed this particular feature well, and motherboard manufacturers have followed suit, but ASRock also includes a just-as-capable Intel Gigabit I218V NIC for secondary LAN duties. It's little touches like these that elevates the Killer above more basic boards in its class.
The Killer bifurcates graphics performance into three mechanical x16 PCIe slots that work at x16, x16 and x4, respectively. Both SLI and CrossFire is covered, but we'd actually prefer the second slot to be x4 electrically, rather than x16, enabling the usual second graphics card to be placed at the bottom, run at full speed, and have an adequate airflow gap between it and the primary slot. It's worth knowing that the 28-lane Core i7-5820K will run graphics at a maximum x16/x8 when two cards are used in a multi-GPU configuration.
BIOS-wise, ASRock strikes a fine balance between features, speed and ease of use. Navigating through the pages is very quick and everything is laid out in an intuitive manner. There's been no new BIOS since the 1.60 release in October of last year, which is surprising, but we had no problem booting memory at 2,800MHz (100MHz base clock) - something which other boards have struggled with.
ASRock also makes it clear that no behind-the-scenes overclocking is taking place by leaving the multi-core enhancement disabled by default. Easy overclocking is achieved on the Core i7-5960X by activating the 4GHz setting that adjusts other frequency and voltage parameters too.
The two CPU fan headers are grouped together with respect to fan-speed control, and, cleverly, the fan speed can be set at a certain percentage at various temperature levels. ASRock makes it very granular, as well, because the temperature and fan-speed percentage can be set in one degree/percentage increments (30°C-80°C, 20%-100%, respectively). If that's too complicated, fan control can also be set to 'silent', 'standard', 'performance', or 'full' speed.
And there's also the usual full gamut of extras, from updating the BIOS via USB or the web to saving profiles and at-a-glance settings for installed components. Much like the board itself, the BIOS is simple and effective.