Layout and BIOS
Chip company AMD is having to play the value game in both CPU and GPU markets. There's nothing wrong with this strategy, of course, but it needs retail partners to be fully cognisant of the messaging. Take the latest 'Kaveri' APUs as an example. They work best when paired with a value-based motherboard, further strengthening AMD's bang-for-buck.
But manufacturers tend to seed press with deluxe boards that usually elicit the same reaction going along the lines of 'a cheaper version would be almost as good.' We've seen MSI and Gigabyte provide £80-plus boards that take some shine away from the overall proposition.
So how about an AMD Kaveri-supporting A88X motherboard priced at just £40? That would surely get some attention, right? The MSI A88XM-E35 is that board and we have it under the spotlight today.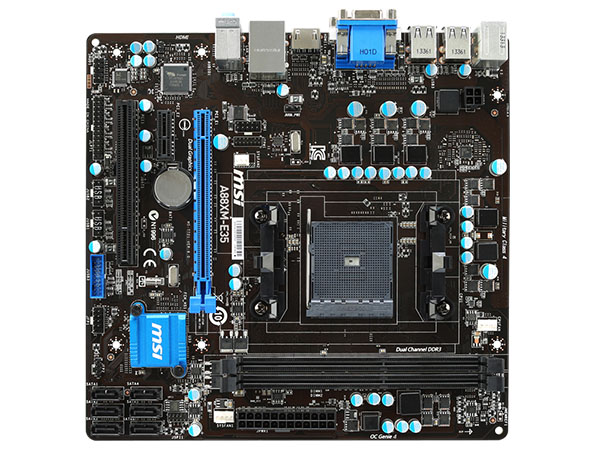 Such aggressive pricing means that the vast bulk of the features are driven by the A88X chipset - which, remember, is the premier solution for the latest APUs - and, saving cost, the board is presented in a standard micro-ATX form factor.
You don't miss out on much compared to premium-priced offerings, though, as there's still four USB 3.0, eight USB 2.0, six SATA6Gbps supporting four flavours of RAID, Gigabit Ethernet, solid high-definition audio, and a trio of expansion slots - PCIe 3.0 x16, PCIe x1, and PCIc. There's no provision for regular CrossFire graphics though APU+GPU Dual Graphics is enabled.
Though cheap as chips, MSI uses solid capacitors and dark chokes that together form the basis for the 'Military Class 4' specification. We have no hard-and-fast empirical data to suggest that these are better standard components, but they're worth having when shelling out just £40.
A lack of onboard buttons is a benefit here because it enables the board to have a clean layout. Understanding the product positioning and intended market means we're not miffed at having only two DIMM slots; 16GB (2x8GB) of DDR3 memory is readily available and supported at up to 2,400MHz speeds here. Thinking about the little things, the left-hand DIMM slot holders can be fully disengaged while a graphics card is in situ.
A single 3-pin and two 4-pin fan-headers are enough for the kinds of chassis we expect the board to go in, and with no cards obstructing the SATA ports it makes sense to have them facing up for easy clip-in. You'd lose the use of the PCIe x1 slot should a high-end graphics card be used, but that's the nature of the micro-ATX beast.
Realtek's oft-used ALC887 Codec handles audio duties while the company's ubiquitous RTL8111 Gigabit Ethernet controller interfaces with AMD's networking PHY. There's really not much we'd change, if anything, from the layout, especially considering the budget price tag.
A word of advice for those looking for the clear CMOS jumper - it is located directly below the battery, sandwiched between the PCIe x16 and PCIc slots, and referred to as 'JBAT'. There's no jumper as such, so you'll have to short the two pins in order to clear the BIOS.

Catering for the widest market, the A88XM-E35 is equipped with the usual trio of VGA, dual-link DVI and HDMI. Fans of 4K resolutions, for productivity on this motherboard, will be pleased to know the HDMI port supports 4K output, albeit at 30Hz, when an FM2+ (Kaveri) APU is used.
BIOS
Surprisingly for a budget board, the BIOS isn't a cutdown version that's a mere afterthought. The six-panel configuration surrounds the logo and is, as far as we can tell, a very close approximation of the one present on the £95 A88X-G45 Gaming. Clicking on each opens up a vast subset of options. Do be aware that clicking into any subscreen removes the right-hand trio of options; you have to click back to recover them.
Echoing what we've said before, we'd prefer MSI to use easily-navigable sub-pages rather than one long list, as is the case here (central image); looking at over 30 options can quickly become confusing for the novice user.
MSI's also improved the hardware monitoring side of things from two years ago. You are able to set each fan's speed individually by pulling and pushing the points on the graph window. It's intuitive, works well in practise, and is one of the better fan-control systems out there.
The BIOS can also be updated without having to go into the operating system. We did just that, upgrading to the latest v30.3 that, along with general improvements, also has baked-in support for DDR3 2,400MHz memory. You certainly get a lot for a £40 board.