The board
Intel's release of 4th Generation Core processors back in June not only ushered in a slew of new CPUs but also introduced a number of associated chipsets and motherboards. The enthusiast-grade Z87 got much of the attention, yet look further down the stack - Q87, Q85, H87, and B85 - and there's good value to be had elsewhere.
Select Intel 8-series chipset

Chipset

Z87

H87

B85

CPU Overclocking Support

Yes

No

No

CPU PCIe Configurations

1 x16 PCIe 3.0

1 x16 PCIe 3.0

1 x16 PCIe 3.0

or

2 x8 PCIe 3.0

x

x

or

1 x8 + 2 x4 PCIe 3.0

x

x

Chipset PCIe Lanes

8 PCIe 2.0

8 PCIe 2.0

8 PCIe 2.0

Native USB 3.0 Ports

6

6

4

Native USB 2.0 Ports

8

8

8

SATA 6Gbps Ports

6

6

4

SATA 3Gbps Ports

x

2

2

RAID Support

Yes

Yes

No
Focussing on the value-conscious chipset, B85, Intel simplifies the features by removing the multiplier overclocking support for the K-series chips, limiting the PCIe lane sharing for graphics cards (so no official support for SLI or CrossFire), reducing USB 3.0 support from six ports to four, reorganising the SATA ports into four SATA6 and two SATA3, and removing the RAID capability inherent in the Z87.
The reductions, though many, actually make a lot of sense for a lower-cost motherboard. Most cheaper systems run with a single discrete graphics card, no more than two storage drives, and are rarely overclocked. Starting at below £50 for the cheapest B85s, value is very much key.
But supposed value hasn't stopped industry giant Asus from producing a B85 chipset-based board with a twist. Enter the £70 Vanguard.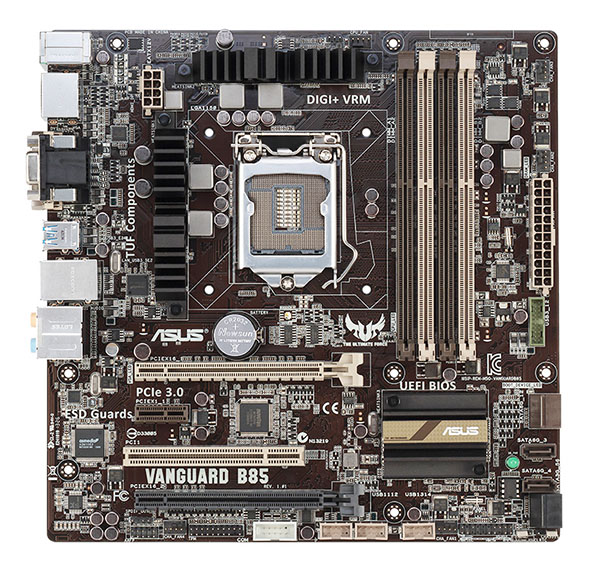 The Vanguard B85 is part of the Asus TuF family and it shows via the distinctive colour scheme. Keeping costs in check, microATX is the obvious form factor for the B85 chipset. Layout is surprisingly good, with plenty of room around CPU socket and beefed-up heatsinks. The board supports all LGA1150 CPUs, as you'd expect, but we'd likely pair it with a dual-core Haswell chip for the value reasons detailed above.
Two of the board's four USB 3.0 ports are accessed by a PCB-mounted header, attaching to a cable running up to the front of a case. Asus bumps up the B85 specification to six ports - with four at the back - by adding an ASMedia 1074 controller chip.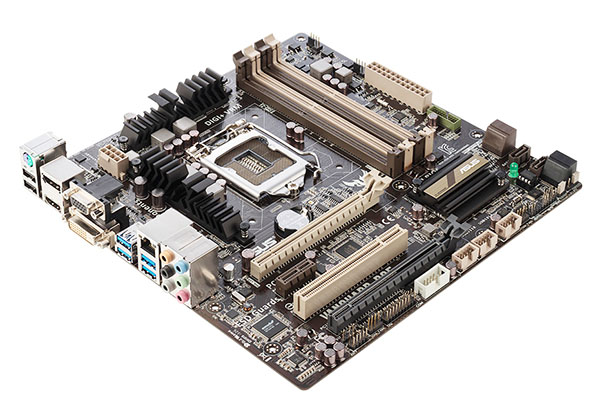 A total of five fan-headers is generous, and all are of the preferred four-pin variety. Interestingly, Asus decides to add a second x16 PCIe slot for multi-GPU usage via AMD's CrossFireX technology, and this is accomplished by using four of the chipset's eight PCIe 2.0 lanes. Wide spacing between the slots and potential blocking-off of various ports at the bottom edge of the board means that running two-card CrossFire isn't ideal here.
Adding more to the chipset via an ASM1083 bridge, the Vanguard B85 also has a single PCIc slot; it seems as if Asus is looking to please the widest possible audience here.
Storage is a mixture of SATA6 and SATA3 ports located on the far side. Ideally we'd like them a little further up the board, though we do appreciate that a couple of SATA6 aren't rotated and therefore easier to attach cables to.

Audio support is basic, coming by way of analogue export from the Realtek ALC887 chip. Video outputs are certainly better as the board has DVI, HDMI, DisplayPort and VGA - three of which can be run concurrently.
The Vanguard's 'TuF'ness means it's backed by a five-year warranty, instead of the usual two present on most boards. First impressions are positive; Asus provides a number of extra features that makes the Vanguard B85 feel more like a Z87 board.
Save for the lack of base clock and CPU's multiplier adjustment, the BIOS is as impressive as on any mainstream Asus motherboard. Based on a tried-and-trusted UEFI implementation, it has a full range of voltage options and sensible fan-control settings that are augmented by a Windows-based utility called Thermal Radar. It also supports Fast Boot under Windows 8, and we timed the BIOS-to-OS boot time at just 3.2s.
Ticking many of the right boxes through a visual examination, let's now see if it can cut the mustard in the benchmarking section.