Chock-full of useful features
Though Intel has just launched its fastest-ever CPU in the form of the Core i7-4960X, mainstream attention is focussed on 4th Generation Core processors better known as Haswell. These use an LGA1150-socketed motherboard, preferably the premier Z87, and competition amongst vendors is fierce.
The days of having to spend £200 for a fully-featured board are now coming to an end. MSI is of the same thinking and has positioned its mid-range Z87-G45 Gaming, priced at £115, as a capable all-rounder.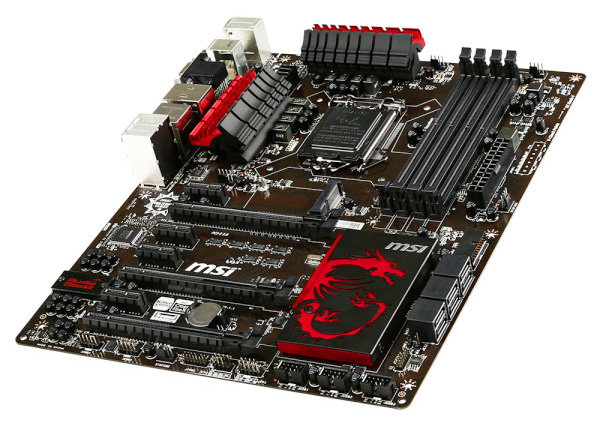 Presented in an attractive colour scheme, with matching heatsinks, layout is uncluttered. We like that the 8-pin CPU connector is located a little ways into the PCB - it's sometimes hard to hook-up when right on the edge, next to a mounting screw.
Motherboard manufacturers are having a hard time differentiating mainstream boards due to the level of integration within Intel's latest chips, but MSI adds some tasty extras here. For example, an mSATA slot in the middle, Killer low-latency E2205 NIC on the back, along with ability to run three AMD cards in CrossFire or two Nvidia in SLI.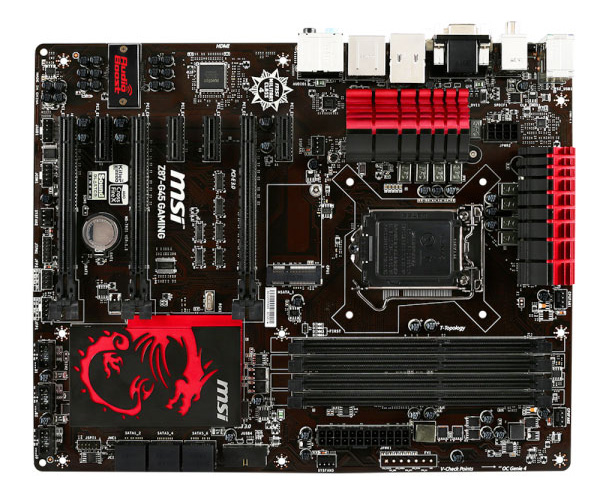 The three graphics slots all take their bandwidth from the CPU; there are no auxillary chips here, meaning that they work in a x16 (single card), x8, x8 (two cards) and x8, x4, x4 (three cards) configuration. Intel's Haswell chips and the board support PCIe 3.0 so bandwidth contention shouldn't be too much of an issue. The board supports Lucid's Virtu Universal output-switching Technology, as well.
Getting the three full-length PCIe slots and an mSATA slot on the board doesn't lead to any obvious installation problems. There's a two-slot gap between the upper two PCIe that's populated by a duo of x1 PCIe slots. Two further PCIe x1 means that PCIc goes by the wayside.
MSI sticks with the six SATA 6Gbps ports from Intel's LGA1150 chipset and helps keep cabling tidy by rotated the ports outwards. The aforementioned mSATA slot, if used, grabs its bandwidth from the sixth port.
Five fan-headers make good sense, and extras such as voltage-monitoring points and a TPM module connector beef-up the feature count. About the only thing missing, when compared to the competition, is physical on/off reset buttons on the PCB.

Four USB 3.0, out of a possible six, are on the back. The onboard ALC1150 sound codec's output can be either exported via analogue or digital outputs (coaxial and optical) and DVI-D, HDMI and VGA form our preferred trio of video outputs. We also find it handy having a clear CMOS button round back.
Well-laid-out, feature-rich and competitively priced, let's see if MSI can continue the good work with the BIOS.