Layout, features and BIOS
AMD's nascent A-series APUs make sense as general-purpose processors for a mainstream PC, for they have reasonable CPU performance allied to above-average integrated graphics qualities.
Multimedia performance - high-definition video playback, Blu-ray support, etc - is high on AMD's list of priorities for APUs, and each chip is plumbed with an eclectic array of display possibilities. Combine this with reasonable power-draw credentials and one has the basis of a modern, cheap home theatre PC (HTPC).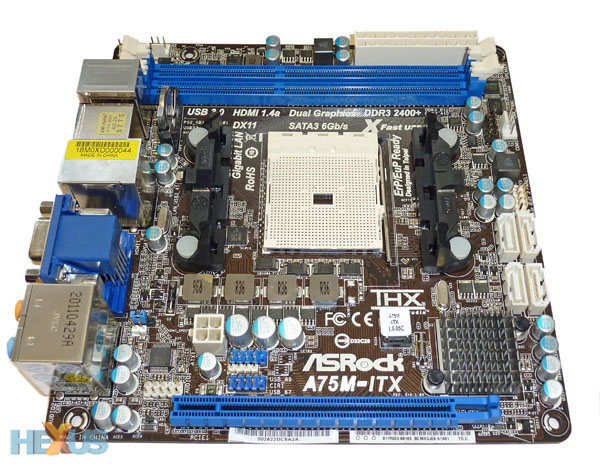 ASRock understands how the A-series APU, feature-filled supporting core-logic (A75), and an HTPC form factor can be linked. To that end it has released a Mini-ITX-sized board called the A75M-ITX, so let's take a closer look.
The Mini-ITX form factor demands board space be limited to 17cm by 17cm, thereby imposing certain design decisions on manufacturers. ASRock uses the top-line A75 chipset, and such is its integration, that layout looks neat and tidy. A75 integrates SATA 6Gbps ports, USB 3.0, while HDMI, DisplayPort and DVI can all be run off the APU.
Dominated by the FM1 socket - which can take in any A-series APU - and heatsink-retention clips in the centre, ASRock includes two full-size DDR3 DIMM slots. These can run 1,866MHz-rated memory off the bat, increasing to an improbable 2,400MHz if overclocked. Higher memory speeds definitely benefit A-series APUs, as the chip's onboard graphics use it as their framebuffer.
Neatly tucking away three fan-headers, the board's layout is surprisingly good. We'd relocate the four-pin power connector from the centre to the edge, but that's our only gripe.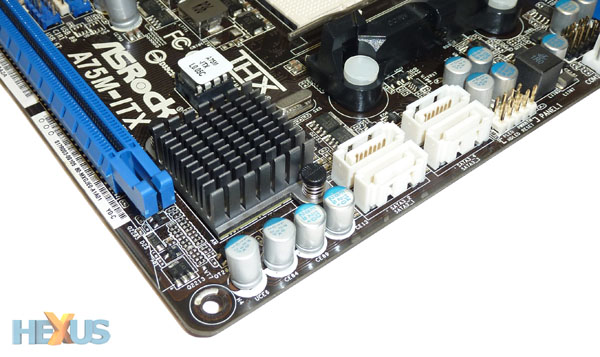 Spatial considerations do arise when looking at the SATA offering, though four 6Gbps is plenty for a board of this ilk. We appreciate the fact that ASRock includes a regular PCIe x16 slot, used for discrete graphics, and the Dual Graphics option is available for those who opt to pair the onboard GPU with a mainstream Radeon part. The tiny southbridge heatsink hides the A75-D3 'Hudson' chip. Be aware that it gets very, very hot under load; finger-scorching so.
Adding value, one can use the USB and audio ports when the motherboard's in a sleep state (C5), Though not a major feature at first glance, you can listen to music - through the PC's speakers - and charge USB-powered devices without drawing unnecessary juice.

A fifth (e)SATA port makes its way on to the back, flanked by four USB 3.0 ports. Given that AMD's APU is all about being modern, we're surprised to see VGA make an appearance. It can be paired with HDMI, underneath, to run two separate displays, but we'd much rather ASRock have specified DVI instead, opening up flexible options for today's monitors.
Board summary
Priced at £75, the ASRock A75M-ITX is a well-though-out board brimming with features. Our only concern rests with the choice of IGP-based outputs, but get past that and the board's layout and feature-set is strong.
BIOS
You may expect a pint-sized board to have a commensurately limited BIOS. In fact, from what we can tell, the BIOS is no different from the full-size A75 Pro4. Take a peek: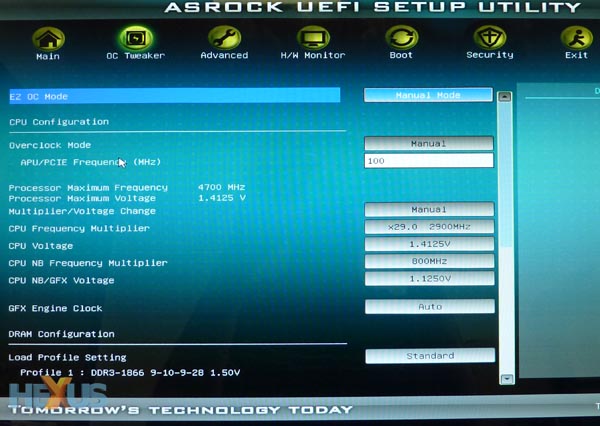 Presented with a UEFI front-end and thus easy to navigate, the BIOS lets you tweak the multiplier (downwards), CPU voltage, integrated-graphics voltage and speed. ASRock enables the user to run non-reference IGP clocks even if the CPU's frequency is locked in place and it's one of the few manufacturers to provide this feature.
DDR3-1,866MHz is supported, as we know, and one can manually input required latencies. Three BIOS profiles can be saved - handy if you've got the BIOS just right. Understand that the APU's maximum permissible frequency is 136MHz here; this is important to know because, for now, it's the only method of increasing the CPU speed.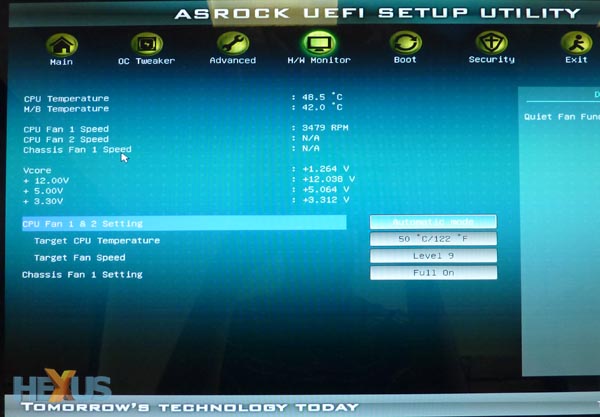 Fan-control is often overlooked by motherboard manufacturers. ASRock does a pretty good job in this respect, as the CPU and chassis fans' speed can be set to one of nine levels. What's more, one can request that a certain temperature be maintained.
The bundle is perfunctory, however, as it includes a basic quickstart guide, a slew of trial applications from CyberLink, an I/O backplate, and a 3.5mm audio cable used in conjunction with the aforementioned 'sleep' audio-playback state.
All in all, ASRock's A75M-ITX is a tidy package at an alluring price. Head on over to the benchmark section to see how it performs.