Introduction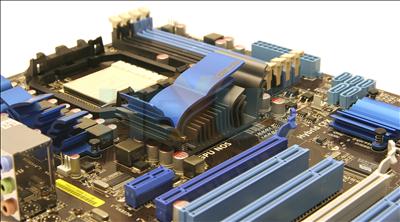 When AMD launched the RS780G chipset in March 2008 - which mated a DX10-compliant (discrete) Radeon HD 2400 GPU with the core-logic - we commented that it was a big step forward for integrated graphics.

Able to harness a low-end discrete graphics card's power, the Radeon 3200 IGP was the fastest available, enabling basic gameplay at a 1,024x768 resolution if eye-candy was turned down.

AMD launched the faster-clocked 790GX chipset a few months later, pairing it with the SB750 southbridge and increasing the IGP's core-speed from 500MHz to 700MHz. Gaming performance was further augmented by performance-enhancing SidePort memory. Our gaming benchmarks showed it be around 30 per cent faster than 780G.

NVIDIA and Intel have both released DX-compatible IGPs since then, but the performance crown just about belongs to AMD. That said, any mid-range discrete GPU - Radeon HD 4670, for example - is

significantly

faster than every IGP solution.

A year or so after 790GX, AMD introduces the 785G chipset. The nomenclature suggests it sits in-between the two incumbent IGPs, but read on to find out just what it is and how it performs.