Introduction
EVGA has been knocking out motherboards based on NVIDIA's nForce chipset at a feverish pace in 2008. Following on from the Q2 launch of its nForce 750i SLI FTW, the California-based manufacturer has rolled out a handful of nForce motherboards that pave the way up to the line-topping and recently-announced ultra high-end nForce 790i SLI FTW.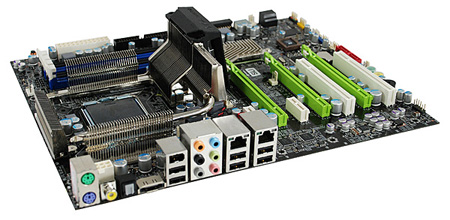 There are no prizes for guessing which segment of the market EVGA is aiming for with a product dubbed as "FTW" (that's geek-speak translated to "For The Win"), but just in case you're still unsure, this is a motherboard that's aimed squarely at the enthusiast, gamer, or overclocker.
Armed with support for Intel's latest 45nm Core 2 CPUs and DDR3 memory at speeds of up to 2,000MHz, this is a board that promises to take the best of what's currently on offer - on the Intel/NVIDIA side of things, at least - and punch out e-peen-enhancing results.
Priced at around £215, EVGA's high-end nForce 790 SLI solution undercuts some of the competition by as much as £50, but how does it compare?
To find out, we'll be pitting it against EVGA's older nForce 790i Ultra SLI, and a pair of high-end X48 solutions; DFI's LANPARTY LT X48-TR2 and Intel's DX48BT2. So, let's get cracking.