MCP7A - GeForce 9300 and GeForce 9400
NVIDIA has repeatedly delayed the launch of MCP7A throughout the summer of 2008. We reckon that it should have been ready to hit the market during this year's COMPUTEX trade show, held in June, but various problems, with most emanating from packing so much into a single-chip design, have caused a consistent failure to launch.

So what's so special about it?



Bring out the block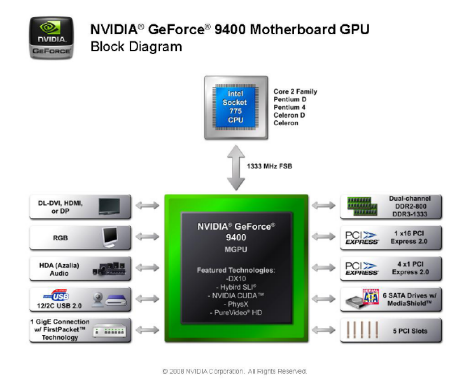 Grabbing the handy block diagram and going from the top, MCP7A - which is now productised to GeForce 9300 and GeForce 9400 - supports all Intel S775 CPUs that operate with a front-side bus of 1,333MHz or lower, so that includes 45nm Penryn support.



The integrated graphics get a makeover



The single-chip ASIC is reckoned to draw around 32W when running under full load, with much of that power-draw coming from the fact that NVIDIA has grafted on what, essentially, amounts to a mobile GeForce 8400 GS GPU right on the core, albeit with a few improvements to fit into a chipset environment.

Thinking more of architecture, the IGP packs in 16 stream processors and is fully DX10 compliant. It's not the first time we've seen NVIDIA do this, of course, with AMD's AM2+ CPUs the first recipients of such technology with the GeForce 8200/8300 boards, but sheer horsepower is such that the Intel derivative is reckoned to be up-to 2x faster.

Motherboards featuring the GeForce 9400 GPU will be clocked in at 580MHz core and 1,400MHz for the shaders, whilst the lower-specified GeForce 9300 ships with 450MHz core/1,200MHz frequencies. The clockspeeds are the only significant differences between the two.

NVIDIA has designed a new memory-controller that can accept either DDR2 or DDR3 memory, although not concurrently. We reckon this is a wise move as it takes advantage of the rock-bottom pricing for current DDR2 but then can scale as DDR3 becomes more prevalent. Most board partners will opt for DDR2 initially, but DDR3 should provide a decent boost to the IGP's performance, knowing that it grabs the necessary bandwidth from the system's.

Interestingly, NVIDIA has eschewed the SidePort memory technology inherent on AMD's 790GX boards, which adds around 10 per cent extra performance by having a DRAM device integrated on to the motherboard. Reasons of cost and complexity were cited at a briefing HEXUS attended last month.



Hybrid SLI/GeForce Boost



MCP7A carries a total of 20 PCI-Express Gen2 lanes, and 16 of these are reserved for external graphics. You're free to add any card of your choice, but should it be a GeForce 8400 GS - closely matched in architecture - or GeForce 8500 GT, the on-board IGP can be teamed up with the discrete card for greater-than-IGP performance - up to 70 per cent in the best-case scenario.

The statistic is slightly misleading in that it doesn't report how much performance one can receive over and above the discrete card's, and we imagine this to be no more than 20 per cent with a GeForce 8500 GT in situ.