Introduction
There's a good argument to be had that, for most users, a standard ATX motherboard is PCB space wasted. Continuing feature integration into chipsets and the rise of M.2 means that micro- and mini-ITX motherboards can replicate most of the goodness present in larger boards.
Looking to have a small-form-factor PC that carries an Intel Core i9-9900K processor, 32GB of RAM, super-fast M.2 storage and a GeForce RTX 2080 Ti graphics card? Look no further than the latest mini-ITX boards.
A good case in point and plying the premium end of the market is the Asus ROG Strix Z390-I Gaming, priced at £210 or so.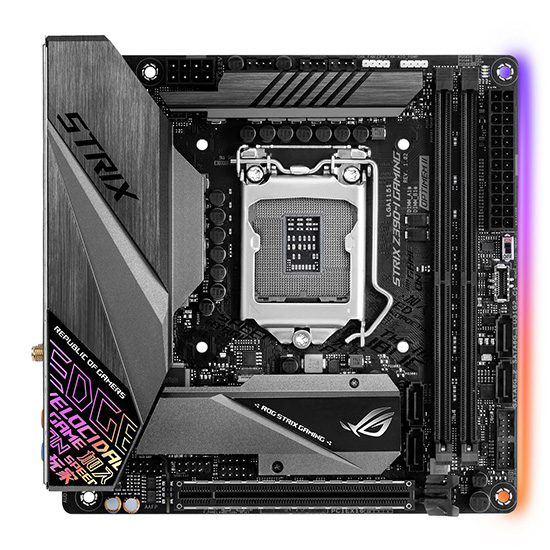 Of course, cheaper mini-ITX boards are available, starting at £145, but Asus pins heck of a lot on this model.
Dual M.2 PCIe x4 - one is obvious, above the PCIe x16 slot, the other on the back - 5x USB 3.1 G2, ALC1220A audio, Intel GbE LAN, Intel 9560 802.11ac WiFi, 4x SATA ports, 4x fan-headers, and a strengthened video-card slot show just what can be done on a board measuring 17cmx17cm.
The obvious concession, if you call it that, is that two DIMM channels get the chop, though the remaining two can still hold 32GB easily. Front-facing USB Type-C (3.1G2) offers two super-fast ports for chassis that can take advantage.
It's good to see that Asus hasn't skimped on the audio since getting a soundcard is not possible if gaming - the only expansion slot is that PCIe x16 - and the S1220A is common amongst the premium Asus range.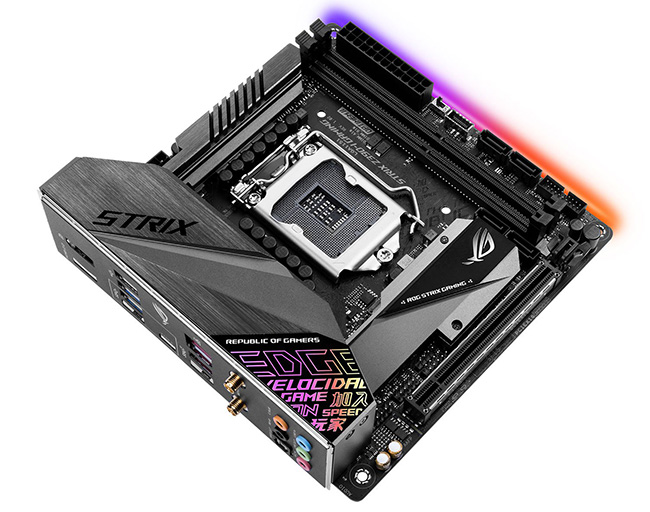 RGB lighting is only found underneath the right-hand side, courtesy of 12 LEDs that are controlled by the Asus Aura software. They're bright and even, but if that's not enough, there is an addressable RGB and Aura RGB header tucked away behind the VRM heatsink.
Next to it, on the left, are three 4-pin fan-headers for the chassis, CPU, and AIO pump fans, respectively, but we'd rather have them more out in the open. A good idea would be to change their location with the less-used RGB headers.
Though space is understandably tight, we don't like the location of the front-panel pins, placed between the PCIe x16 and M.2 heatsink. They, really, should be on the edge for a tidier appearance and easier routing. The build looks ugly with trailing wires.
We like that Asus finds space for four troubleshooting 'Q LEDs' in the top-right corner and also appreciate the MemOK switch that cycles through a bunch of memory profiles should you install new modules, making it easier to boot without having to clear the CMOS. There is even space for a two-pin thermal sensor probe, a front-panel dual-port USB 3.0 header, and additional 8-pin CPU connector.

We also like the way in which modern boards now come with integrated shields, and the Asus is one of the better ones, though there is space for an extra USB 3.1G2 port that would take the entire board's complement up to a supported six.
It's good to see dual video outputs for anyone deciding to use Intel's on-board graphics instead.
So, what else would we change? The answer is, subjectively, we'd get rid of that 'edgy' branding near the GPU slot; it detracts from the overall premium feel of the board.
The UEFI firmware is noteworthy for a couple of reasons, and we will discuss one of them on the following page. The other feature, new on Z390 boards, is what Asus reckons is best-in-class auto-overclocking.
Going by the catchy name of AI Overclocking, Asus says 'it's smarter than the pre-baked profiles used by some solutions because it tailors settings to your individual system. Our proprietary algorithm rates the CPU overclocking potential and the cooling capabilities of your PC before producing a score. The resulting Cooler Score forms the basis for the optimized configuration suggested for your rig.'
You see that our Core i9-9900K has '87 per cent silicon quality' and our cooler score, which is a single-fan Noctua NH-D14, is 167. Putting the two together results in a 4.8GHz all-core and 5.0GHz low-core speeds at 1.247V for AVX workloads and 1.19V for regular workloads. That's pretty good voltages, though the all-core overclock is only 100MHz faster than stock.
In fact, we are able to hit an all-core 5.0GHz manually using 1.325V - Asus doesn't want to go this high - but this sort of environment-specific auto-overclocking is here to stay. What we can say is that, once applied, the board was completely stable, albeit representing a minor overclock.