Introduction
The release of AMD's most potent consumer CPU ever, the Ryzen Threadripper 2990WX, has ushered in a number of new, shiny X399 (TR4) boards. AMD says they are not strictly necessary because the boards from last year are up to the job, yet the same select manufacturers of the original X399 have upped their game by introducing beefier cooling and even more features than before. New uber CPU demands new boards, right?
A classic example of this approach is the MSI MEG X399 Creation - a £470 monster that has numerous bells, whistles and some of the biggest heatsink yet seen on a consumer board. Let's take a closer look.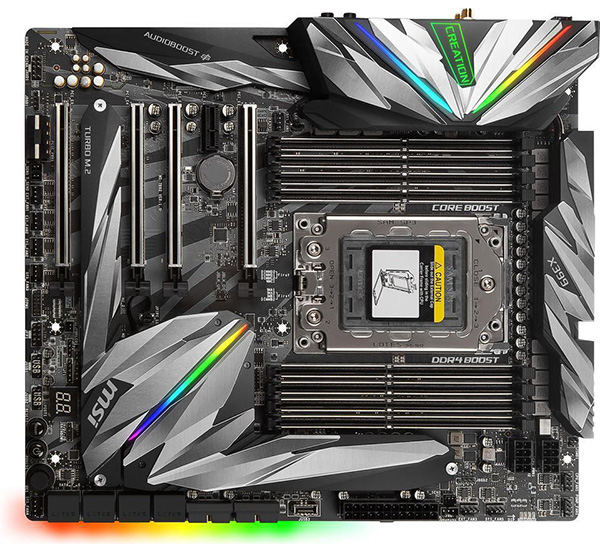 First off, £470 may seem like an outrageous amount to pay for a consumer motherboard but the truth is that X399 starts at around £300 - MSI has a cut-down X399 SLI PLUS at this price point - and go north of £500. Premium is very much the theme with the Creation, of course, and it's littered with high-performance components.
MSI pays particular attention to the power and cooling aspects. There are, wait for it, a whopping 19 power phases on this E-ATX board - 16 for the CPU and three for the SOC. And these aren't the cheap and cheerful kind. A closer examination reveals the MEG uses 16 Infineon (TDA21472) power stages run via an Infineon 8-channel (doubled, 8+0) IR35201 PWM controller. Incidentally, for one-upmanship, the same controller can run quad phases, too, leading to a possible 32 on some future model. That's wonderfully overkill for any board and goes some way at explaining the £470 street price. You will run out of cooling prowess way before the power gives out, that's for sure.
Speaking of cooling, keeping all these phases happy under heavy load are some of the beefiest heatsinks we've seen, with the pair surrounding the CPU socket connected via a heatpipe. They weigh plenty and are securely screwed in, but we actually prefer the stacked-fin cooling employed by, say, Gigabyte because it increases usable surface area over the flat, single-block heatsinks here.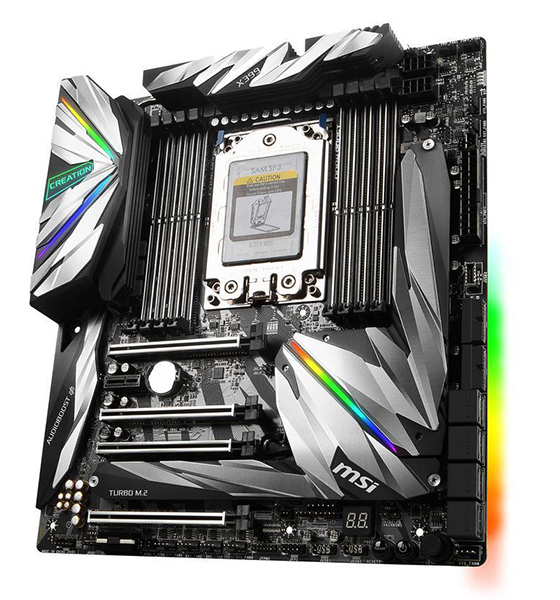 Dual 8-pin power connectors have become de rigeur for high-end motherboards while cooling is covered by 10 fan headers. Yup, you read that right. The devil is in the details because there is only a single CPU header, another for AIO coolers, a further five for additional fans, and then a further four extension headers. All are dotted around the edge of the PCB expect SYSFAN1 which sits next to the DIMM slots. As usual, they are all 4-pin and can be set to either PWM (speed-control signal) or DC (speed via voltage change) in the BIOS or Windows utility.
RGB is thankfully reasonably muted out of the box, appearing on the I/O shroud, that massive chipset-cum-M.2 heasink, and on the rear of the board, albeit only halfway up the side; we can't see why MSI didn't extend it all the way. Those wanting more can take advantage of the three-pin addressable and four-pin 5050 RGB LED headers.
MSI has been a champion of massive cooling around the chipset and it makes sense to anyone using multiple M.2 drives. The all-in-one cooling covers a trio of M.2 slots (which can be set to either NVMe or, for older drives, SATA), and comparing like for like, keeps our WD Black NVMe SSD 16°C cooler than if left bare. If a trio of slots isn't enough, MSI includes what on first glance appears to be a graphics card in the box. It is, however, the M.2 Xpander-Aero which is powered by a PCIe 6-pin cable, connects to a physical x16 slot, and offers up a further four M.2 2280 bays. These all share the same x16 bandwidth, of course, but probably give rise to the 'creation' name, because we can imagine this board being loaded with storage used in a workstation/creator environment.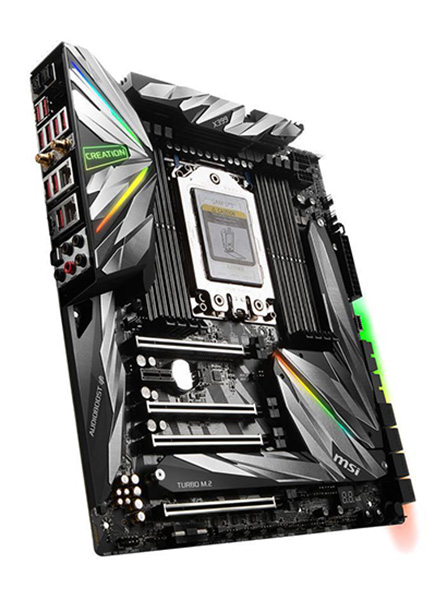 Is it really necessary given that it takes up a dual-slot form factor, limits the amount of multi-GPU goodness, and is in addition to three board-based M.2 and heaps of traditional SATA storage? We'd rather have seen the cash spent on improving the I/O, as we'll explain further below.
The features keep on coming with onboard power and reset buttons, the debug LED, further EZ Debug LEDs, DIMM LEDs, and an easy-to-use auto-overclocking knob right in the corner; you notch it round to lift the speed a reasonable amount. Though it is E-ATX, the mass of features makes the MEG feel somewhat crowded.
Just like the Aorus, having a large I/O shield and eight DIMM slots doesn't leave a whole heap of space around the CPU socket, and just like that board, we couldn't mount the Cooler Master Wraith Ripper heatsink and tall memory modules together. The Asus Zenith Extreme, with its wider DIMM slots, is clear of this small problem, but we imagine most users will use an AIO with these boards, negating this potential issue.
It's standard to see four toughened x16 PCIe slots on X399 boards. It's worth knowing that the primary slot and one above the Turbo M.2 cooler run at a full x16, the other two at x8. Also, on a positive note, the first PCIe slot is far enough down the board to enable a graphics card to be housed even with the massive Wraith Ripper CPU cooler in situ.

There's nothing wrong with the I/O panel by any reasonable measure, though some may lament that all the USB on the back are USB 3.1 Gen 1. The second-gen support is only via way of a PCB header. What's better is the Intel 9260 combo WiFi and Bluetooth 5 card, sporting potential 1.73Gbps speeds (more like 1Gbps in the real world), plus the clear CMOS and BIOS flashback buttons. Both LANs are also from Intel, bucking the Killer trend from recent MSI boards, though following on from the comment above, some manufacturers, such as Gigabyte and Asus, have started to include 10GbE connectors on their premium X399 boards. We'd go for that instead of the Xpander-Aero board.
You'll have seen MSI's Click BIOS 5 in action on previous boards. The firmware is smooth and relatively simple to navigate, with enough voltage and adjustments, but feels somewhat less intuitive than, say, the latest Asus BIOSes.
Ultra- premium X399 is all about finding ways of making your board a bit different from the rest. Massive M.2 support, over-the-top power delivery and a restrained look mark out the MEG X399 Creation.