Introduction
EVGA came back on the motherboard scene by releasing a total six boards evenly split between the high-end desktop X299 and more mainstream Z370 series. The latter is home to Intel's 8th Gen Core chips alone, and it represents a clean break from any other chipset/chip from the past. If you want to use an 8th Gen Core chip, you must also invest in a Z370 motherboard.
The trio of Z370 boards consists of the Classified X (£250), FTW (£180) and Micro ATX (also £180), The cheaper pair is similar in specification but differ with respect to form factor. Today we're taking a look at the Micro ATX.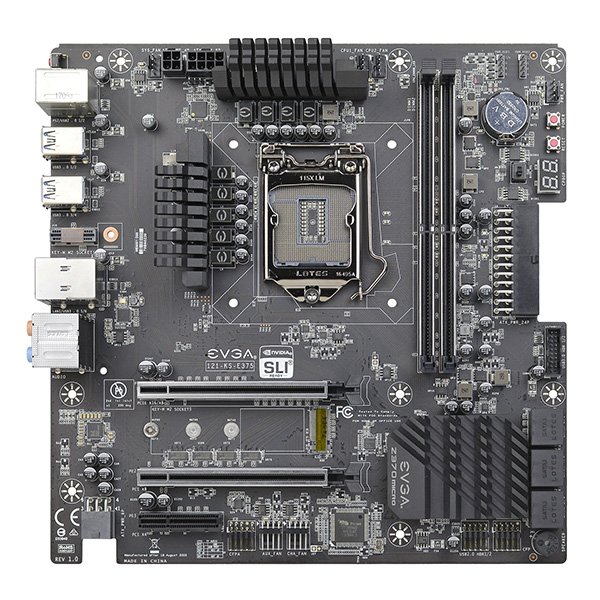 The PCB is a standard 24cm x 24cm in size and has a few interesting quirks that are obvious to see. The main 24-pin ATX connector is angled, somewhat unusually, and has a generous cut-out by which to route the thick cabling. We understand that most manufacturers would rather save the board space, especially for this form factor, but it works well from an installation viewpoint - seeing the thick cable snake out of the system on a non-rotated port is bit of an eyesore.
EVGA does the same thing for the auxillary 6-pin PCIe connector at the bottom. It looks neat though we wonder why it is necessary when the board only sports two PCIe x16 slots. Getting lots of power into the Micro ATX is a clear aim, as the top-left is home to both an 8-pin EPS and secondary 4-pin CPU connector. Kind of feels like overkill for a small-ish board.
Going down this design route means that only two strengthened DIMM slots are available, and we have no issue with this as one can easily populate 32GB of high-speed RAM. As it is, the BIOS supports memory at up to well over 5,000MHz. Cooling around the 11-phase power supply isn't as flashy, mind, with basic, non-heatpipe-connected heatsinks covering two sides. It's noteworthy that some components are left bare.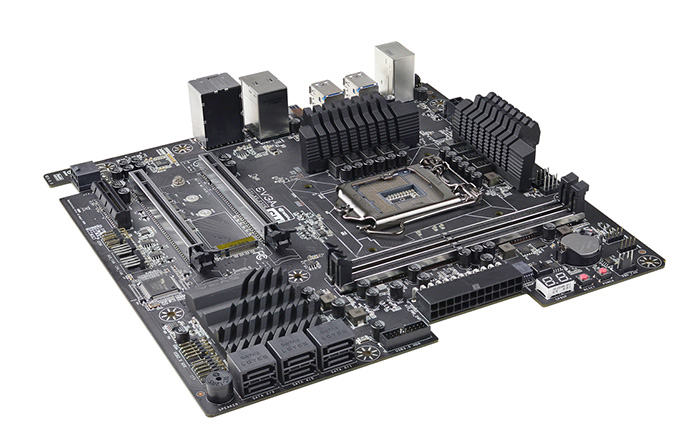 It makes sense for EVGA to concentrate on enthusiast-class features. Onboard power, clear CMOS (at the rear) and reset buttons are always welcome, there's a dual BIOS across the Z370 range, both PCIe x16 slots are reinforced, while cooling is taken care of by six 4-pin fan headers, with the bottommost ones rotated. As usual, these don't support more than 1A (12V maximum). We strongly recommend that EVGA adds a watercooling-specific header for powerful AIOs - this board is aimed at enthusiasts, after all. Interestingly, the debug LED turns into a CPU temperature reporter after the Post sequence is complete. Handy if you have a side window.
EVGA decides to use the goodness present in the chipset alone for storage and USB duties. This translates to having six SATA ports and a total of 12 USB, split between eight USB 3.0 - six on the back, two via a header next to the ATX cutout - and four USB 2.0. The faster standard, USB 3.1 Gen 2, running at a potential 10Gbps, is conspicuous by its absence, and we find it hard to appreciate why.
Layout is decent on the left-hand side - there's adequate space between the two strengthened PCIe x16 slots that support two-way SLI or CrossFire. EVGA pops the usual M.2 NVMe x4 slot in the middle but there is no heatshield in the package - something that has become common on mainstream Z370.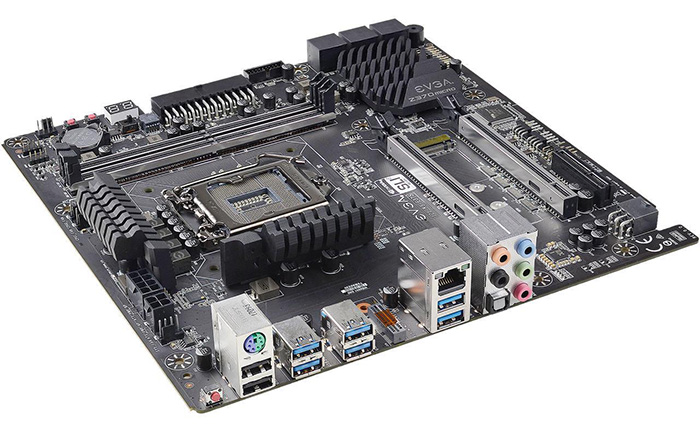 Another M.2 slot is present on the backplane, and EVGA tends to favour the Key-E in this vertical arrangement. It makes sense as the Micro ATX comes bundled with an Intel 8265NGW combo WiFi and Bluetooth card and dual antennas. Intel also provides the Gigabit LAN. Audio is supported by the latest ALC1220 codec.
Important if you are thinking of putting this board into an itty-bitty chassis, there are no video outputs for running the IGP graphics alone, which we find curious and unusual. You have to have a discrete graphics card in place, so think carefully before buying.
You may be wondering why we haven't spoken about RGB lighting. The simple answer is the board doesn't have any RGB LEDs, which is no bad thing in our book. The sole concession is a 4-pin RGB strip header that's controlled by the company's EleetX software, meaning no support in the BIOS.
Speaking of which, the Z370 Micro ATX's is pretty simple. Split into five main parts, there's no EZ mode we typically see. The latest 1.05 BIOS keeps an interesting AVX offset but otherwise plays right into Intel's mandated speeds. On the voltage front, however, we're not able to adjust some fine-grained controls such as LLC, or adjust the speedstep function at default speeds. We also noticed that the board provides less-than-ideal voltage under load - inputting 1.3V, for example, gave 1.24V under load on a PSU we know to have excellent regulation.
Memory dividers are good but the fan control could be better. We usually see other manufacturers have multi-point graphs where you drag to create a custom fan curve. That feature isn't present here. As touched on above, EVGA does offer a decent operating system utility known as EleetX, used to mirror most of the functions present in the firmware. Lastly, the board is backed by a three-year warranty.