Introduction
The best word to describe EVGA's foray into motherboard territory is sporadic. Never the first to debut on a chipset from Intel, the firm takes time to produce distinctive-looking boards. A case in point is the new range comprising Intel's latest Z370 and X299 chipsets. Both platforms have three boards each. Our focus today is X299, and EVGA has the X299 Micro ($299), X299 FTW K ($349), and X299 Dark ($499).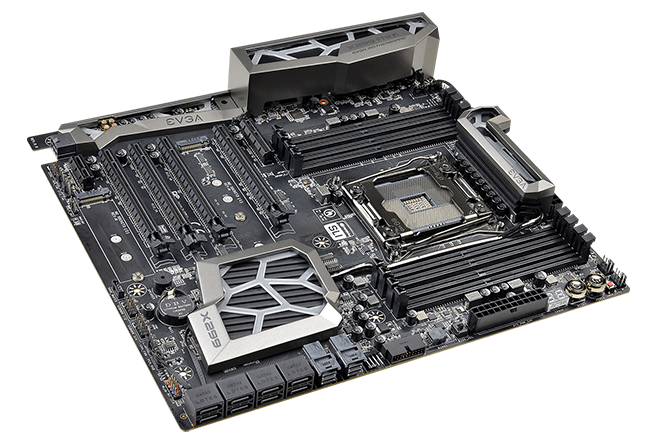 X299 is all about making sensible choices in terms of features and additions because the chipset gives so much already. First impressions of the FTW K are good; the all-black aesthetic and dark-silver heatsinks work well. It's worth appreciating that the largest heatsink/shroud over the I/O section needs to be manually installed by the user - it doesn't come pre-attached.
Fitting everything on top of an X299 chipset can mean either a cramped ATX or more space on a larger EATX. EVGA takes the decision to go for the latter, rightfully so, and uses an 8-layer PCB. Though minimalist in look, the FTW K still has RGB LED lighting around the far side, from the audio section up to the shroud. This is controlled by the E-LEET X Tuning utility, downloadable from EVGA's site. There's also a specific header for adding in a light strip.
Supporting both high-end Skylake-X and Kaby Lake-X CPUs, it's normal to beef up power circuitry for the high-TDP CPUs. EVGA employs a 14-phase PWM. Memory support varies by CPU, but EVGA supports speeds of up to 4,133MHz.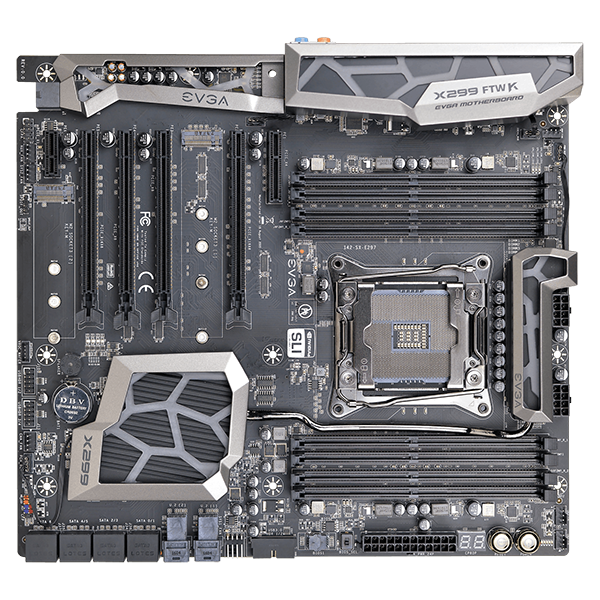 Lots of power also necessitates good cooling potential. EVGA dots seven fan headers around in sensible locations, with two dedicated to CPU cooling. That said, we reckon EVGA has missed a trick by not including any watercooling-specific, high-amperage headers as all seven only support 1A. Surely a board of this ilk needs to be able to handle more wattage for esoteric cooling?
Other enthusiast-orientated features are present, including a debug LCD, onboard power/reset, clear CMOS (on the rear I/O) buttons, dual BIOSes, DC or PWM fan control on non-CPU headers, and an onboard CPU temperature monitor. EVGA includes dual 8-pin EPS CPU ports, but you only need to attach cabling to one to get up and running.
X299 is all about expansion and storage possibilities given the higher number of PCIe lanes emanating from the right CPU. The board houses two main M.2 slots accommodating drives up to 110mm long. We'd prefer them to be double-stacked at the bottom of the board and away from hot-running GPUs. As it is, the primary slot sits between the first two PCIe x16 and, unlike many competitors, there's no heatsink/heatshield cooling in place, though EVGA pops in a thermal pad. Storage continues with eight SATA ports and, somewhat unusually for 2018, a couple of U.2, all neatly lined up next to each other on the bottom-left of the above picture.
Understanding just which ports work alongside others requires consultation of a table, but you should be okay for full-speed coverage when using either a 28- or 44-lane CPU. EVGA, however, doesn't keep up with the times and has just a USB 3.0 header for connecting to a chassis - some boards are sporting USB 3.1 Gen 2 now.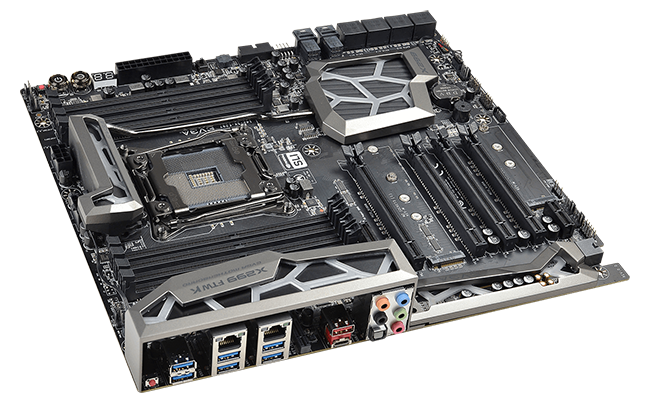 PCIe lane arbitration is also standard for a four-slot motherboard based on the X299 chipset. Just what you get depends, once again, upon the CPU, so we encourage you to consult this graphic if you're going for a full-on build. Though four x16 physical slots are present, EVGA's manuals dictate that only three-way SLI is supported. We guess this is down to a payment and certification issue with Nvidia, as four-way CrossFire is supported, though the market for such non-mining setups has dwindled.
Interestingly, the board adds a dedicated six-pin PCIe power port - notice the cutout on the bottom-right? - for additional juice when multiple cards are in place. We like that a little space has been left in order to route the cable neatly. Audio is carried over from the last generation, meaning the ALC1150 codec instead of the newer ALC1220 that we routinely see from mainstream boards today.
The rear is home to that clear CMOS button, six USB 3.0 ports, dual Gigabit Ethernet NICs from Killer (E2500) and Intel (i219), a header for a vertically mounted M.2 that doesn't make much sense with the shroud in place as height is limited to 32mm, USB Gen 2 Type-A and Type-C and audio. Given the price point, we would preferred to have seen more investment in USB 3 G2 for both the rear and front-panel connector.
Layout, colour scheme and aesthetics are all plus points, but the use of older audio technology, limited USB 3.1 Gen 2 support count against it, and we imagine the vertically-mounted Type-E M.2 slot, between the USB, is useful for a combo WiFi/Bluetooth card. This feels like an X99 board given the X299 makeover.
EVGA's BIOS is basic, keeping the same format as the one we saw on the Z370 Micro ATX, but that's a good thing in our book. We'd describe it as simple with five segments: memory, advanced, overclock, boot and save. That said, we couldn't find a way to go into a simple mode - usually F7 on other boards - though this is a minor omission in the grand scheme of things. Lastly, as we mentioned in the Z370 editorial, the fan-control mechanism could do with the multi-point graphs where you drag to create a custom fan curve.