Introduction
The 8th Generation Core desktop processors rolled into town today. Armed with more cores and threads than their direct predecessors, Intel offers greater bang for your buck than it has done so in a while.
Six new 8th Gen chips use the familiar LGA 1151 form factor, but, and it is a big one, they are only compatible, for now, with the Z370 chipset. This means they cannot be used on the Z270 and, conversely, 6th and 7th Gen Core chips, though using the same socket, do not work in Z370.
Providing a clean break and matching a CPU generation to a particular chipset means that the combination provides an obvious platform with which to update your PC. It's no surprise that motherboard manufacturers are keen to extol the virtues of their Z370 chipset-based boards given the extra performance on offer from the new slew of CPUs.
The sobering truth is that the 'all-new' Z370 is, in fact, not that new at all. Other than updated BIOSes and Intel Management Engine firmware there really isn't much to separate the Z370 from the Z270 from a features perspective.
So the big-name mobo guys have spent time polishing their extant offerings and focussed on delivering smooth, stable power to the six-core processors.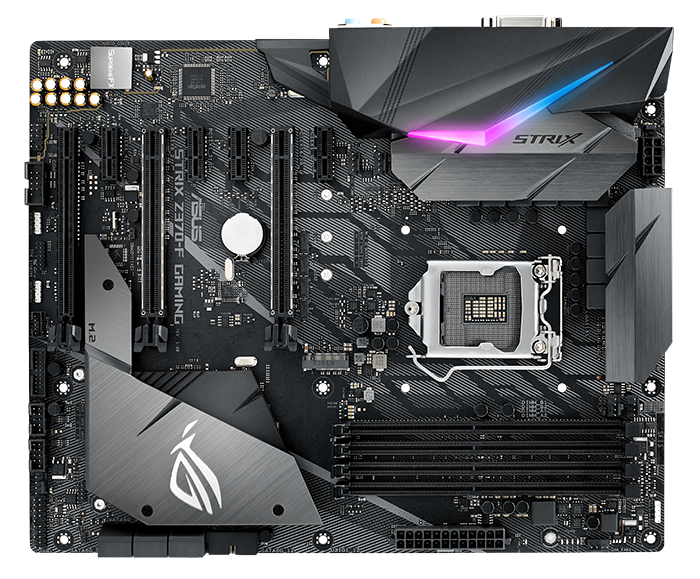 The Asus ROG Strix Z370-F Gaming is a good case in point. Rather than pore over the details of each and every feature - and it is chock-full of them - the best course of action is to look at the improvements over the already-reviewed Z270-F Gaming predecessor.
Asus says it has improved the trace layout between CPU and memory in order to further reduce crosstalk and noise when running DDR4 at high speeds. To this end, the in-house-developed OptiMem technology pushes the maximum supported speed up from 3,600MHz (Z270-F) to 4,000MHz with all slots populated. Handy if you're an enthusiast that likes to run components at the bleeding edge. As we have both generations of boards in the labs we can evaluate the changes Asus is speaking about.
Naturally, the board supports Intel's Optane technology, where the M.2 NVMe SSD uses 3D XPoint memory that acts as a bridge between the speeds of regular DRAM and slower NAND.
An obvious departure from the previous board relates to the design of the southbridge heatsink, because it has now been extended to offer focussed cooling on the left-hand M.2 slot. Such drives tend to run warm when under the pump, so much so that performance degrades quickly. Like most, Asus is taking a full-on approach by having a double-heatsink (removable) design augmented by an M.2 fan header in close attendance, and internal tests show that it enables a fast NVMe drive to keep at higher speeds for longer.
The older board has two Aura RGB strip headers that complemented the RGB already present. Z370-F takes this a step further by specifying an addressable LED header supporting a WS2812B strip (with a maximum of 60 LEDs) for enhanced lighting. The functionality is controlled by the bundled Aura Sync software that, handily, cleanly interfaces with various other Asus components and certain DDR4 LED-laden RAM.
Other than that, it is business as usual, so six fan headers, strengthened PCIe slots (running at x8/x8 in dual-card configuration), the S1220A HD audio codec, 3D printer-friendly mounting, an 8-phase CPU design, six SATA ports (though no U.2), dual M.2 NVMe and dual USB 3.1 Gen 2 ports via an ASMedia controller. The inclusion of the latter confirms that the southbridge does not natively support the newer USB standard.
It's a shame that Asus doesn't extend USB 3.1 Gen's usefulness by having a front-panel header on the board itself; that feature is reserved for boards higher up in the range. Speaking of which, you will need to consider the dearer Z370-E Gaming if baked-in WiFi is high on your list of wants.
Back to this board, users planning to install a third graphics card need to note that its bandwidth is muted to x4 and made available from the the heatsink-clad PCH. And anyone requiring even more M.2 support can take advantage of an optional Hyper M.2 card that fits into a x16 slot and interfaces with the CPU instead of the PCH, albeit at the expense of running multiple GPUs.

Our original review found there was little to complain about on the layout and implementation of the Z270-F Gaming. That, of course, remains true here, and Asus does a good job at ensuring that a fully-populated board doesn't block-off easy access to any components. The I/O section, meanwhile, drops a couple of USB ports, strangely, and the archaic PS/2 connector, not so strangely.
The only real improvement we asked for at that time was the inclusion of some specific M.2 cooling, which was already present on competitor boards, so it's good to see Asus listening to review feedback.
Asus has always been strong with respect to the BIOS and sensibly carries over the easy-to-use GUI from its Z270 board, yet it continues not to offer any firmware-based control of the RGB lighting, relying instead on its all-encompassing Aura software. Fan control remains good, mind.
We expect this board to retail for £180, or £20 more than the Z270 iteration. Head on over to find out how the first Z370 stacks up against some established competition.