Introduction
If you've been waiting for a good excuse to spend lavish amounts of money on a new PC, Intel X299 and an accompanying Core X-Series processor may be just the ticket. The new High-end Desktop (HEDT) platform arrives as a long-overdue successor to X99 and offers the highest level of performance we've ever seen on consumer desktops.
But the launch hasn't been entirely free of bumps. Seemingly hurried by the AMD Ryzen threat, as well as upcoming Threadripper, Intel's Core X-Series has the feel of a rushed introduction, with the best CPUs marked as 'coming soon' and supporting X299 motherboards showing signs of software immaturity. It is fair to expect perfection at this premium end of the market, and board manufacturers are having to work quickly to identify and resolve any remaining niggles.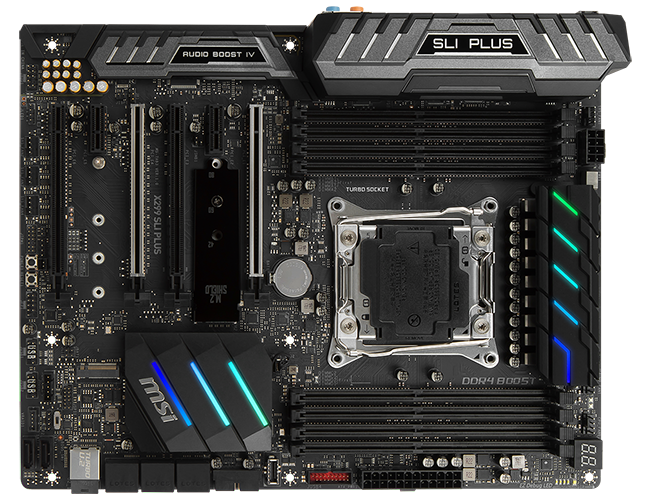 To find out how different vendors are coping with the X299 challenge, we've examined the £275 Asus Prime X299-A and now turn our attention to the £260 MSI X299 SLI Plus. Both boards are positioned near the lower end of the X299 spectrum - you could easily hand over up to £400 on the top-end models - but their feature set is so extensive that there's little need to spend more.
MSI has produced some great-looking motherboards over the years, and while the X299 SLI Plus isn't up there with the very best, it's still an attractive piece of kit. The black-and-silver colour scheme will suit a wide range of builds, and the VRM and PCH heatsinks are outfitted with 'Mystic Light' illumination allowing for a choice of colours or effects. The lighting is nice and subtle - albeit partly obscured when a graphics card and large CPU cooler are installed - but if we're nitpicking we don't like the fact that the LED power cable can be seen snaking out from underneath the heatsinks.
We'd be inclined to lean toward the Asus Prime X299-A were we to base our buying decisions solely on aesthetics, but when you begin to look closer you realise that the MSI X299 SLI Plus costs less and has a few extra features. We appreciate the fact that power, reset and clear CMOS buttons are all included, and though the debug LED is awkwardly positioned - we prefer it to be along the bottom edge - MSI includes a good range of tinkering tools on this model.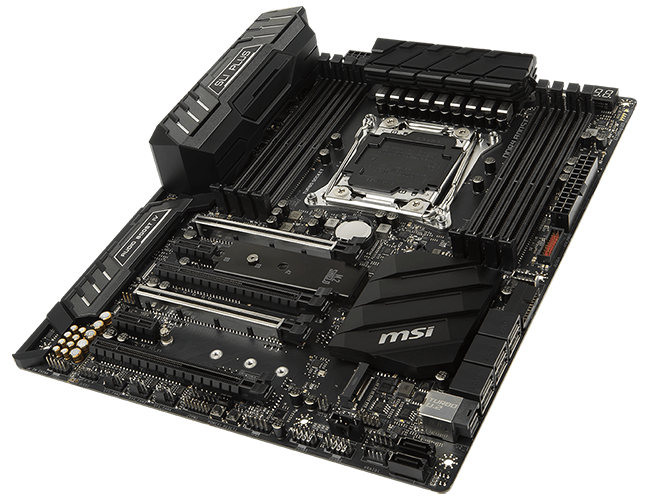 The large LGA2066 socket is thankfully compatible with existing LGA2011v3 coolers and flanked by eight DDR4 DIMM slots. Do be aware that while quad-channel memory is a key selling point, memory configurations are dependant on which CPU goes in the socket. Only Skylake-X processors will support the quad-channel layout, while users who opt for a Kaby Lake-X processor will be limited to dual-channel performance. It is confusing having CPUs that curtail board functionality, and we're of the opinion that X299 would be far more straight forward if Kaby Lake-X didn't exist.
It makes sense to pick a Skylake-X processor, but even then, there are varying capabilities. The X299 SLI Plus has six PCIe expansion slots ordered from top to bottom as PCIe x16 (CPU), PCIe x1 (PCH), PCIe x4 (PCH), PCIe x16 (CPU), PCIe x1 (PCH) and PCIe x8 (CPU). The slots driven by CPU lanes support three-way SLI or CrossFire, but performance is tied to the CPU as only the £900, 44-lane Core i9-7900X will currently permit an x16, x16, x8 setup.
Motherboard manufacturers are going to have to spend a little extra time explaining these choices, with MSI's manual using graphics and tables to demonstrate multi-GPU configurations with different Core X-Series chips. Storage, thankfully, is far more straightforward. There are eight SATA 6Gbps (two facing upward), a single U.2 port and dual M.2 positioned alongside the PCIe x1 slots. Do note that only the upper M.2 slot has a cooling shield, whereas pricier models in the MSI range offer cooling for both slots as standard.

Want lots of USB and Ethernet? You're in luck. MSI's rear I/O panel offers a PS/2 port, four USB 2.0, four USB 3.1 Gen 1, USB 3.1 Gen 2 Type-A, USB 3.1 Gen 2 Type-C, dual Intel Gigabit Ethernet, optical SPDIF and five audio jacks, as well as useful Clear CMOS and BIOS Flashback buttons. USB 3.1 Gen 2 is powered by an ASMedia 3142 controller and there are provisions for nine internal USB connectors; four USB 2.0; four USB 3.1 Gen 1; and another USB 3.1 Gen 2.
Thunderbolt and VROC are also catered for via internal headers, there's an RGB LED connector for further lighting options, and a total of six fan headers are at hand for cooling. These include one for the CPU fan, one for a water pump and four for chassis fans.
Integrated audio, dubbed Audio Boost 4, is powered by a Realtek ALC1220 codec supporting 7.1 output, and though there's no integrated WiFi - you'll need to step up to the £280 X299 Tomahawk AC for that - MSI has most boxes checked at a price point that is competitive alongside immediate rivals.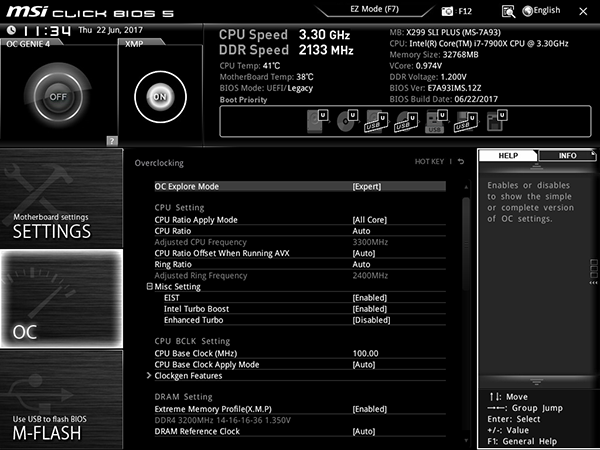 Like many X299 vendors, BIOS readiness has been an issue at launch. MSI has rolled out a number of new releases over the course of the past week - including one that inadvertently disabled Turbo Boost 3.0 - but the latest version, at the time of writing, identified as E7A93IMS.12Z, has improved performance while demonstrating good overall stability.
From a feature perspective it is becoming increasingly difficult to differentiate between BIOS options from the leading manufacturers. All now offer comprehensive overclocking options and fine-tuned fan controls, and presentation serves as the key differentiator between brands. MSI's implementation feels a tad more disjointed than others - having to reboot to enter M-Flash being an example - and a number of on-screen animations make the interface appear a fraction slower than the competition.