Introduction
Competition in the desktop CPU market may have been lacking in recent years, but if you've been sat on the fence waiting for the AMD vs. Intel rivalry to be renewed, now's the time to pay attention. AMD is firmly back in contention with its Ryzen processors and Intel has fired a retort in the form of the Core X-Series.
Add to the mix an already solid line-up of Kaby Lake Core i7 parts, and desktop enthusiasts now appear to be spoilt for choice. It's therefore a great time to be planning a new PC, and that means giving serious consideration to the latest motherboards. For those who opt to take the Intel route, X299 is now the range-topping platform and boards are arriving at stores priced anywhere between £200 and £500.
Arriving as a long-overdue successor to 2014's X99, Intel's refreshed High-end Desktop (HEDT) platform offers a few key upgrades. The link between CPU and PCH has finally been upgraded to DMI 3.0, the number of USB 3 ports has risen to 10 (up from six on X99) and the chipset offers 24 PCIe 3.0 lanes, representing a 3x increase over the previous generation. Healthy upgrades, and of course we expect motherboard manufacturers add plenty of extras to retail boards.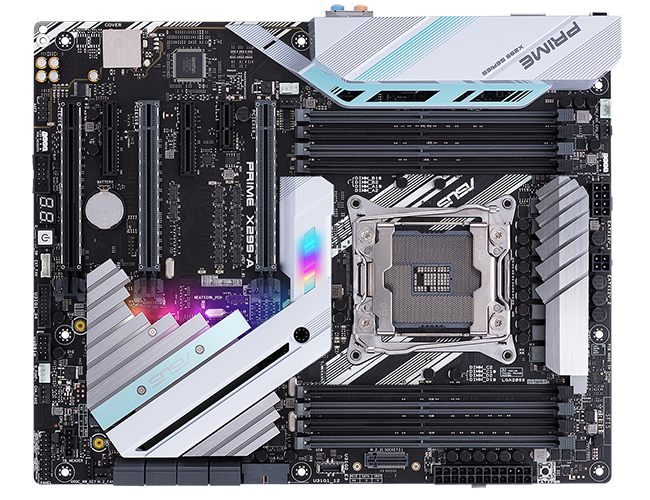 One of the first examples to arrive on the HEXUS test bench is the Asus Prime X299-A, a £275 solution offering plenty of X299 goodness sans some of the bells and whistles available to more expensive models in the Asus range. It's a good-looking board whose white, silver and blue accents contrast well with the black base, and the various features dotted around the PCB reveal that even the more affordable X299 offerings are crammed with up-to-date tech.
It seems no modern motherboard is complete without onboard RGB LEDs, and while lighting isn't a feature we actively look for, we quite like the Prime X299-A's understated approach. The illumination is a soft glow limited to the PCH area with full colour control via software, and if you do like to disco, a pair of RGB headers are available for further Aura Sync expansion.
The LGA2066 socket stands big and proud, and the good news for users who have already invested in HEDT cooling is that the mounting points haven't changed since LGA2011v3. The CPU is driven by an eight-phase digital power design, there's a reasonable amount of room around the socket for a large heatsink, and the sides are flanked by eight DDR4 DIMM slots supporting up to 128GB of quad-channel memory.
X299's feature set is impressive, but there is a caveat in that functionality is linked to the accompanying CPU. For example, choose a Skylake-X processor such as the Core i9-7900X and you can use all eight memory slots, taking full advantage of the quad-channel layout. But equip the motherboard with a Kaby Lake-X processor such as the Core i7-7700X and memory is limited to four slots in a dual-channel configuration, meaning a maximum of 64GB. In the latter scenario, you can use any of the slots to the right of the CPU socket, labelled C2, C1, D2 and D1. Plenty of room for confusion, so be sure to check the chosen CPU meets your intended usage scenario.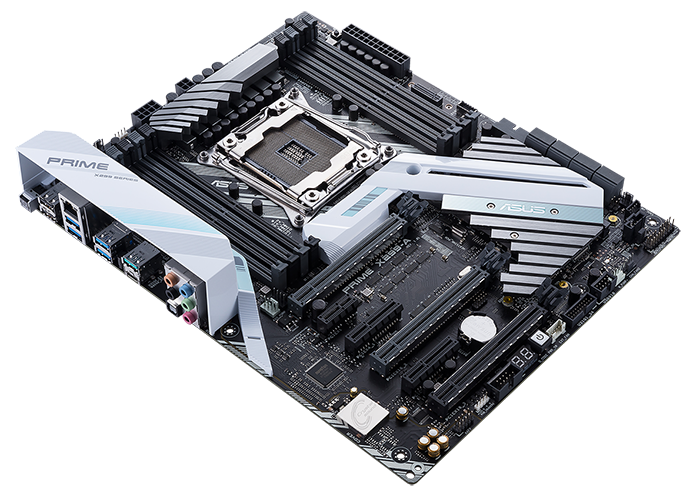 Storage options, as you would imagine, are extensive. The right edge is home to eight SATA 6Gbps ports, all of which are fed from the chipset though half share their bandwidth with the second PCIe x4 slot, and while there is no U.2 connector, you do get two M.2 ports. One is tucked beneath the PCH heatsink for passive cooling, while the second M.2 is a vertical port to the right of the DIMM slots that should benefit from airflow but is somewhat unsightly when occupied.
Most users' storage requirements should already be met, but for the more adventurous types, the Prime X299-A does also support Virtual RAID on CPU (VROC). This lesser-known feature allows multiple M.2 PCIe drives to use the CPU's PCIe lanes and be configured as an ultra-fast bootable RAID array. One for the enthusiasts, but do be aware of the rather large provisos; only RAID 0 is supported out of the box (other RAID modes will require the purchase of an optional VROC key); drive support is initially limited to Intel SSDs; and once again, this feature is reserved for Skylake-X CPUs.
Speaking of expansion slots, the Asus board is home to three PCIe x16, two PCIe x4 and a single PCIe x1. CrossFire and SLI are both supported, yet while there appears to be plenty of wiggle room, expansion capabilities are also linked to the CPU. Only a 44-lane chip (i.e. the $999 Core i9-7900X) will allow for an x16, x16, x8 configuration of the reinforced PCIe x16 slots. Using a 28-lane chip will limit the user to x16, x8, while a 16-lane Kaby Lake-X CPU will support either single x16 or dual x8, x8.
Elsewhere, we like the fact that Asus has included a debug LED and power switch, and though there's no reset button there are seven fan headers dotted around the board. These include two for the CPU, two for chassis fans, one each for an all-in-one liquid cooler and water pump, as well as a header for a dedicated M.2 fan. All seven are of the four-pin variety with PWM/DC auto detection and the W_PUMP+ will provide a 3A current for more demanding cooling setups.

Over on the rear I/O panel, we have a BIOS flashback switch, two USB 2.0 ports, Gigabit Ethernet (Intel I219-V), four USB 3.1 Gen 1, USB 3.1 Gen 2 Type-A and USB 3.1 Gen 2 Type-C (both powered by an ASMedia 3142 controller), optical SPDIF and the customary five audio jacks. The only obvious omissions are a second Ethernet jack and integrated WiFi, both of which are reserved for the pricier Prime X299-Deluxe.
Bolstering the rear ports, Asus's internal I/O options include headers for up to four USB 3.1 Gen 1 ports, two USB 2.0 ports, Thunderbolt, as well as a front-panel connector for USB 3.1 Gen 2. Integrated Crystal Sound 3 audio is driven by a Realtek ALC S1220A codec, and the £275 outlay appears to tick many of the right boxes for a premium build.
Intel's decision to introduce LGA2066 CPUs based on multiple architectures with varying PCIe lanes and either dual- or quad-channel memory support muddies the waters somewhat, yet the question mark that currently hangs over X299 motherboards is whether or not any early BIOS issues have been resolved.
A number of board manufacturers have voiced frustration with Intel's accelerated launch, claiming that engineers have not had time to maximise performance and eliminate bugs. Our initial testing with Core i9-7900X confirmed that X299 was rough around the edges and vendors are working quickly to address any remaining niggles. Case in point, Asus has made available three Prime X299-A BIOS updates in a matter of days, taking the version number from 0218 to 0501.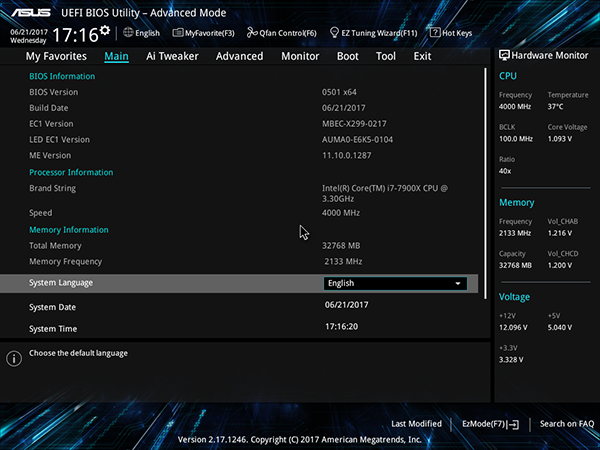 From a usability point of view, we're of the opinion that all top-tier motherboard manufacturers have refined their software to the extent that choosing one implementation over another is almost entirely down to user preference.
Asus motherboards have featured in our primary test platforms over the past 12 months, and having become accustomed to the interface and myriad of settings, we can confidently state that the latest BIOS is accessible to mainstream users while offering the fine-tuning capabilities that enthusiasts desire. The layout is logical, the overclocking options are about as granular as you could hope, and Prime X299-A's fan controls are among the best in the business.
A solid all-rounder, then? Let's see what the benchmarks and the rival MSI X299 SLI Plus have to say.