Introduction
Today marks the official launch of Intel's 7th Generation Core 'Kaby Lake' desktop processors and the accompanying 270-series chipsets. As you will probably have gathered from our review of the chip a month ago, nothing of note has changed on the CPU side of things. The multimedia engine, meanwhile, has been updated to support the latest standards and codecs.
A lack of meaningful change can actually be a good thing in some ways. These new chips use the LGA1151 socket familiar on recent Skylake- and Broadwell-based motherboards. Indeed, we used an Asus Z170 chipset-based motherboard for our CPU analysis. What such preamble is leading on to is the fact that the newest chipset, Z270, is very similar to existing Z170 in most ways.
Both, for example, support the latest Intel processors, albeit with Z170 needing an up-to-date BIOS. Z270 does offer a little extra, with the emphasis on little, as it carries an extra four PCIe lanes - 30 vs. 26 - though it remains limited to 16 lanes attached directly to the CPU: it is the Z270 PCH that adds a quartet of extra lanes for enhanced expandability. Other than that, as far as we can tell, there is explicit support for Intel Optane memory (formerly known as XPoint) that remains a technology rather than a shipping product. Finally, USB 3.1 still remains Awol and will therefore need the usual controller support that we have seen on Z170.
Point is, Z270 is still a marginally more futureproof fit for 7th Generation Core processors so it is the obvious choice for anyone contemplating a new build at the start of 2017. The next question is which one do you buy? Asus has a whole roster of boards available, and in for review today is the ROG Strix Z270F Gaming, priced at around £150.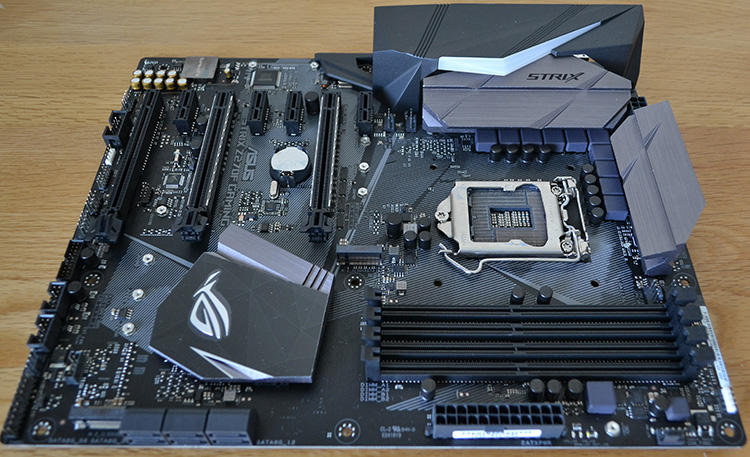 The huge heatsink on the right-hand side will be the first feature to catch your eye. There really is no need for such esoteric cooling on a non-enthusiast version of the board but it's there to show off Asus' Aura lighting. 2016 was the year where RGB lighting pervaded every nook and cranny of the PC space; 2017 appears to be no different. The LEDs contained within look impressive and can be set to one of nine effects, while the brightness is controlled by the Aura software. The colour can be made to change with CPU temperature or even beat in time to music. There's also an RGB header, on the left and coloured white, to which you can attach 2m-long strips for added pizzazz.
A 10-phase power design - eight for the CPU and two for the IGP - remains intact from the previous Z170 generation. There are differences, mind, as Asus says that a refined version of its base-clock overclocking technology is implemented for this model, offering less jitter at higher speeds than before. The way in which the memory circuits are laid out have been improved, too, and Asus promises higher speeds than ever before with the full four DIMMs populated. As an example, a 3,866MHz, four-DIMM speed is supported.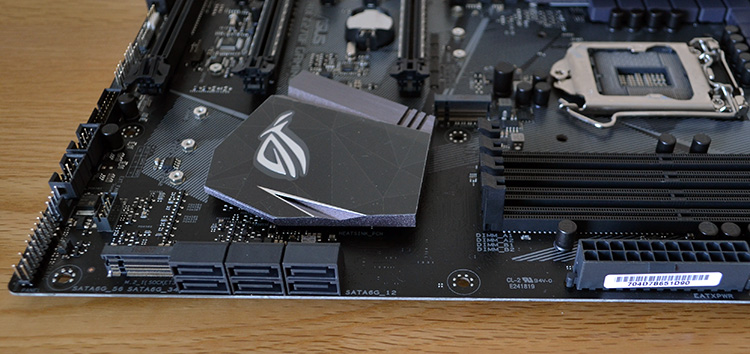 Looking across the board shows the presence of two M.2 slots, each capable of running at PCIe x4. The first, if used, takes the place of the SATA1 port while the second, run through an ASMedia 1480 chip, takes the bandwidth allotted to SATA5 and SATA6. These points are worth noting if you plan to have many drives in the system. Of more interest is the M.2-based Optane support, on which we expect to see the first set of products soon. Optane SSDs will interface with PCIe and use a NVMe protocol, so they may be able to run on older boards.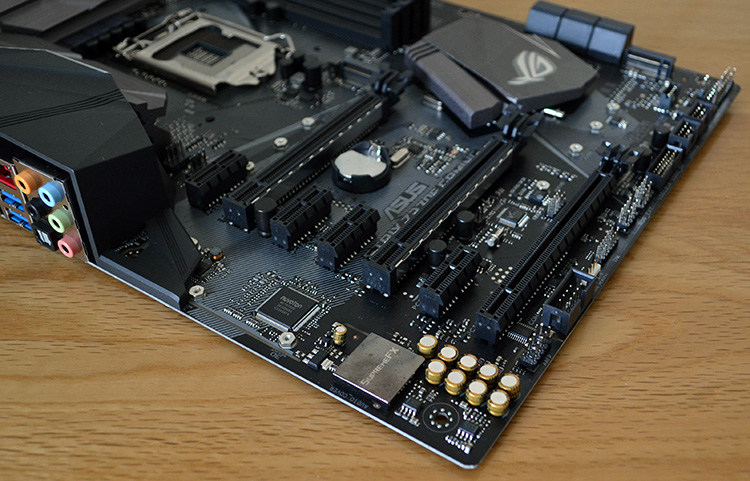 There's also shiny new audio on this model. The Supreme FX S1220A HD Codec offers a 120dB SNR output and 113dB input which puts it firmly in the premium class of onboard sound. You won't need a degree in advanced mathematics to determine that Asus is using the all-new Realtek ALC1220 Codec, which seems to be a popular choice for decent Z270 boards. Backing up the audio in an operating-system environment is the third iteration of Sonic Studio software. We had a listen to the quality produced through a pair of Sony CD1700 reference headphones and were pleasantly surprised by the output.
Notice the 'armour' on the first and second PCIe x16 slots? Dubbed SafeSlot and now all the rage, the implementation is more low-key than, say, Gigabyte or MSI. There are six fan headers dotted around the board, too, and all are of the DC/PWM variety - handy if you want to fine-tune the cooling parameters.

The back contains double-speed USB 3.1 from the popular ASMedia 2142 chip, offering both Type-A and Type-C connectivity, while the four blue ports are USB 3.0. The storage outputs are the same as on a Z170 board, save for faster USB 3.1. Video outputs make sense, with DVI, DisplayPort and HDMI all present and correct.
The Asus UEFI BIOS Utility will look and feel familiar to anyone who has used an ROG board in recent years. Accessible in one of two modes - EZ or Advanced - the interface is for the most part well laid out and easy to navigate, with mouse support having improved greatly in recent years.
Who makes the best fan control system in the business? That's a tough call, but Asus is certainly a contender. The firm's implementation, dubbed Q-Fan, promises PWM/DC control on every available header, fans can be mapped to different sensors, and there are now configurable spin-up and spin-down delay timers to help prevent unwanted speed fluctuations.
Those wanting easier access can simply install the Aura software and replicate every facet in the operating system. Though it hasn't been overhauled in a while - there's really no need to do so - the BIOS remains solid.