Introduction
We'd started to lose count of how many gaming laptops we reviewed in the first half of 2016 only to conclude that a next-gen GPU was needed in order to entice PC gamers into making an investment. Fast forward to today and Nvidia's GTX 10-series range has surfaced and manufacturers are all hurrying to introduce refreshed models.
Quick off the mark is EVGA, who is giving its first-ever gaming laptop, the SC17, a makeover by swapping the GeForce GTX 980M found in the launch model for an up-to-date GeForce GTX 1070.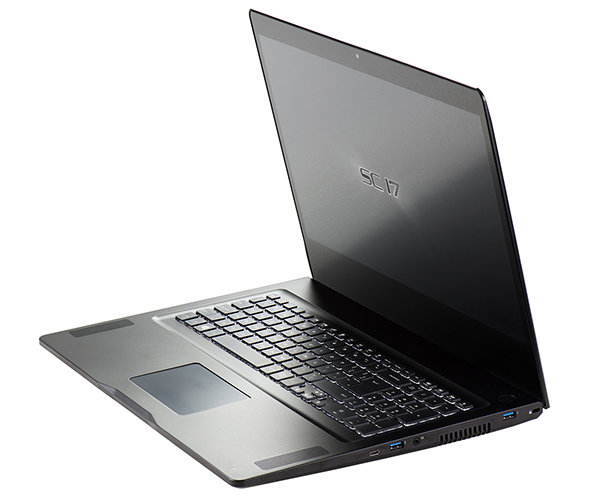 The 10-series GPU is the headline announcement, and it seems little else has changed. We'd encourage readers to pore over our in-depth review of the launch SC17 for the finer details, as a lot of what was true back then is still applicable to the 1070 refresh.
Dimensions haven't changed, with the 17.3in machine measuring 408mm x 296mm x 26.6mm, and the unit still tips the scales at a considerable 4.1kg. EVGA's aluminium frame offers a robust feel, yet while it's reasonably thin for a gaming laptop, the weight prevents it from being portable and the black paintwork continues to attract fingerprints en masse.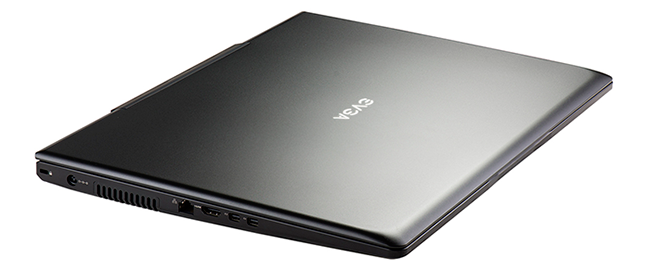 From the outside, you'd do well to tell the models apart. The 1070 refresh looks identical with a power connector, Gigabit Ethernet, HDMI and two mini-DisplayPorts lining the left edge, as well as a headphone jack, two USB 3.0 ports and USB 3.1 Type-C on the right. Thunderbolt, an SD card reader and one or two more USB ports would have been nice on a system of this size, though EVGA does offer a USB Type-C-to-USB 3.0 adaptor as part of the bundle.
All of the original SC17's highlights remain intact, including a 4K IPS display identified as the 17.3in Sharp SHP145E, a proper UEFI firmware that better resembles a desktop solution, and of course a 'SuperClock' mode that allows for the laptop to be overclocked via a quick keyboard shortcut. Such features offer genuine appeal to the target enthusiast audience, though if you were hoping to see a few other upgrades, you may be disappointed to find that G-Sync display technology still isn't an option.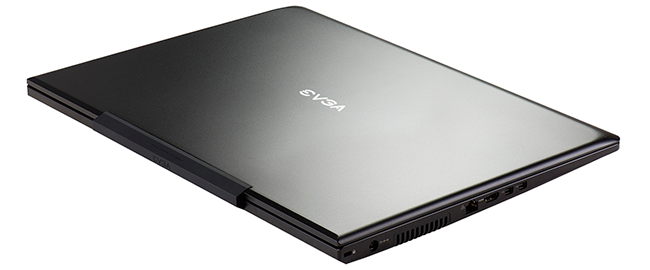 The sense of familiarity continues under the hood, where EVGA employs many of the same core components. Tucked into the svelte frame is an Intel Core i7-6820HK processor, 32GB (2x16GB) of G.Skill DDR4-2666 memory, a 256GB Samsung M.2 NVMe SSD, a 1TB hard disk and an Intel AC-8260 adapter for WiFi and Bluetooth.
Nothing new there, but the big change of course is in the GPU department, with the outgoing GTX 980M having been replaced by the GeForce GTX 1070. The 16nm Pascal chip features one more SM unit than its desktop counterpart, resulting in 2,048 shaders and 128 texture units. Lower clock speeds balance things out, and in terms of performance, we've reached the point where the gap between desktop and mobile parts has all but disappeared.
Turn the SC17 1070 on and the CPU and GPU are configured to default clock speeds of up to 3,600MHz and 1,645MHz, respectively. EVGA's party trick is a quick-and-easy overclock. Hit the SuperClock shortcut (Fn and Up Arrow) and the CPU is instantly lifted to 4,000MHz while the GPU's boost frequency climbs from 1,645MHz to 1,683MHz. No restart is required, and though power consumption, heat output and noise are all likely to increase, it's an easy way to eke out more performance when the going gets tough.
Aside from the GPU, have there been any other significant changes? Well, the price tag isn't what it used to be. Whereas the original SC17 arrived at retail carrying a lofty £2,400 MSRP, the SC17 1070 has raised the asking fee to a jaw-dropping £2,900. For that amount of money you might anticipate a GTX 1080 and G-Sync as standard, but then, given that even Toblerone isn't what it used to be, perhaps we're just going to have to get used to paying more than expected?