Introduction
Razer has repeatedly underscored its intention to provide high-quality peripherals to gamers. This, it appears, is the company's raison d'etre, going by the CEO's comments, so we expect much from the San Diego-based firm.
Part of this strategy to win over the hearts and minds of well-heeled gamers is the launch of the Razer Blade Stealth - a 12.5in touchscreen-enabled ultrabook whose real claim to fame is the ability to run high-quality graphics by mating, via Thunderbolt, to a graphics card-housing enclosure known as the Core.
Now, in late 2016, Razer has updated the Blade Stealth to the 7th Generation Intel Kaby Lake CPU platform and increased the battery size by 15 per cent whilst still keeping the svelte form factor intact.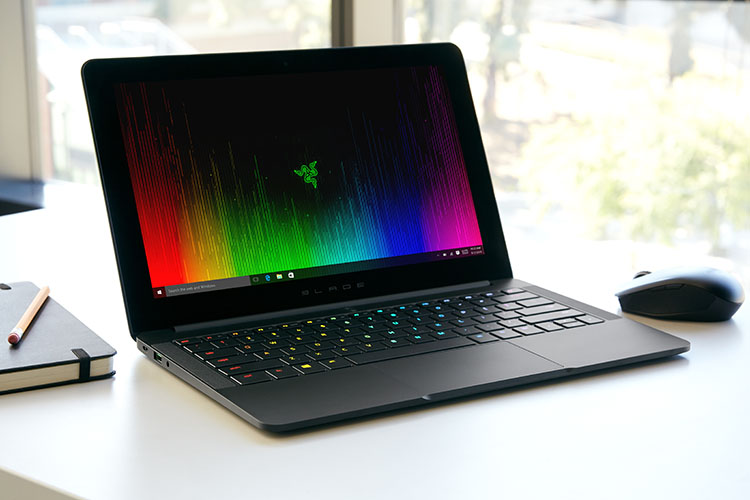 And the latest iteration is a good-looking thing. Measuring 321mm wide, 206mm deep, 13.1mm high and tipping the scales at around 1.3kg, it's eminently slim and portable. Build quality is above average for the £999 starting price thanks to premium aluminium construction, though bear in mind that the matte finish is a fingerprint magnet of the highest order.
Razer keeps the same 12.5in IGZO LED-backlit display used on the model from earlier in the year, and it's notable that it's touchscreen enabled on what is advertised as a gamer-centric machine. Available in either QHD (2,560x1,440) or UHD (3,840x2,160) panels, offering up to 70 per cent and 100 per cent of the Adobe RGB space, respectively, it's one area where Razer believes it scores very well.
You won't fail to notice the large bezel surrounding the screen. Razer's reason for not having a sexy, edge-to-edge display, such as on the Dell XPS 13, rests with 'deciding to pick function over form and selecting the best display on the planet'. Lofty words indeed, though the fat borders are very conspicuous, and the coating on the panel is hugely reflective.
Our sample's QHD display is bright and sharp while, under Windows 10, the multi-touch facility works as well as any other laptop we've tested recently, responding well to gestures and having excellent accuracy. It's at least as good as the Surface Pro 4 that I personally own, and our sample exhibited no noticeable backlight bleed or uneven lighting.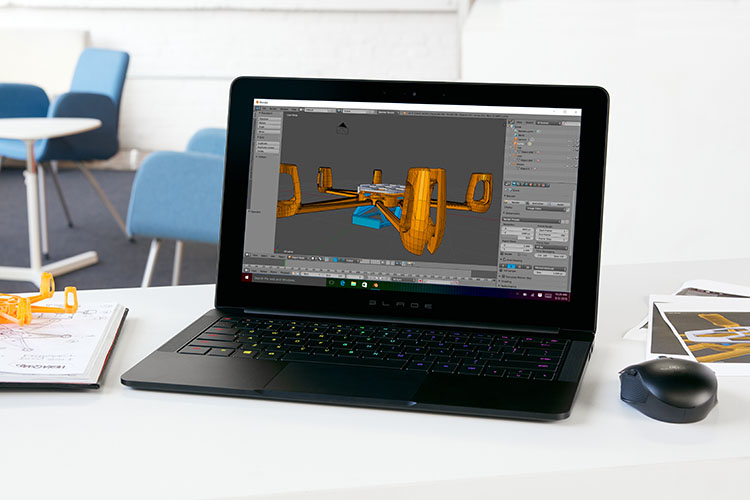 Keeping a super-svelte form factor usually means sacrificing ports and interfaces. Razer uses a Thunderbolt 3 (USB Type-C) for charging and connecting to the Core dock we spoke about above. There's also a couple of USB 3.0 - one on each side - a 3.5mm headphone jack, and a HDMI 2.0a port through which you can hook up an external monitor and carry 8-channel sound. Laptop sound is produced by a downward-firing speaker on the right-hand side. The audio oomph is surprisingly impressive from such a small unit, too. Killer, meanwhile, is the go-to choice for networking and Bluetooth.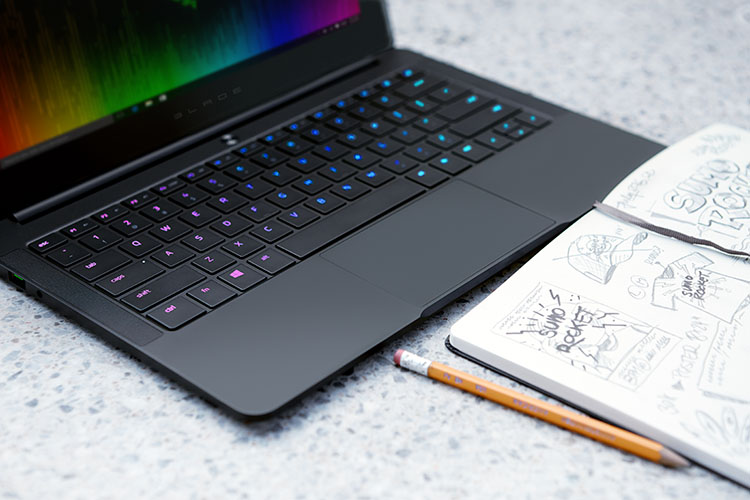 This wouldn't be a Razer product if it didn't have an RGB-equipped keyboard. Nothing has changed from the version available earlier in the year though this is no bad thing. The keys are individually lit and can be set to one of 16.8m colours using the Synapse software. What's more, the brightness of the lighting effect can be changed, too.
There's a small amount of flex if you push down hard in the middle. Perhaps more obvious is the very shallow travel, which feels like the Surface Pro 4 Type Cover and less like a conventional laptop. The overall experience isn't poor by any means - you quickly get used to it - but we'd prefer more travel if working on it for an extended period of time. Given the spatial restrictions imposed by a small-ish chassis, the keys don't feel too small or cramped. The trackpad, meanwhile, is of a good size and supports four-finger-touch gestures.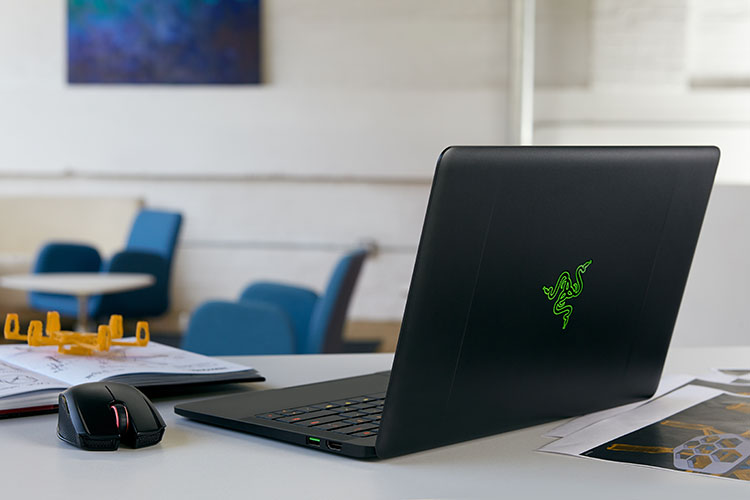 Razer keeps the same 128GB, 256GB and 512GB Samsung family of PCIe-based NVMe storage drives but ups the capacity to 1TB for the 4K model. The travel charger is also compact, adding 220g to the overall weight.
Under the hood, three new hardware additions bulk up the performance potential. Razer now uses a Core i7-7500U Kaby Lake CPU whose dual-core, quad-threaded frequency changes from a base 2.7GHz to a maximum 3.5GHz. The configurable-TDP chip is nominally rated at a 15W TDP and we observed it maintaining 3.2GHz during our all-core benchmarks. Performance should be 10 or so per cent higher than the early-2016's Core i7-6500U version through a combination of more frequency and enhanced architecture. The graphics are now known as HD 620 and dynamically boost to 1.05GHz.
An option now exists for the Blade Stealth to be outfitted with 16GB of LPDDR3 1,866 memory, up from a solitary 8GB, and this is how our sample shipped. And last but not least, Razer's larger battery should pave the way for longer mains-free time than the original model, which was often found to last no more than five hours with basic load.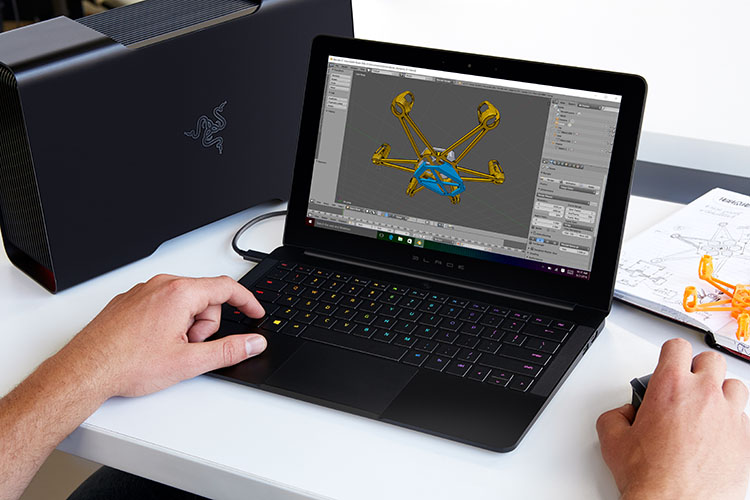 A key selling point of the Blade Stealth is the ability to connect to an external box that houses a discrete graphics card. The Core, to be priced at close to £500 for the enclosure alone, is a meaty unit that supports both AMD and Nvidia dual-slot graphics cards measuring up to 310mm long. Usage couldn't be simpler: simply slide out the main tray, install the graphics card (our choice was an EVGA GTX 1080 FTW), attach power cables - the unit comes with 2x8-pin - and slide back. The Core has a 500W Enhance PSU capable of driving cards with up to 375W TDP. The Core also houses four USB 3.0 ports and Gigabit Ethernet, too, making it a desktop replacement bit of kit.
Plugged into the mains at one end and a Thunderbolt 3, 40Gbps connection to the charging inlet of the Blade Stealth, the Synapse software immediately recognises the Core and seamlessly changes graphics from the integrated Intel to whatever's in the box. Being Razer, the Core has two-zone RGB lighting controlled by the software. The Core's PSU can be heard at all times, more of a hum than a din, and the overall design is good enough to ensure the card doesn't throttle. Our EVGA GTX 1080 ran at 1,920MHz boost core whilst gaming, but as you will see later on in the review, performance wasn't where we would normally expect it to be.
The base £999 price includes the QHD display and 128GB of solid-state storage. Upping this to 256GB and memory to 16GB - the next SKU up - increases the price to £1,249, which is exactly how our review sample is configured. Enough talk, now on to some numbers.