Introduction
In the market for a powerful gaming laptop that doesn't break the bank? Then you may want to look past the familiar brands and turn your attention to system integrators, many of whom are presenting real value in the high-performance laptop space.
And there's merit to their machines, too. After all, if you're seeking exquisite build quality, a class-leading keyboard, extreme battery life or a heightened sense of finesse, a gaming laptop probably shouldn't be on your radar. On the other hand, if your priority is under-the-hood performance, system integrators are becoming adept at outfitting off-the-shelf chassis with high-end mobile components.
Wanting to keep ahead of the competition, PC Specialist is one of the UK's first SIs to put forth a laptop based on Clevo's latest 14in chassis, the P640RE. It's dubbed the Defiance II and at £999 has the makings of a potent mobile workhorse.
Design
First impressions are likely to be mixed as the laptop doesn't look or feel like a thousand pound's worth of hardware. We aren't particularly keen on the strange silver strips on the chassis' lid, and the 25.4mm-thick profile coupled with a 2kg weight make Defiance II relatively bulky for a 14in machine.

It's not Surface Book sexy, that's for sure, but there are signs of progress as the new Clevo chassis doesn't feel as plasticky as earlier efforts. Both the top and keyboard surround are reinforced with aluminium alloy, and though there's still a good dollop of plastic elsewhere, the frame is suitably rigid and we like the fact that the lid is easy to open with one hand.
Display and Connectivity
A 14in form factor is in our estimation a sweet spot for portability and performance, and a killer display plays a crucial role in delivering those attributes. PC Specialist's full-HD IPS panel, identified as model LGD046D, is good but not extraordinary.
The 1080p resolution works well enough at this screen size, brightness and contrast are good, a matte coating helps prevent unwanted reflections and viewing angles are decent in every direction. On the flip side, it isn't a touchscreen, minor bleed along the edges is evident in dark scenes, the display bezel is a tad large, and users wanting more wow factor may lament the lack of an optional QHD panel or G-Sync support. We also experienced signs of ghosting in certain games, which suggests that panel response time isn't cutting edge.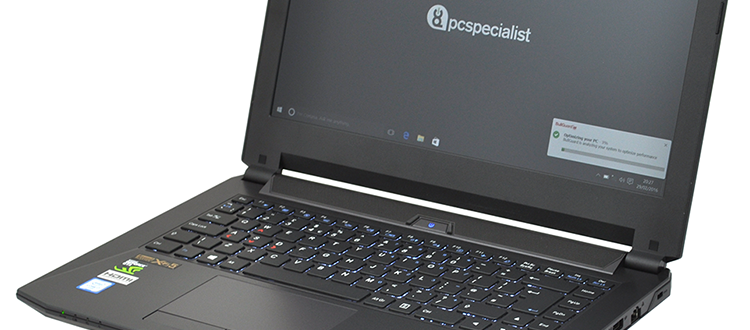 Upward-firing speakers are neatly arranged below the display, and though they lack any meaningful bass, there's plenty of volume so you won't always feel the need to reach for your headphones.
Defiance II doesn't push the boat out in terms of audio or visual, but the not-too-thin profile leaves plenty of room for connectivity. Making good use of the available space, the laptop's right edge is lined with Gigabit Ethernet, two USB 3.0 ports and a multi-card reader. Over on the left you'll find a trio of audio jacks, two more USB 3.0 ports, HDMI output as well as dual mini-DisplayPorts, and of course there's built-in Wireless AC and Bluetooth connectivity.
The laptop can drive three external displays, though do be aware that the HDMI port isn't of the 2.0 variety and can't manage 4K60. Other potential points of contention include the power connector, which is tucked around back but seemingly at odds with the angled connector of the 180W external power supply. And if you're left-handed, be aware that the audio jacks are very close to the front-edge where they could possibly interfere with mouse-mat real estate.
Keyboard and Trackpad
Continuing a recurring theme, the keyboard and trackpad are good but not spectacular. The backlit keys are well spaced and housed in a rigid tray, but how much you enjoy the typing experience will depend on where you're coming from. If you're used to, say, a ThinkPad with contoured keys and a good amount of travel, the Clevo keyboard will feel relatively flat and uninspired. If you're accustomed to gaming laptops, the Defiance II should prove to be a comfortable fit, with the only major bugbear being the position of the Home, Page Down and Page Up keys to the right of Enter.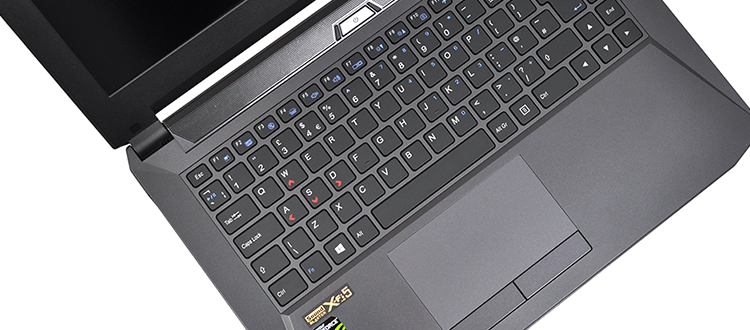 The extra-large Synaptics trackpad is inviting and has two proper buttons. A textured surface provides a nice feel during use, and the panel had no problem responding quickly to multi-touch gestures. Another sign that PC trackpads are improving, though a little more attention to detail in other areas wouldn't go amiss - nitpicking somewhat, it's frustrating that the power button is backlit blue, while the status LEDs along the laptop's front edge are a mix or green and orange.
Core i7 and GTX 970M
Defiance II isn't about finesse or frills, it's purpose is to deliver a good punch at the £999 price point. With that in mind, PC Specialist's specification includes a quad-core Intel Core i7-6700HQ processor, 16GB of dual-channel DDR4 memory and dedicated GeForce GTX 970M graphics. Storage, meanwhile, is provided by a 240GB Kingston SSDNow M.2 SATA 6Gbps SSD outfitted with a clean, 64-bit install of Windows 10, and a 1TB WD Blue hard disk for extra space.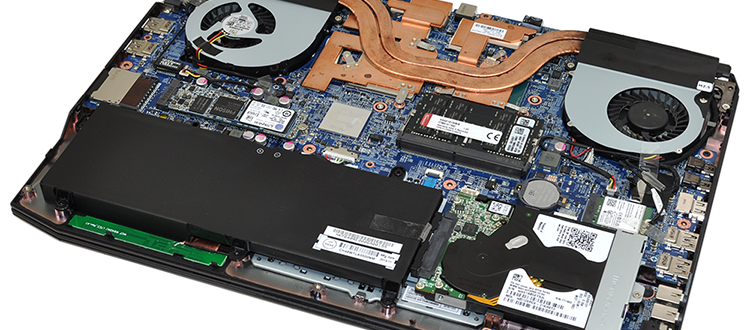 A potent overall combination, though there are a couple of caveats. The £999 promotional price tag only applies when the system is purchased as specified via a dedicated link. Choose to make any changes via PC Specialist's online configurator and costs can escalate. For example, the same laptop outfitted with a Samsung M.2 PCIe SSD instead of the SATA 6Gbps drive would set you back a less-tempting £1,157.
The other potential stumbling block is the small 45Wh battery. We'd like to see Clevo offer a larger battery at the expense of the 2.5in drive bay. The laptop's total weight would take a hit, but as we'll point out a little later in the review, greater battery life wouldn't go amiss. All things considered, few sub-£1,000 laptops are as well-specified as this, so let's head on over to the benchmarks.