Introduction
Is there such a thing as a perfect gaming laptop? We've seen our fair share of high-end attempts here at HEXUS HQ, and while they all tend to have their merits, each one usually comes accompanied with a caveat or two. In the past, these have included lap-singeing temperatures, rampant fan noise, disappointing displays, swathes of unwanted bloatware and, our favourite, the customary splattering of stickers on the chassis.
The situation is getting better all the time, mind, and recent attempts from the industry's big names are noticeably more refined. Today's gaming laptops are sleeker in profile, less boisterous with regards to noise and heat, and they often manage to couple high-end performance with decent-enough battery life. Things are on the up, and we'd expect a manufacturer like Asus to be leading the line.

To find out if one of the industry's most recognisable brands can nail the gaming laptop, we're taking the Asus Republic of Gamers GL552VW for a spin. The name doesn't exactly roll off the tongue, but at first glance, this is a 15.6in, Core i7 gaming machine with plenty going for it. Take, for example, the £875 price tag. Gaming laptops often fetch well in excess of £1,000, so the fee can be described as relatively keen - heck, the GL552VW costs only £75 more than a 128GB iPad Pro.
And you do get a good amount of laptop for your money. Asus's chassis measures 384mm x 256mm x 35.1mm in size, and though the thickness can be considered borderline fat by today's standards, the machine has a good gamer look and feel about it. The textured lid is a nice touch, as is the pattern around the keyboard tray, and though the materials are mostly plastic, the combination of red-and-black never seems to fail.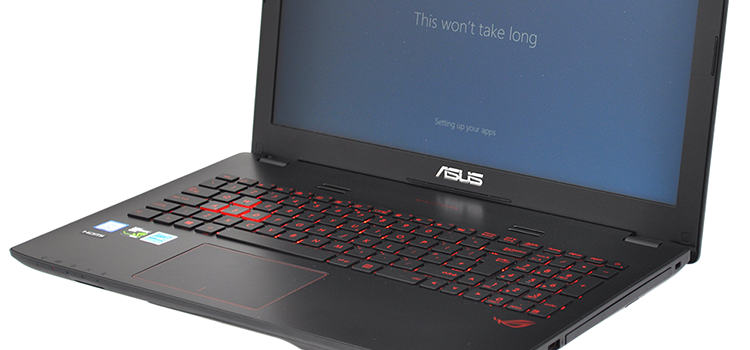 There's more flex in the display lid than we'd like, and the centre of the keyboard tray will also dip with excessive force, but there are no squeaks and rattles and build quality is good enough without ever feeling exquisite. GL552VW isn't positioned as a flagship, but rather as a mid-range solution for gamers wanting mobile performance without breaking the bank, and it comes across that way.
So what concessions have been made to bring down the price? Well, unfortunately, the 15.6in display leaves something to be desired. Asus is making use of a matte 1080p TN panel (model number CMN15C4) that pales in comparison to the IPS alternatives that we've become accustomed to. Brightness could be better, colour reproduction isn't great, and contrast is also below par. Dark scenes appear undesirably grey and all of the aforementioned niggles are underscored by limited viewing angles. Tilt off-centre and the edges of the screen quickly appear washed out.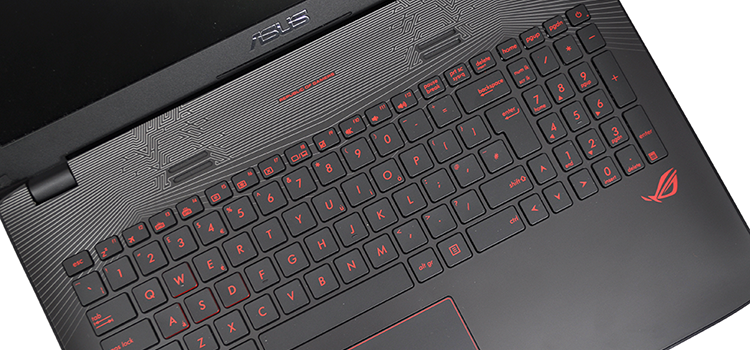 The display is a weak link, a deal-breaker almost, and it's a shame as Asus gets plenty right from here on in. The keyboard looks inviting and is comfortable during use, with a reasonable amount of travel and good backlighting throughout, albeit in bright red only. We like the fact that a numpad has been included, but we aren't too keen on the power button being shoehorned into the top-right, where you'd normally expect to find the End key.
Asus naturally includes a couple of gamer-specific tokens, such as emphasised WASD keys and the ability to lock the Windows key via a bundled software utility, and understanding that most gamers prefer a dedicated pointing device, there's a wired RoG mouse included in the box. You shouldn't need it for everyday tasks, however, as the integrated trackpad is well-sized, responsive and generally quite pleasant to use.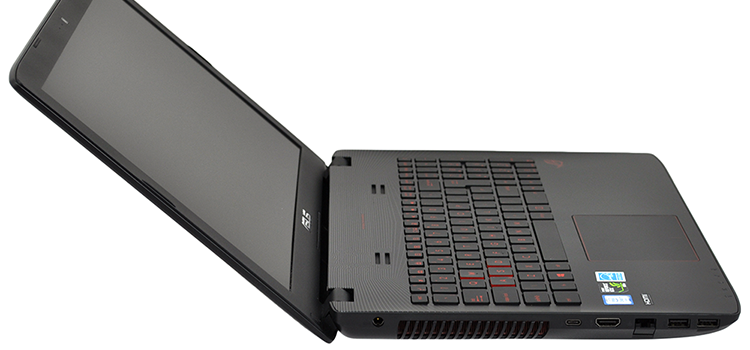 Sound output from the upward-firing stereo speakers is loud and clear, though there's little in the form of depth and as with most laptops, the audio experience is best described as tinny. Around the sides of the GL552VW we can see that Asus hasn't skimped on connectivity. The left edge is home to two USB 3.0 ports, Gigabit Ethernet, HDMI (with accompanying palm-rest sticker, of course) USB 3.1 Type-C and a connector for the bundled 120W power supply. On the right side you'll find a pair of audio jacks, USB 2.0 and a DVD writer, and there's also an SD card reader along the front, just below the five status LEDs.
Wireless AC and Bluetooth 4.0 connectivity are included as standard and Asus's internal specification hints at a good amount of oomph. At the heart of the machine lies a high-end, quad-core Core i7-6700HQ processor with integrated HD 530 graphics, 8GB of DDR4 memory and a dedicated GeForce GTX 960M GPU for gaming duties. Storage, meanwhile, is provided by a 256GB SK hynix M.2 SATA6Gbps SSD and a 1TB 2.5in hard disk.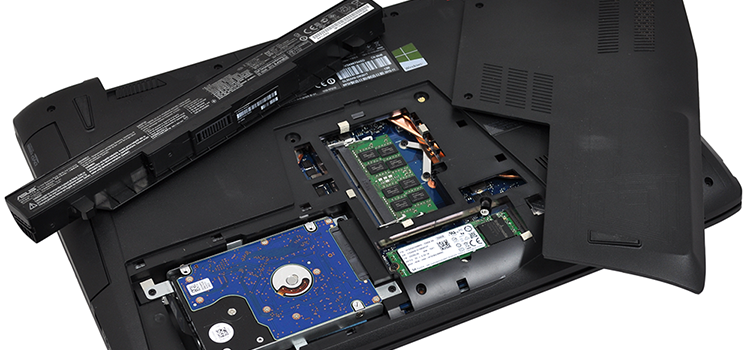 A removable cover provides convenient access to the M.2 and SATA drive bays without voiding the warranty, and you can also access the two SO-DIMM slots. Note that only one of these is populated by default, meaning a) only single-channel memory performance as standard, but b) a simple path for a future upgrade.
And yes - that is a removable battery in the above picture, remember those? It's handy being able to get a spare, though we do wonder how the supplied unit's 48Wh capacity will hold up during our battery rundown test. Only one way to find out, let's load up the benchmarks.