Introduction
The ThinkPad X1 Carbon reviewed last month was a bit tasty, we're sure you'll agree, but it did come with one itsy-bitsy caveat in the form of a near-£2,000 price tag.
That's a serious chunk of change, yet such figures appear to have become commonplace in the world of high-end laptops, and it makes us wonder: how close to the premium experience can you get with a budget of, say, £600? To find out, we're taking a look at PC Specialist's Lafité II.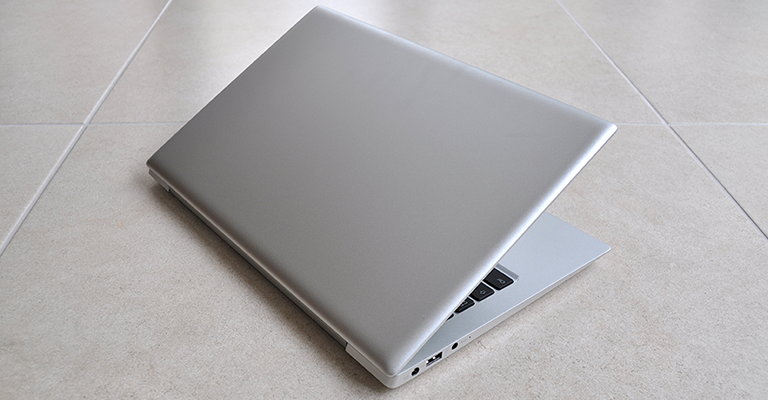 Priced appropriately at £599, the 13.3in Lafité II is a clever piece of kit insofar as it offers various Ultrabook niceties without the exorbitant fees. Dimensions of 325mm x 219mm x 18mm make it suitably svelte - it's 0.3mm thicker than the ThinkPad, if you're counting - and a 1.4kg weight makes it a true ultra-portable.
It's a fairly good-looking machine, too, and if you carved an Apple logo onto the lid it could easily be mistaken for a MacBook Air. But as you might expect at this price point, there is a difference. Despite using an aluminium chassis, Lafité II feels delicate in parts and lacks the seamless finish available to premium alternatives.
If you're being picky, you can feel a ridge where the various panels join together, and the somewhat sharp front edge isn't the most comfortable when typing, though to PC Specialist's credit there's hardly any flex in the main body and the overall impression is one of a laptop that's neat and tidy.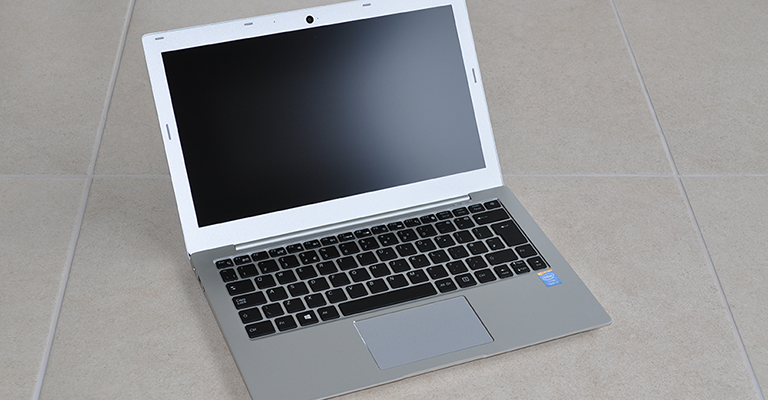 You could argue that Lafité II is so neat and tidy that it lacks character. Aside from a unwanted 'Intel Inside' sticker, there is no branding at all and that could work out one of two ways - lookers-on will either consider the laptop exclusive, or it could be mistaken for a knock-off.
We're of the opinion PC Specialist has done a good job of making the laptop appear more expensive than it really is, and aside from the large display bezel, there isn't a lot wrong in terms of overall size, weight and aesthetic.
There's room, we feel, for a 14in display but we're having to make do with a smaller 13.3in solution. On the plus side, it is an IPS panel offering a full-HD resolution and good viewing angles in all directions. On the negative side, the panel isn't touchscreen, blacks could be deeper and you'll also want to be wary of Windows 10's default scaling setting - it automatically chooses 150 per cent which makes everything look fuzzy and oversized. Notch it down to 100 or 125 percent and you'll get much better results.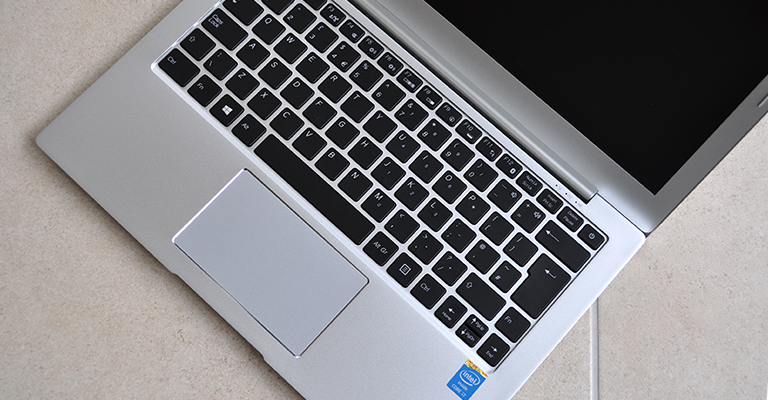 The solid-but-not-spectacular theme continues in most aspects of the Lafité II's make-up, with the stereo speakers providing plenty of volume but little depth, and the same description is applicable to the keyboard and trackpad. We like the fact that the keyboard is backlit, and the keys are a good size with reasonable spacing, but they do feel particularly shallow and make for a serviceable but not lovable typing experience.
There's also the awkwardly-positioned power button to contend with - it's integrated into the keyboard itself, just above backspace, so be mindful when you think about deleting long portions of text as you may find yourself inadvertently staring at a blank screen.
Laptop trackpads can be hit-or-miss at the best of times, and the Elan Smart-Pad implemented here is a bit of both. The surface is nice and large and responds well to multi-touch gestures, but there's a weird friction to the surface and on-screen movement feels slow and almost laggy. Tweaking motion-speed settings helps somewhat, but this remains a trackpad that takes some getting used to.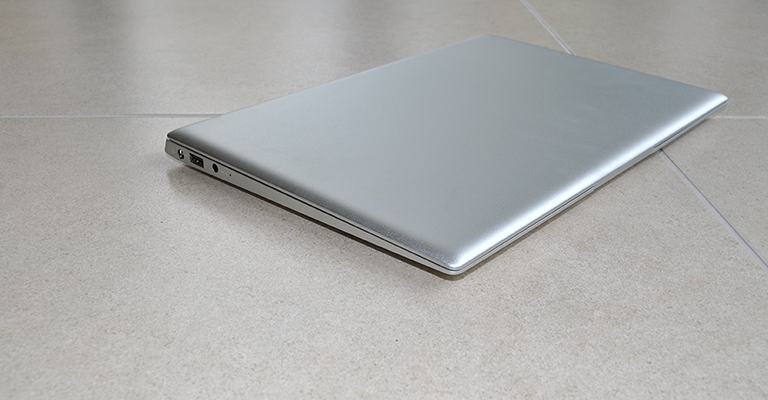 During everyday use, it's the keyboard and trackpad that feel like a step-down from premium machines, though you could argue the divide isn't as wide as the price gap. You almost accept most of the trade-offs associated with the Lafité II due to the keen price tag, which becomes more appreciable when you consider some of the other elements.
In terms of outputs, users have two USB 3.0 ports (one either side), a headphone jack, a connector for the small 40W power supply, an SD card reader, full-size HDMI output and forward-looking USB Type-C. The latter has been added to the second-generation laptop in place of Ethernet, though there sadly isn't a USB-to-Ethernet adapter included in the bundle - it's a £15 optional extra.
Connectivity remains decent for a system as thin as this, and on the inside Lafité II really shows promise. Beneath the hood, PC Specialist has shoehorned a latest-generation Core i7-6500U processor, integrated Intel HD 520 graphics, 8GB of DDR3 memory and a 250GB Samsung 850 Evo SSD.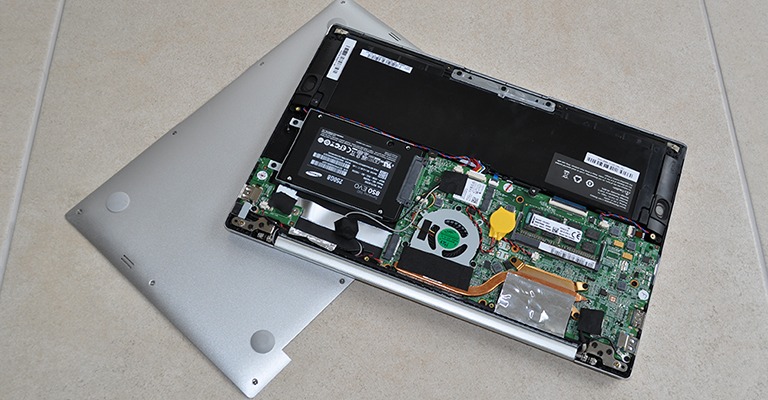 That's a combination that makes this low-cost solution a competitor for much pricier alternatives, and unlike many unibody Ultrabooks, the bottom panel can easily be unscrewed for maintenance and upgrades.
Swapping out the SSD is painless and we can also see a spare, unused M.2 slot for additional storage needs. WiFi and Bluetooth connectivity is provided by a third-generation, dual-band Intel Wireless-AC 8260 network adapter, and a single fan is tasked with cooling the dual-core, hyper-threaded Intel CPU. The laptop does get warm during strenuous tasks but what's more of a concern is the fan profile, which rather than ramp-up steadily seems to fluctuate speed and noise too rapidly.
Elsewhere, one other obvious limitation is the solitary DIMM slot, meaning single-channel memory and no room for expansion beyond the default 8GB. This should nonetheless be a very nippy machine for everyday use, and we're intrigued to see how long the 45Wh battery can keep us going. Let's get some answers.