What's it like to use?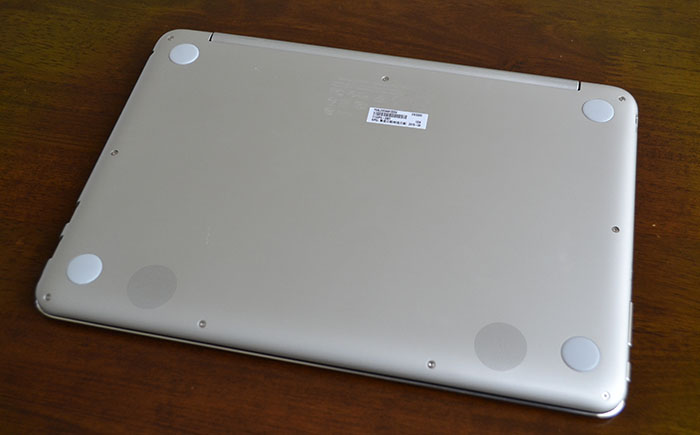 As you would expect, the two-cell, 31WHr battery is integrated and therefore not serviceable by the end user. Two bottom-firing speakers are more of an afterthought, because there's little hint of bass and a definite lack of volume. But is it reasonable to expect anything different from such a compact chassis, especially when there's a combination microphone/headphone jack in situ?
Asus has also thought about the total travel weight as the power adapter, which is nothing much more than a regular plug, has a proprietary connector. Total weight is about a 1kg, or light enough to go unnoticed in a travel bag. And if Asus' battery claims of 9 hours-plus are to be believed, you may not need to charge for a while.

Thin it might be, yet the Chromebook Flip carries two full-size USB2.0 ports, micro-HDMI for outputting video on to a larger screen, and the aforementioned combo audio jack. And knowing that storage is limited to either 16GB or 32GB eMMC, depending upon model, Asus sensibly adds a reader for Micro SD, Micro SDXC and Micro SDHC cards.
The very lack of massive onboard storage is a trait of Chromebooks, remember, as Google wants users to consider these laptops cloud-based devices that have access to Google Docs, Sheets, Calendar, and 100GB of Drive storage, free for two years. This isn't meant to be your workhorse laptop or productivity powerhouse; instead, a Chromebook is more suited for simple, everyday tasks such as web browsing, multimedia playback and in-browser gaming. Access to the web is provided through an integrated combination card featuring 802.11ac WiFi and Bluetooth 4.1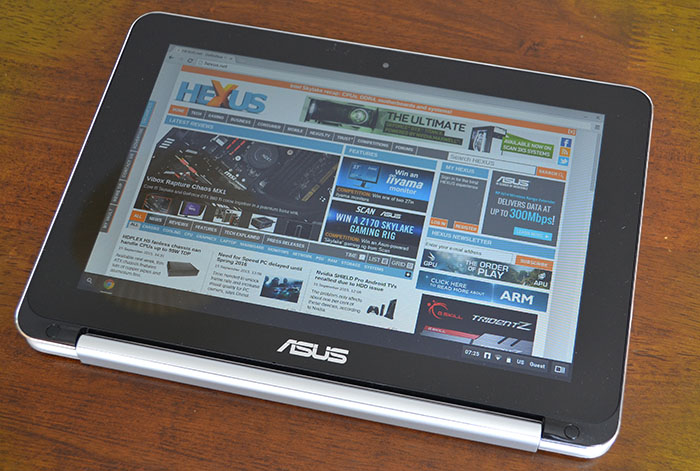 Flipping it over to tablet guise shows the touch-enabled, 10.1in, 1,280x800-resolution IPS display. The pixel count is low on a specification sheet though the lack of resolution is offset by a decent panel imbued with wide viewing angles. The screen is good for viewing web content and movies, belying its puny resolution, but while it's perfectly pleasant in laptop mode where the screen is farther away, the lack of resolution does tell in tablet mode.
The super-thick bezel is something of a turn-off, too, but feels necessary when holding the Flip in tablet mode. Servicing video and camera needs is a high-resolution front-facing camera and reasonable-quality microphone.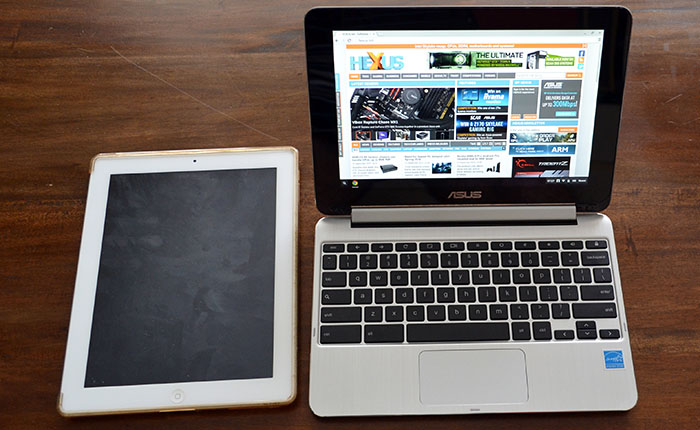 The real competition, we feel, is the tablet to the left, with Asus and Google hoping that potential buyers will be swayed by the Flip's attractive price that naturally includes a proper keyboard on top of the passable virtual keyboard when using it as a tablet.