Introduction
Isn't it nice when manufacturers listen to feedback from customers and critics? MSI seems to have done exactly that by launching a new-and-improved version of its 15.6in GS60 gaming laptop that addresses many of our initial concerns.
Cast your memory back to last year's review of the GS60 2PC Ghost, and you may recall that while the machine had merit, the use of single-channel memory and a last-generation Nvidia GPU took away some of the appeal, and a sub-four-hour battery life certainly didn't help.

2015's revamped GS60 2QE Ghost Pro 4K addresses some, but not all, of those complaints and throws in a couple of added extras for good measure. But first, the bad news, the Ghost Pro is a step up from the standard model and the superiority is reflected in the price, which at £1,500 is £300 more than the non-Pro alternative.
A hefty amount for any gaming laptop, but then if you're looking one chock-full of bells and whistles, the Ghost Pro 4K comes pretty close. The chassis itself hasn't changed since last year, though that's no bad thing. Measuring just under 20mm at its thickest point, the GS60's magnesium-alloy frame is refreshingly svelte for an MSI Gaming Series machine, and a 1.9kg weight makes it reasonably portable, too.
Build quality is good but not unibody-spectacular, with both the lid and keyboard tray exhibiting signs of unwanted flex, and save for the unnecessary red dragon on top, this could easily be mistaken for a business machine. And don't worry, if you prefer your gaming laptop to carry a bit more swagger, the GS60 Ghost Pro 4K also comes in red or gold.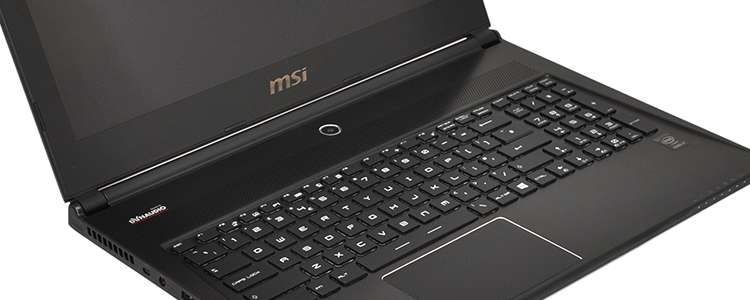 Open the lid and it doesn't look as though a lot has changed. The backlit SteelSeries keyboard and Elan touchpad are both very much the same, with the hash key still oddly adjoined to enter and the touchpad responding reasonably well but still falling foul of accidental presses. The real highlights here are the gamer-specific enhancements, with the Windows key moving to the right of the spacebar and programmable macros that can be assigned to any key other than F1-F12.
It's above the hinge and under the hood where the real upgrades become apparent. The most striking is the display, with the GS60 Ghost Pro 4K eschewing the already-good full-HD IPS panel in favour of a 4K UHD PLS screen touting a lush 3,840x2,160 resolution and a modest 48Hz refresh rate.
The Samsung-made panel is a visual treat and brings exceptional clarity to on-screen content, and though scaling at such high resolutions has proven problematic in the past, we feel that Windows 8.1 and, in the near future, Windows 10, do a much better job of adapting content to fit. You definitely enjoy looking at the 4K panel - text in particular is remarkably crisp - but only when you go back to a lower resolution do you fully appreciate how nice an ultra-high-res display can be. If you're not convinced, a version of the GS60 Ghost Pro without the 4K screen is available for £200 less.
In order to push the requisite number of pixels, MSI has also revamped various inner components. The CPU has been upgraded to a quad-core Intel Core i7-4720HQ capable of hitting speeds of up to 3.6GHz, it's partnered by 16GB of DDR3 memory in a dual-channel 2x8GB configuration, and the GPU is now an Nvidia GeForce GTX 970M based on the latest Maxwell architecture.
A healthy specification for any gaming laptop, yet while the core components have plenty of strength, the supporting cast isn't quite as progressive. The 128GB Toshiba M.2 SSD installed as the system disk feels cramped in this day and age, and though there's a 1TB 2.5in hard disk for secondary storage, you might have expected a larger SSD at this price point.
Many of these components aren't easily replaced - opening the chassis does void the GS60 Ghost Pro's warranty - but the most pressing concern is perhaps the 53Wh battery. It offers the same capacity as the standard GS60 Ghost, and when you consider that battery life was already middling, you fear the worst now that it has to cope with the demands of a 4K screen. Those fears are very real, as we'll demonstrate a little later in the review.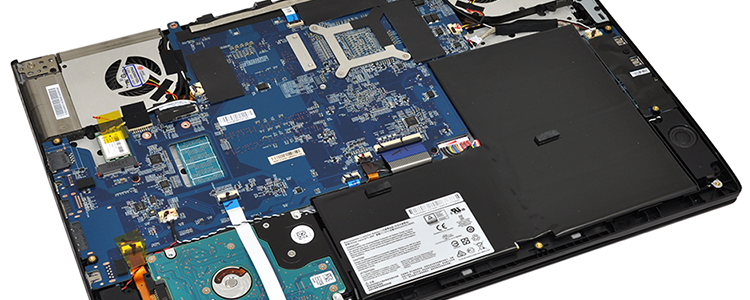 There's no change in terms of connectivity, with the laptop's left edge housing a connector for the bundled 150W PSU, two USB 3.0 ports and headset and microphone jacks. Over on the right side there's another USB 3.0 port, a dedicated card reader, HDMI and Mini DisplayPort outputs and a Gigabit Ethernet jack. As before, the network interface is powered by a Killer E2200 controller, while Killer's AC 1525 handles WiFi duties.
This is, for all intents and purposes, last year's GS60 outfitted with a faster processor, latest-generation graphics and a lavish 4K display. Do said upgrades make it a fundamentally better machine? Let's take a deeper look at performance.