Using the Aorus X3 Plus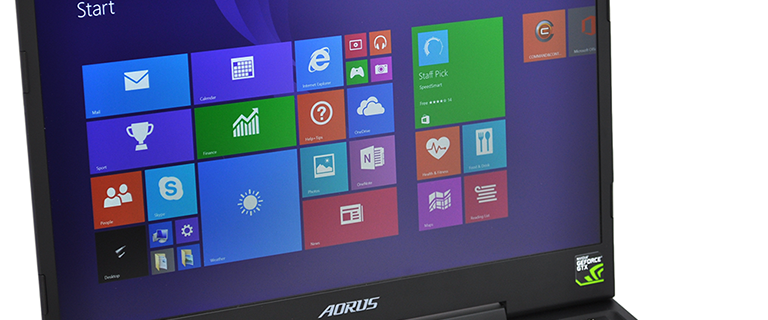 It's in use that a lot of the aforementioned can be appreciated. The QHD+ display is the same Sharp SHP1401 panel used in the rival Razer Blade and it delivers excellent results. Windows 8.1 scales very well at such lofty resolutions, and text is made to look incredibly crisp and clear. Get used to high-res displays such as this and ordinary panels start to feel like a major downgrade. We've watched a couple of 4K video clips and the image quality is breathtaking at times.
Viewing angles are also very forgiving - you lose a little brightness when off-centre but colours remain true - and the matte finish takes unwanted reflection out of the equation. The display is without doubt one of the X3 Plus' strongest points, yet it isn't quite perfect. Not all software scales as well as Windows 8.1 (some third-party apps still look awfully small) and though the accompanying GeForce GTX 870M is strong, we suspect it will struggle to drive games at the native resolution. Last but not least, Aorus doesn't offer a touchscreen option - that's something which is available on the competing Razer Blade.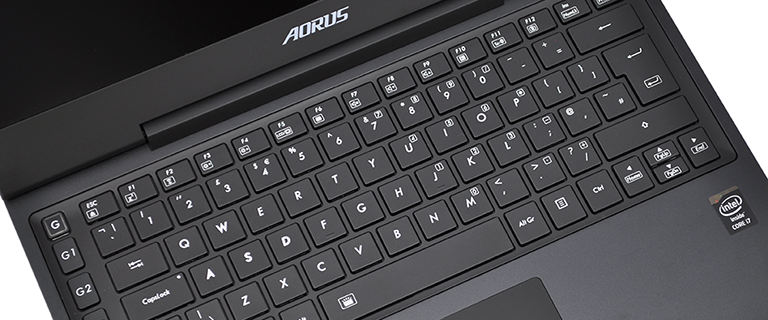 With so much high-end hardware it can be easy to overlook the basics, so has Aorus taken the required amount of care when it comes to everyday usage? Well, there are pros and cons, but it's mostly good news. The fully backlit keyboard is a good size for a 13.9in frame and incorporates a set of dedicated macro 'G' keys on the left side - these can be customised easily using Gigabyte's onboard software package.
Aorus uses a scissor-switch keyboard that offers a crisp, tactile feel during use, and we've enjoyed our time with it. Key layout is logical throughout, the white backlight is reasonably even and has low, high or auto modes, and though there's no hardware on/off switch for the Windows key, it can be disabled via software. Our one criticism is there's a bit of flex in the middle of the keyboard tray, and it does make the central keys feel noisy and uneven compared to the rest of the panel.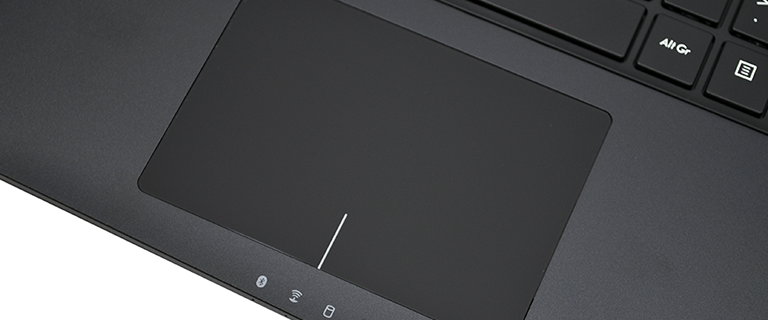 As far as we can tell, the eye-catching trackpad is taken straight from the X7. It's an Elan Smart Pad covered in glass, and our opinion hasn't changed: it's ultra-responsive and reacts well to multi-touch gestures, but the glass finish just feels a little weird to the touch. We prefer a textured pad and we suspect sweaty-fingered gamers will too.
On the I/O front, Aorus has managed to squeeze a good amount of ports into the X3 Plus' svelte frame. The left side houses mini-DisplayPort, HDMI, USB 2.0 and a pair of audio jacks, while the right side is home to an SD card reader, two USB 3.0 ports and a side-facing power button. Gigabit Ethernet and DC-in are tucked neatly around back, while the stereo speakers are positioned on the laptop's underside, resulting in output that's far too easily muffled.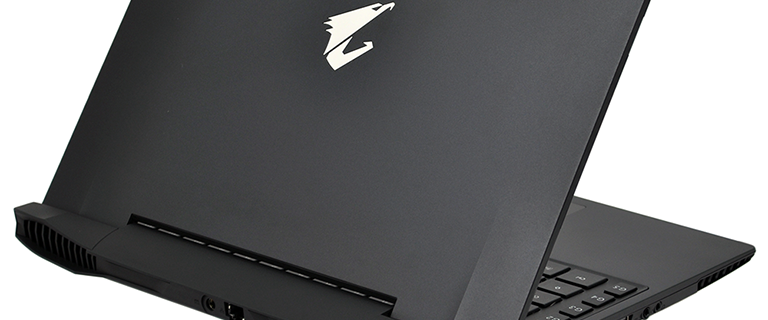 We'd have preferred upward-firing speakers and all three USB ports to have been of the SuperSpeed 3.0 variety, and if you're considering the X3 Plus as a travel companion, it's worth noting that the bundled 180W power supply is a chunky unit.
There's room for improvement, yet our criticisms are minor and, all things considered, the X3 Plus is shaping up to be one of the most powerful sub-14in gaming laptops ever released. Let's now put that theory to the test.