The Need for Speed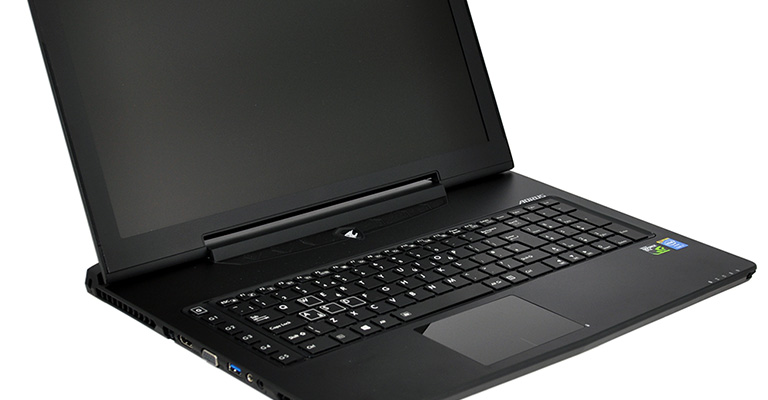 Remember the ludicrously fast Aorus X7 gaming laptop that we reviewed back in January? Armed with a quad-core Intel Haswell processor and dual GeForce GTX 765M SLI graphics, it offered incredible levels of gaming performance in a 17in form factor measuring just 23mm thick.
There was no mistaking the system's raw speed, yet all that firepower did come with one or two inevitable provisos: fan noise was considerable, and battery life was limited to just two-and-a-half hours.
Now though, Aorus is back with a new-and-improved model dubbed the X7 v2. The refreshed system looks and feels identical to the original but has undergone a few inner tweaks to enhance the overall package. You might be forgiven for assuming that means quieter fans and a bigger battery, but that isn't the case, as Aorus' gaming ambition remains undeterred: the v2 has a faster CPU, more-powerful GPUs and upgraded storage to boot.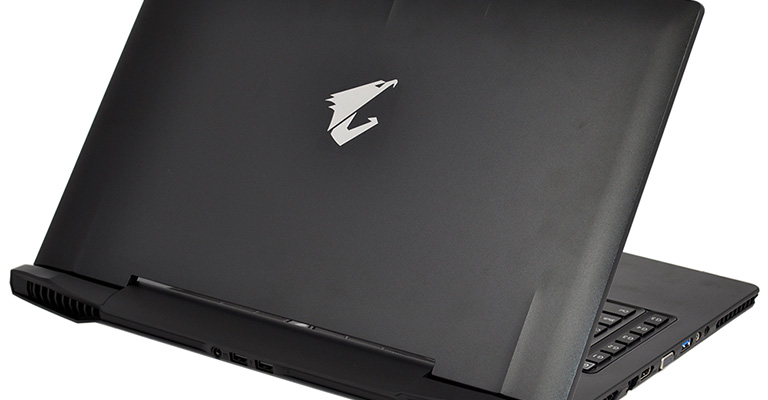 Rather than covering old ground, we'll refer you to our original review for a fuller overview of the X7's make-up, including a closer look at the design, keyboard, trackpad and 17.3in full-HD display. For today's article, we're focussing specifically on the v2 model's trio of internal upgrades.
On the CPU front, Aorus has replaced the original Core i7-4700HQ (up to 3.4GHz) with a quicker Core i7-4860HQ chip that's able to hit speeds of up to 3.6GHz. A mild increase in the grand scheme of things, but what's really going to tickle the fancy of gamers is the graphics upgrade. This time around, the dual GeForce GTX 765M GPUs have been swapped-out in favour of two GeForce GTX 860M parts, each with 4GB of GDDR5 memory.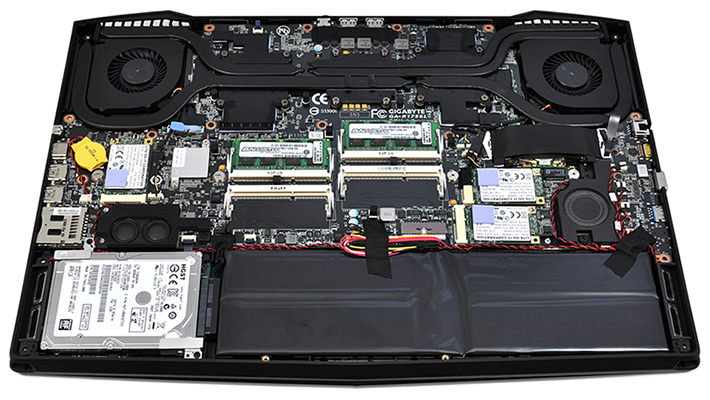 Peeling away the bottom cover reveals the cooling solution doesn't appear to have changed, as all three chips (CPU, GPU, GPU) are still serviced by five heatpipes and two rear-exhaust fans. Cooling performance is good - we'll cover precise temperatures later in the review - however fan noise hasn't improved. Like the original X7, the v2 is barely audible when the laptop is idle but kicking the CPU or GPUs into action causes fan speed and noise to ramp-up dramatically. Noisy components are something that most gamers are accustomed to, and perhaps willing to put up with, but for mainstream users the X7 remains a little too loud for comfort.
The third and final key upgrade is in the storage department, where Aorus has gone from two mSATA SSDs to three. The trio in question are 128GB LiteOn drives configured in a RAID 0 array for maximum performance. There should be enough room for most of your games on this high-speed array, and there's also a 1TB Hitachi hard disk for secondary storage.
Aorus X7 Comparison

Version

X7 v1

X7 v2

Processor

3.4GHz Intel Core i7-4700HQ

3.6GHz Intel Core i7-4860HQ

Memory

16GB DDR3 1600

16GB DDR3 1600

Graphics

2x Nvidia GeForce GTX 765M 2GB in SLI

2x Nvidia GeForce GTX 860M 4GB in SLI

Display

17.3in Full-HD LCD (1,920x1,080)

17.3in Full-HD LCD (1,920x1,080)

Battery

73.26Wh Lithium Polymer

73.26Wh Lithium Polymer

Wireless

Intel Dual Band Wireless-AC 7260

Intel Dual Band Wireless-AC 7260

Network

Killer LAN Gigabit Ethernet

Killer LAN Gigabit Ethernet

Primary Storage

2 x 128GB LiteOn M6M SSDs in RAID 0

3 x 128GB LiteOn M6M SSDs in RAID 0

Secondary Storage

1TB Toshiba MQ01ABD100 HDD

1TB Hitachi GST Travelstar HDD

Operating System

Microsoft Windows 8.1

Microsoft Windows 8.1

Dimensions

428mm x 305mm x 22.9mm

428mm x 305mm x 22.9mm

Weight

3.2kg

3.2kg

Launch MSRP

£1,659

£1,750

Head-to-Head Benchmarks
Cinebench

6.99

7.17

PCMark 7

6,077

6,181

3DMark 11

7,368

8,831

3DMark Fire Strike

4,243

4,672
A complete parts comparison for the v1 and v2 models is listed in the table above, and we can see the knock-on effect on pricing. The upgraded v2 system hits retail with a sizeable £1,750 price tag, though considering the performance uplift, that's only a relatively small £91 premium over its predecessor.
The head-to-head benchmarks should come as no surprise. The new-and-improved X7 v2 is faster than the original in just about every meaningful way. It's a laptop designed to soar in benchmarks and deliver high-quality 1080p gaming, so with that in mind, let's put it through its paces.