Display, Sound and Noise
Rank the importance of laptop components in order from critical to frivolous, and the quality of the display would have to feature somewhere near the very top. It's an essential part to get right and MSI has managed to do just that with a 15.6in, full-HD IPS panel sporting a matte finish.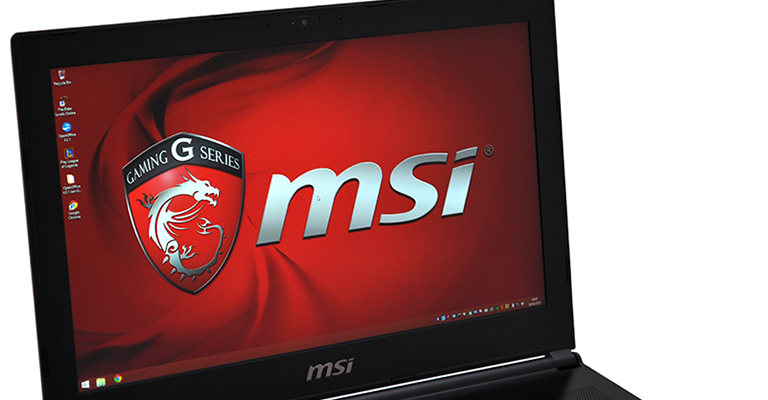 The 1,920x1,080 panel is a Samsung SDC324C and for everyday multimedia use it's very hard to fault. Viewing angles are excellent in every direction, colour reproduction is good, the pixel-count is ample at this size, and the non-reflective surface makes it a joy to use in most environments. We might have liked an extra level of brightness, but we're nitpicking, this is a very good display. And for anyone who prioritises pixel-count, stay tuned as MSI will be introducing a GS60 Ghost Pro model armed with a premium 3K panel at a later date.
Joining the full-HD visuals in the base specification is a speaker system developed in collaboration with Dynaudio. In a nutshell, there's plenty of volume, and the GS60 manages to maintain decent clarity even at maximum output, however the sound in general is lacking in depth.
Average audio is a common trait among slim gaming laptops, and fan noise can typically be an issue, too. MSI uses two fans to keep the GS60 running smoothly at all times, but the cooling configuration isn't quiet. The fans are clearly audible at all times - even when the system is idle - and noise levels ramp up beyond 45dB under load.
Keyboard and Trackpad
Just about all of MSI's Gaming Series laptops feature keyboards developed by SteelSeries, and that partnership continues with the GS60. This time around, the chiclet-style board features an updated typeface that you'll either love or hate. The younger folk in the HEXUS office tend to like it, while the oldies aren't so keen.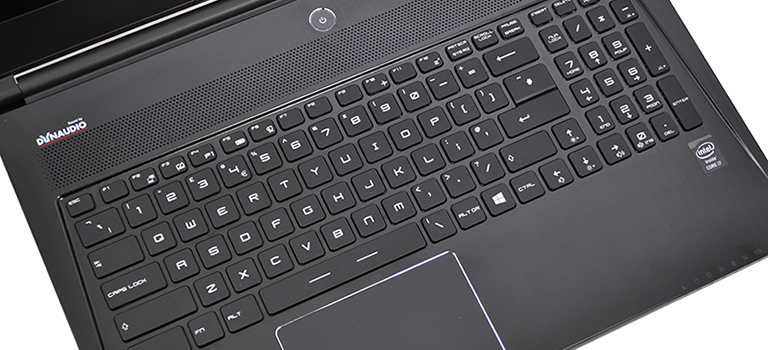 Typeface aside, the keys themselves are well sized and we're happy to see that a full-size numpad has been included. Key presses are nice and quiet, but they can feel a little shallow and we can't quite figure out why the hash key became attached to Enter?
The keyboard isn't quite able to match the comfort-levels of, say, a ThinkPad, however there are plenty of gamer-specific tweaks that will be well received. The Windows key has been moved out of the firing line, there's a multi-coloured backlight lining the entire board, and SteelSeries' companion software offers plenty of customisation. A multitude of lighting modes are available, there's a built-in stats engine to keep track of your key usage, and programmable macros can be assigned to just about any key (F1-F12 being the only exceptions).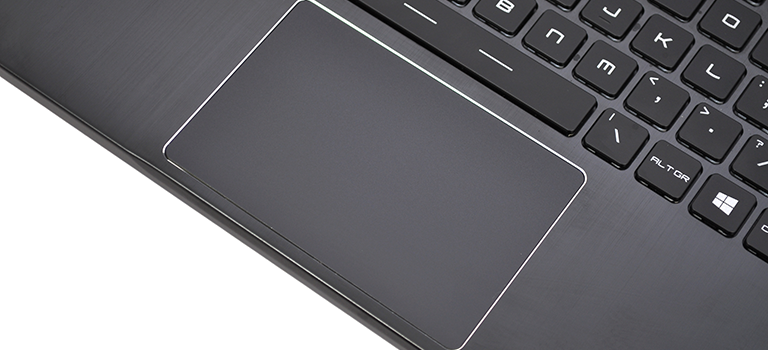 Elan Smart Pads seem to have become the trackpad of choice for gaming laptop manufacturers, and MSI's implementation is good. The surface is suitably large, has a good texture and the slightly-raised chrome rim is a nice finishing touch. Two integrated buttons respond well and are easily located, and the pad reacts quickly and accurately to multi-touch gestures. Gamers will no doubt be eager to plug-in an external mouse, but for everyday use, the built-in trackpad is perfectly capable.
Software
Readers should note that our GS60 review sample had previously been exhibited by MSI at various UK trade shows. The software configuration, therefore, may not be entirely representative of shipping retail models.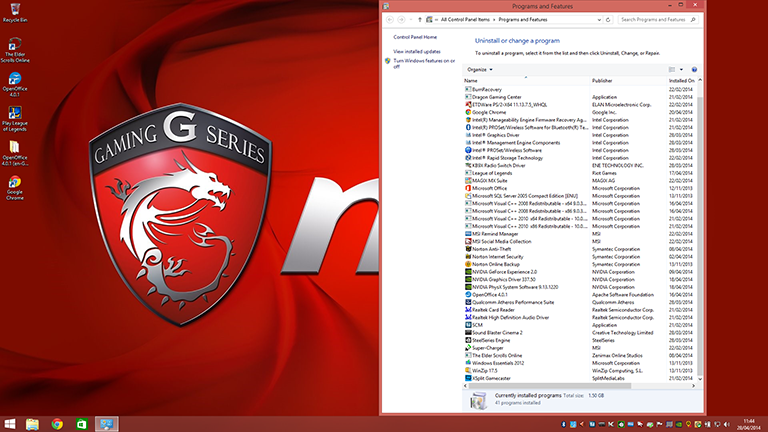 A 64-bit install of Windows 8.1 is MSI's operating system of choice, and even though our laptop has been around the block a couple of times, there isn't a great deal of bloatware. Device drivers and software utilities make up most of the 40+ installed programs, and only Norton Internet Security stands out as potential nagware.
Heat and WiFi
We mentioned the display being a crucial factor in a modern-day laptop, but a fast, stable WiFi adapter also has to be up there with the most important components. MSI has employed an Intel Dual Band 7260 adapter that supports high-speed Wireless-AC transfers, but our experience with the laptop's WiFi has been hit with unexplained disconnections.
Throughout our performance benchmarking, we noticed that increased CPU or GPU load would cause the WiFi to dropout. We've thus far been unable to find a root cause, and heat doesn't appear to be too much of a problem - during testing we recorded maximum CPU and GPU temperatures of 80ºC and 76ºC, respectively, which is well within the limits. The laptop becomes warm to the touch but not particularly hot.
We're hoping the WiFi instability is a result of our review sample being knocked about at various trade shows, but we've reached out to MSI who is now investigating the matter further. We'll update the review accordingly when we have a conclusive answer.
[Update] Good news, folks: the WiFi issue appears to be software related. MSI has made available a beta driver - v17.0.1.5 - that has so far prevented any further dropouts. GS60 owners can obtain the updated software from MSI.com.