Introduction
Getting the desired amount of gaming performance from a laptop is easier said than done, particularly if you're working on a budget. Chances are, if you're seeking high-performance thrills from a cutting-edge system costing less than a grand, you'll be turning to a design that originates from Clevo.
The Taiwanese ODM (original design manufacturer) has a history of producing powerful laptops that meet the needs of gamers, so it's no surprise to find that the firm's new W230ST is being adopted by system integrators the world over. Promising to combine a powerful Intel Haswell processor with up-to-date Nvidia GeForce graphics in a 13.3in chassis, the W230ST is the foundation upon which many mobile gaming laptops will be built.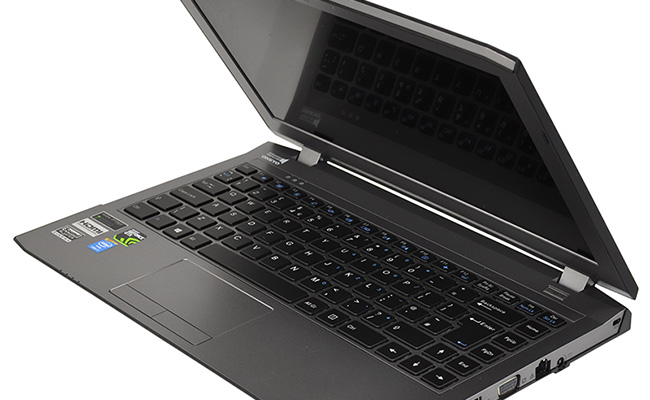 Here in the UK, a couple of vendors have already adopted the design. PC Specialist has the compact Clevo available in the form of the Optimus V, while XMG - a popular European brand that's relatively new to these shores - is stocking the system with high-end parts and making it available as the P303 Pro (pictured above).
The latter, priced from £767, has been in the HEXUS labs for the past week, giving us the opportunity to experience first-hand the highs and lows of a modern-day 13.3in gaming laptop.
Design
We now know that high-end gaming laptops can be beautiful, but while the likes of the Razer Blade and Alienware M14 offer aesthetic excitement, the more affordable XMG P303 Pro keeps things simple with a basic chassis that does little to stand out.
Measuring 32mm at its thickest point, the 13.3in machine isn't the slimmest gaming laptop on offer, but it is reasonably svelte considering the hardware that's inside. The same could be said for the weight; the laptop tips the scales at 2kg, and though that seems hefty compared to an Ultrabook, it's light enough for gamers seeking maximum portability. As far as high-end gaming machines go, the P303 Pro is one of the easiest to slip inside a rucksack.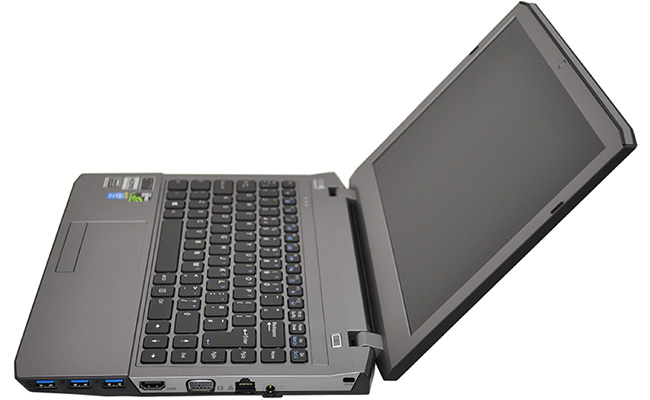 In keeping with recent designs, Clevo has created a chassis that's simple and thankfully lacking the gaudy additions that adorn so many gaming laptops. A matte-black exterior combined with a steel-grey interior creates a subtle and attractive finish, and save for the few angular edges, you'd be hard-pushed to tell this laptop apart from a regular business machine.
Not too big, not too heavy, not too garish, and not too expensive. First impressions are good, but it's on closer inspection that the P303 Pro starts to show a few shortcomings. First and foremost, the chassis is mostly plastic and lacks the premium feel you'd expect from a laptop costing the best part of a grand. Aesthetically, it's more 2003 than 2013.
Then there's the potential issue of differentiation. Knowing that a fair few vendors will be offering Clevo's W230ST in various guises, XMG has its work cut out in making the P303 Pro stand out from the crowd. Our pre-production review sample isn't a precise indication of the final system - XMG will add branding to the lid and above the keyboard - but aside from a couple of logos and a two-year collect-and-return warranty, we'd really like to see a few value-adds thrown in for good measure - a bundled triple-A game certainly wouldn't go amiss.
Specification
Let's not beat around the bush, though. If you're eyeing up a Clevo-based laptop, it most probably isn't due to the aesthetic design or the accompanying bundle; it's because of the underlying hardware, right?
With this 13.3in chassis, the manufacturer has made room for an Intel processor with a TDP of up to 47W and dedicated Nvidia GeForce GTX 765M graphics. That's a good amount of power to play with in a portable gaming machine, and XMG gives would-be buyers a choice of four quad-core CPUs; a 47W 2.4GHz i7-4700MQ (included in the base specification); a 37W 2.2GHz i7-4702MQ (+£32); a 2.7GHz 47W i7-4800MQ (+£81); or the 47W 2.8GHz i7-4900MQ (+£254). All four chips offer Hyper Threading and integrated Intel HD 4600 graphics, which, courtesy of Nvidia Optimus technology, allows the GeForce GTX 765M to remain in standby until called upon.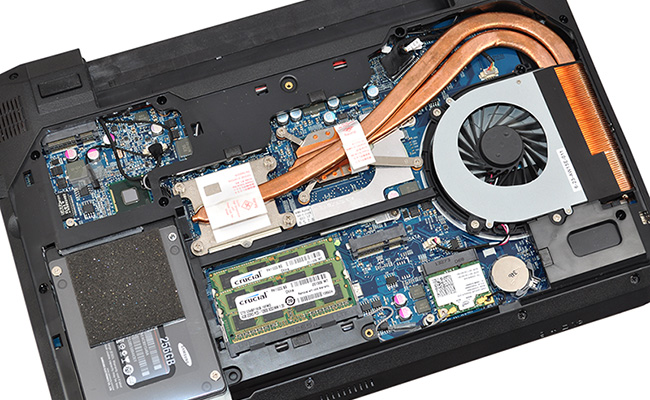 Joining the headlining duo of Intel Haswell and Nvidia Kepler in the sub-£800 base specification is a rather-lovely 13.3in full-HD display (more on that later), 4GB of DDR3 memory and a 320GB Seagate Momentus hard disk. The default system memory and storage device feel out of place alongside the premium CPU and GPU choices, so it's good to know that XMG has a variety of upgrade options available. These include a good choice of SSHDs and SSDs, up to 16GB of memory, and the ability to select Windows 7, Windows 8, or no operating system at all.
Our review sample, armed with a Core i7-4702MQ processor, 8GB of Crucial DDR3 memory, a 256GB Samsung SSD 840 PRO and a 64-bit install of Windows 8, takes the fee as configured up to £1,078. It's the 256GB Samsung SSD that does the most damage to the asking price, but users willing to sacrifice a bit of speed or capacity should easily be able to spec. a machine for under £1,000.
Elsewhere, a two-megapixel webcam is standard fare, as is a multi-card reader, and the selection of ports is well-stocked. The left edge, dominated by an air vent, houses a single USB 2.0 port and a pair of audio jacks, while the right edge carries three USB 3.0 ports, HDMI out, VGA out, a Gigabit Ethernet jack and the power connector. Wireless-N and Bluetooth connectivity are included as standard, and XMG's configuration page provides options for Intel Dual Band Wireless AC, or Killer Wireless-N.