Introduction
MSI has been championing high-end gaming laptops for about as long as we can remember, but there's arguably never been a better time to produce a mobile system that caters to the demands of the PC gaming crowd.
Advances in CPU and GPU development now allow for high-performance components that utilise little power, generating less heat and prolonging battery life. These enhancements suggest that the time is right for gaming laptops that are thinner and more attractive, without sacrificing any of that under-the-hood potency.
Trying to hit many of those notes is one of MSI's more-recent offerings, the GE70. Armed with a full-HD 17.3in display, a mobile Intel Core i7 processor and dedicated GeForce GTX 660M graphics, it promises a good deal of power in a tidier overall package.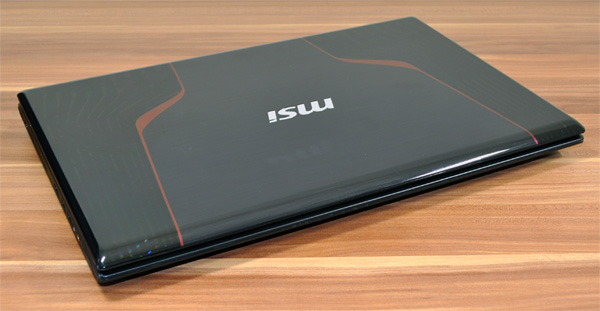 To begin with, the £1,050 price tag isn't extreme for a 17.3in machine with true gaming potential, and though it is a gaming solution at heart, the GE70 doesn't have the bulge of some of MSI's previous efforts. Quite the opposite; at 418mm x 269mm x 39mm in size, this is a relatively-slim gaming laptop, and at around 3kg in weight it's ideal for carrying to your next LAN party.
Design
Thinner and lighter is certainly the way forward, but MSI's continuous use of plastic materials does give the GE70 a noticeably less-premium feel. The chassis - be it lid or base - isn't particularly stiff and is quite easy to twist by hand. As expected, the lack of stiffness does impact on the quality of the keyboard - which we'll cover in more detail shortly - and the amount of flex is disappointing. Plastic material aside, the laptop should survive a fair amount of gaming abuse, though it isn't a system you'd ever want to drop from a height.
The chassis doesn't ooze quality and MSI's styling won't be for everyone, either. While the manufacturer has tried to rein in its typical 'race-car' designs, the strokes of red and the glossy, fingerprint-friendly blacks are still bordering on ostentatious. Having been able to slim a high-power system down to 39mm thick, we'd liked to have seen a more sophisticated shell, with less branding stickers.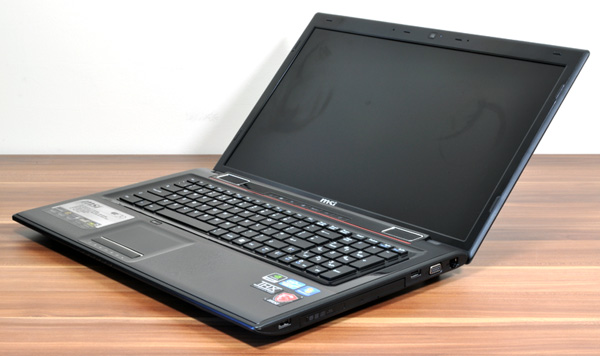 But the GE70 is one of few laptops where aesthetics are largely a secondary concern. The target market may or may not like the stylised lid - it's certainly an acquired taste - but gamers will consider MSI's machine based on specification alone.
Specification
The model that MSI sent in for review is the GE70 0ND-055UK, which, unfortunately, has been discontinued in the UK. Its replacement - the GE70 0ND-241UK - is making its way to retail shelves as we speak, and as far as we can tell, features only one change; the Intel Core i7 CPU has been upgraded from a 2.3GHz part to a fractionally-quicker 2.4GHz model.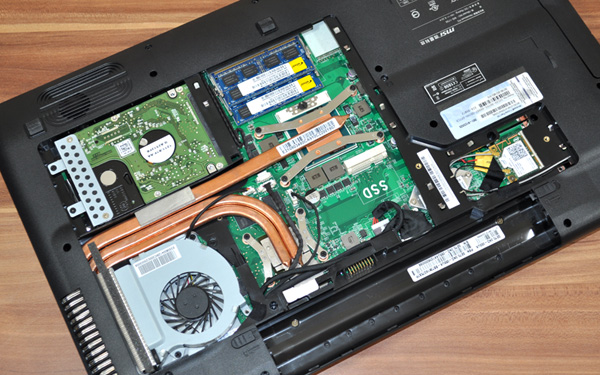 Our review sample's i7-3610QM ramps up to 3.3GHz using Intel Turbo Boost technology, and it's joined by 8GB of DDR3 memory and integrated Intel HD 4000 graphics. Things get interesting from here on in, as MSI has played it safe on the storage side of things by including a 750GB Western Digital hard disk, instead of a faster, more expensive solid-state solution (though there is an mSATA slot available).
MSI GE70 0ND-055UK Specification

Processor
Intel Core i7-3610QM (up to 3.30GHz, 6MB cache, quad-core, 45W)
Memory
8GB DDR3
Integrated Graphics
Intel HD 4000
Discrete Graphics
NVIDIA GeForce GTX 660M
Display
17.3in - 1,920x1,080
Battery
Lithium Ion, 49 Whr
Weight
3,057g
Wireless
Intel Centrino Wireless-N 135 (802.11bgn)
Storage
Western Digital 750GB HDD (WD7500BPKT-22PK4T0)
Operating System
Microsoft Windows 7 Home Premium, 64-bit
Having no form of solid-state cache will hamper performance to a certain extent - the GE70 won't feel as responsive as systems equipped with an SSD - but it should be able to compensate by offering strong in-game performance from a dedicated GeForce GTX 660M GPU. The NVIDIA chip works in tandem with the integrated Intel HD graphics solution, kicking in only when needed, and unlike the GeForce GTX 670M featured in MSI's recent GT70, the GeForce GTX 660M is a true 28nm part built using NVIDIA's latest Kepler architecture.
Despite a jump in generation from Fermi to Kepler, the GeForce GTX 660M is going to slot in close to the older GeForce GTX 670M. As the branding suggests, we'd expect the latter to come out slightly ahead in terms of performance - the extra memory bandwidth and high-clocked shaders should see to that - but the Kepler chip has a newer architecture under its belt and is far more efficient.
We'll find out exactly how the two compare by pitting the GE70 against the GT70 in a couple of gaming benchmarks a little later in the review, but with a 28nm NVIDIA GPU and a third-generation Intel Core i7 processor, MSI's latest isn't going to be a slouch.
Padding out the specification, the 17.3in machine is equipped with a matte-finish 1,920x1,080 LED display, Wireless-N and Bluetooth connectivity, an integrated HD webcam, six-cell battery and a 64-bit install of Microsoft's Windows 7 Home Premium operating system.
Making good use of the available space, MSI also provides a selection of inputs and outputs. The left edge of the GE70 carries the power connector, HDMI output, two USB 3.0 ports, sturdy gold-plated headset and microphone jacks, as well as an SD card reader. The front edge houses a total of seven status LEDs - HDD, Bluetooth, Wi-Fi, battery, caps lock, num lock and sleep, in case you were wondering - and the right side provides two USB 2.0 ports, VGA output, Gigabit Ethernet and a tray-loaded Blu-ray optical drive.
There's a lot on offer here, and like all good gaming laptops, the GE70 is easily opened for custom upgrades. Removing a few screws provides easy access, allowing for the system's vital components to be swapped out in next to no time.