Introduction
You only need to glance at the specification of many modern-day laptops to find something that doesn't quite meet the end-user's expectations. An inadequate screen resolution is a frequent culprit, but laptops can be underpowered, the trackpad could be too small, the sound is often weak, and if you attempt to overcome these issues, the price may skyrocket.
But there are laptops that attempt to strike an optimum balance on all fronts, and ASUS's N55SF is certainly one of them. Marketed as a multimedia entertainment solution, this 15.6in machine packs high-res display options, a nippy Intel Core processor, dedicated NVIDIA GeForce 500-series graphics, and Bang & Olufsen audio. With prices starting from £699.99, it demands a closer look, so let's dig in.
Design
With a maximum thickness of 37.5mm and a weight of 2.8kg, the N55SF won't be the thinnest or lightest laptop you'll ever see. It's heavier than most of the 15.6in machines we've looked at in recent months, and consequently isn't easily portable. Keep this thing stowed in your backpack for a day or two and your shoulders will soon know about it.
Instead, the laptop is designed to function more as a desktop replacement; carrying it won't ever be considered fun, but get to where you're going, and the laptop should create a feeling of home away from home.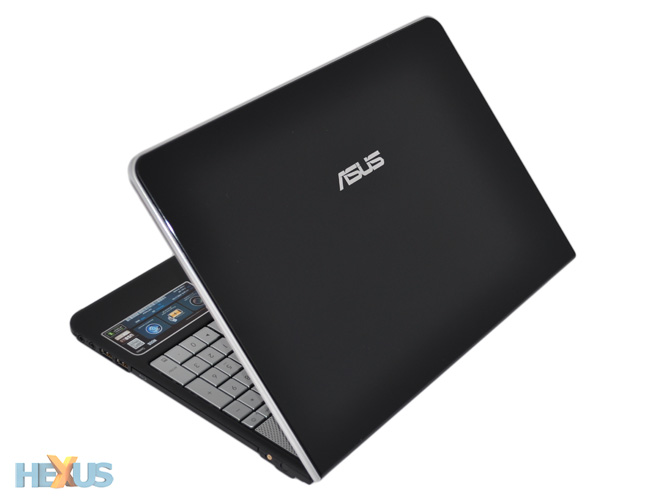 And as far as desktop replacements are concerned, the N55SF is one of the better looking. Sporting a glossy piano-black lid and a neat silver trim, the laptop comes across as elegant, and the stylish effect helps the mostly-plastic material look more expensive than it is.
In practise, there's a fair amount of bend in the laptop lid, but the hinges are suitably strong and overall build quality is good. The base of the unit is both thick and rigid, and the palm rest and keyboard surround are finished in a rubber-like texture that feels lovely to the touch.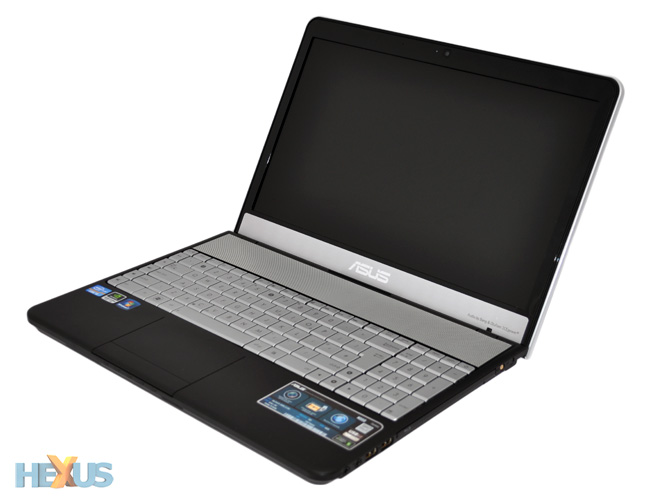 It's easy to see why this could be love at first sight. Open the lid, and you're presented with a big 15.6in display that's joined by an upward-facing Bang & Olufsen speaker system, a full-size keyboard (with numpad) and a spacious trackpad.
The N55SF feels roomy throughout, there are no squeaks or rattles, and you get a lot of laptop for the £699 entry fee. Though, there are a couple of premium upgrades that are worth splashing out on.
Specification
At the time of writing, ASUS has two unique N55SF models available to UK consumers. The introductory model, priced at £699.99, features a dual-core Intel Core i5-2430M processor with integrated HD 3000 graphics, 6GB of memory, a dedicated NVIDIA GeForce GT 555M GPU, a 500GB hard disk and a 1,366x768 display.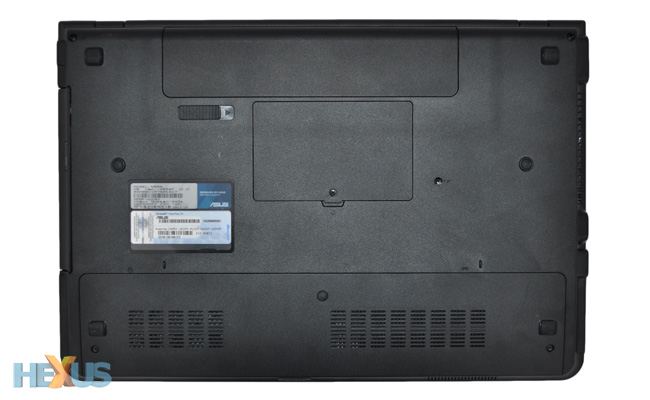 The basic screen resolution is a weak point in the entry-level model, but there's also a £799.99 option that ups the processor to a quad-core Intel Core i7-2670QM, boosts the hard-disk capacity to 750GB and increases the screen resolution to a more rewarding 1,600x900.
Unfortunately, ASUS didn't send us either of the aforementioned. The model we've been sent to review is the N55SF-S2276V, which combines the Core i5 processor with the high-res 1,600x900 display. An ideal combination, it seems, but this particular configuration is sadly no longer available in the UK.

ASUS N55SF left edge: Kensington Lock, Power, Vent, VGA, Ethernet, HDMI, USB 3.0 (x2)

ASUS N55SF right edge: Audio, Mic, USB 2.0 (x2), Blu-ray Drive, Subwoofer
Rounding off the base specification, ASUS's multimedia-focussed system comes equipped with an HD webcam, a Blu-ray optical drive, Wireless N and Bluetooth connectivity, Gigabit Ethernet, both HDMI and VGA output, four USB ports (two of the SuperSpeed USB 3.0 variety), an SD card reader and a six-cell battery as standard.
Helping the laptop stand out from others at this price point is a Bang & Olufsen ICEpower audio system that consists of a pair of stereo speakers and a bundled external subwoofer. It's a combination that delivers class-leading results, but we'll get to that a little later in the review.