Introduction
Tablets are fun and Ultrabooks have a lot of promise, but if you want to be productive while on the go, you just can't beat a good laptop, can you?
I've been lugging around my Dell Inspiron 1520 for the past four years, and while it's neither pretty nor portable, it's excellent to work with and built like a tank.
It's served me so well, in fact, that for my next laptop I'd happily take a newer Inspiron that's thinner, nicer-looking, armed with up-to-date internal components and able to run for more than two hours without needing a charge.
Based on specification alone, it seems Dell's latest revision - the Inspiron 14z - isn't far off the mark. According to the manufacturer, this "compact, thin aluminium design packs impressive productivity," as well as "the entertainment features you want in a 14in screen." Add a starting price of £529, and the Inspiron 14z is shaping up to be a nice, affordable all-rounder. Let's find out if it is.
Design
The Inspiron series isn't renowned for its looks - Dell's XPS range tends to get the best makeovers - but the budget 14z has more flair than you might expect.
Available in "Espresso Black" or optional "Fire Red," the laptop expresses a sense of style that defies the budget price. You'll have to pay an extra £10 for the Fire Red model, but if you're looking for something that'll stand out from the crowd, it's money well spent.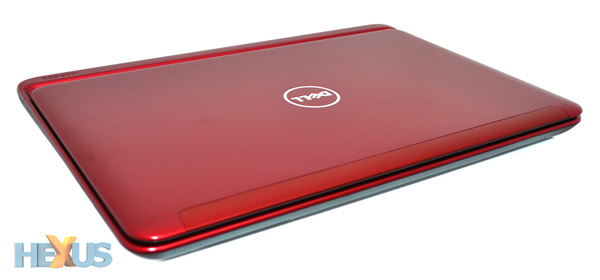 The dark and surprisingly-smart red paintwork is carried through to the palm rest and keyboard surround, and the overall effect is easy on the eye. And there are a couple of nice touches, too. The silver Dell logo provides welcome contrast to the sea of red, as does the thin silver trim lining the edge of the keyboard, and the I/O ports around the sides are hidden neatly behind integrated flaps.
It won't turn heads like, say, an ASUS UX31 Ultrabook, but it's almost half the price and, while not jaw-droppingly beautiful, it manages to remain attractive.
And while the lower price tag suggests cheaper materials, the Inspiron 14z feels reasonably well built. The main chassis is stiff, as are the recessed display hinges, and though there's a tiny bit of flex in the keyboard tray, the system generally feels solid.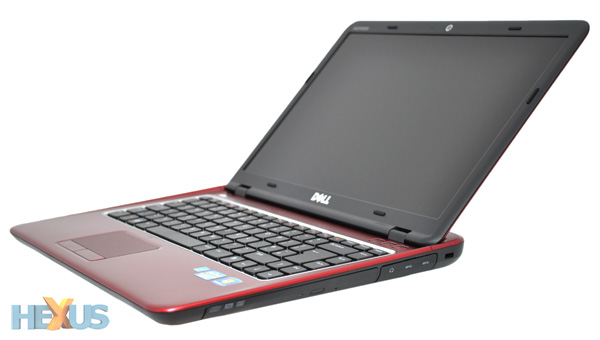 The build quality bodes well for long-term reliability, but the 14z is also heavier than we'd like and tips the scales at just over 2kg. However, while it isn't the lightest 14in laptop on the market, dimensions of 346mm x 245.5mm x 25.35/25.87mm allow it to function as a highly-portable machine.
The Inspiron 14z is, in many ways, exactly what you'd expect from a mid-range, modern-day laptop. It's thinner than previous-generation models, it looks more attractive, and, more importantly, it's better equipped on the inside.
Specification
Dell offers four basic configurations for the Inspiron 14z, with prices ranging from £529 to £699, and all four share many similarities. Regardless of which one you choose, you'll get a 14in, 1,366x768 display, Bluetooth connectivity, integrated Intel HD 3000 graphics, an 8x DVD writer, a 64-bit install of Microsoft's Windows 7 operating system and a six-cell battery.
What sets the four models apart is CPU, memory and storage. The entry-level £529 machine offers an Intel Core i3-2330M processor, 4GB of memory and a 500GB, 5,400RPM hard disk. Next in line is a £579 configuration that bumps the CPU up to a Core i5-2430M, and that's followed by a £649 model that increases memory to 6GB and storage to 750GB. Stretch your budget to £699, and the top-of-the-range Inspiron 14z gets the same Core i5 processor coupled with a maximum 8GB of RAM.
There's no option to go up to a Core i7 processor, and both solid-state storage and Blu-ray optics don't get a mention, but we wouldn't necessarily expect to find any of those choices on a mid-range machine.
What's more disappointing is the lack of a backlit keyboard. While early reviews suggest that the Inspiron 14z can be configured with a backlit panel, we found no such option at the UK store, which is a shame, as such a feature would have stood out at this price point.

Dell Inspiron 14z right edge: DVD-RW, audio, 2x USB 3.0

Dell Inspiron 14z left edge: DisplayPort, HDMI, USB 2.0, vent, multi-card reader
Dell offers a good selection of ports around the sides, as well as Ethernet and power connectors on the back, but the covering flaps can frustrate. While the plastic doors are aesthetically pleasing, they're awkward to open and then require a firm push to sit back flush with the chassis. They're not a deal breaker by any means, but if you're the kind of user who regularly uses a laptop's I/O ports, be warned.
There's also the protruding battery to make a note of. The standard six-cell pack sticks out at the bottom of the system by about a centimetre, and though we tend to frown upon unsightly bulges, we're willing to give the Inspiron 14z a pass. In this case, the battery doesn't stick out too much, it provides a nice typing angle, and, as we'll find out later in the review, it keeps the laptop going for a good amount of time.