Introduction
The popularity of ultra-portable 11.6in notebooks has surged in recent years, but arguably none are as interesting as the Dell Alienware M11x.
Dubbed the "most powerful 11in gaming laptop in the universe", the M11x touts a hardware specification that no other 11.6in system can match.
But that isn't to say there's no room for improvement. At launch, Dell's mobile gaming powerhouse arrived absent of two up-and-coming technologies that most gamers would crave; namely Intel's Core 2010 processors and NVIDIA's Optimus graphics.
If the lack of such features had you sitting on the fence, you're likely to be swayed by this second-generation model.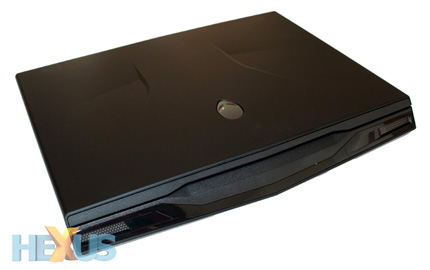 It may look a lot like the Alienware M11x first unveiled in January, but the Rev. 2 iteration is packing a couple of noteworthy surprises.
Design
Measuring 285.7mm x 233.3mm x 32.7mm, it's still a chunky little beast, but it's now finished in a matte-black or silver coating that's both better looking and more resilient than the glossy finish of old.
The front lip is still menacingly angled, whilst the rest of the system remains blocky and robust-looking.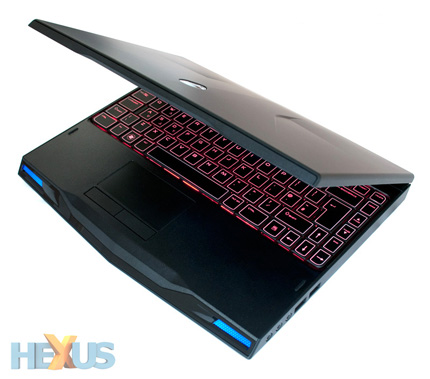 As far as aesthetics are concerned, buyers are likely to be divided. For the gaming crowd, an 11.6in notebook with sharp lines and a built-in light show (more on that later) is Christmas come early. For everybody else, it's likely to come across as gaudy.
But get past the brash exterior and there's plenty to like. The Alienware M11x is solidly built, shows practically no sign of flex in its rigid main body, and despite measuring 32.7mm thick from front to back, it manages to keep weight down to a reasonable 2kg.
That's a little heavier than most other 11.6in systems, but then this frankly isn't anything like most other 11.6in systems.
Specification and upgrades
Whilst the first-generation M11x arrived armed with an ageing Core 2 processor, the second revision is available with a choice of two more-potent alternatives; a 1.06GHz Intel Core i5 520UM or a 1.20GHz Intel Core i7 640UM. Both of which feature integrated Intel HD graphics.
A useful upgrade, but pricing has increased from £789 for a Core 2 model, to £879 and £1,059 for the Core i5 and Core i7 systems, respectively.
Included in the base specification is 2GB of DDR3 memory, a 250GB 7,200rpm hard disk, an 11.6in 1,366x768 LCD display and a discrete 1GB NVIDIA GeForce GT 335M graphics card.
The latter, working in tandem with the CPU's integrated Intel HD graphics, cleverly kicks in only when needed through NVIDIA Optimus technology. In theory, limiting the use of the power-hungry GeForce GPU should help prolong battery life.
An impressive collection of hardware in a system of this size, and it's rounded off nicely by a 1.3 megapixel webcam, FireWire, Ethernet and USB connectivity, a three-in-one card reader, stereo speakers and both DisplayPort and HDMI output. VGA, unfortunately, doesn't make the cut.
Up to 8GB of RAM, a 256GB solid-state drive and Bluetooth make up some of Dell's available upgrade options, but the DIY crowd will be pleased to know that end-user upgrades are also well catered for.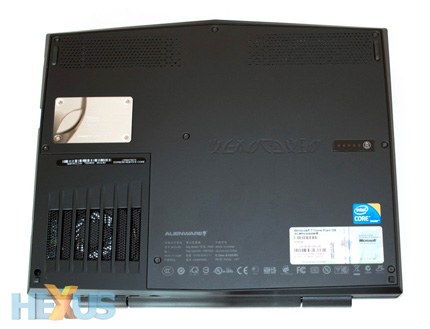 The base of the M11x is as eye-catching as the lid, if not more so.
Here you'll find a silver plate that, for US customers at least, can be laser-etched with an engraving of your choice. There's also a useful one-touch battery status indicator that lets you know how much juice you have left whether or not the system is powered on.
An LED-illuminated fan is tasked with keeping the hot-running innards in check, and though it sounds ominous, it's actually near-silent during regular use and only becomes a distraction during demanding tasks such as 3D gaming.
Last but not least, eight small screws allow for the chassis backplate to be completely removed.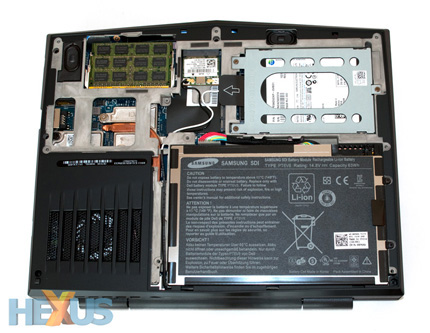 Been wondering where the M11x battery is? That's it, sitting inside the body of the beast. That of course rules out simple on-the-go battery changes, but replacement batteries are easy to fit.
Similarly, the hard disk, wireless card and memory modules can all be easily swapped out with ease by the owner.
On paper, it has almost everything you'd want from a powerful 11.6in notebook. But what's it like to use?