Introduction
The low-cost netbook may have arrived way back in 2007, but demand for the cheap-and-cheerful mini PCs appears to be unabated.
The form factor - barely changed since its original inception - remains popular with the masses, and the biggest names in the industry remain eager to satisfy the thirst.
One such name is Acer, who in recent weeks has refreshed its popular netbook range with the launch of the new Aspire One D260.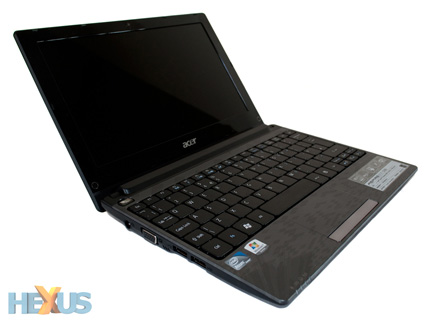 Promising both "performance and style on the go", this 10.1in system is aesthetically the most chic Aspire One netbook to date; and pricing starts from just £229.99.
Design
Netbook's have a history of looking cheap and toy-like in appearance, but the latest generation have certainly raised the bar.
Acer's D260, hoping to cater for boys and girls of all ages, is available in four unique colour schemes; Black Flake, Charcoal Flake, Pink Flake, and Purple Flake.
The Flake, in case you were wondering, is in reference to the pattern applied to the system's lid, palm rest and base. It's a subtle effect - so much so that it isn't easy to make out in our pictures of the Black Flake model - but it's very nicely applied, very refreshing, and helps elevate the D260 above rival solutions.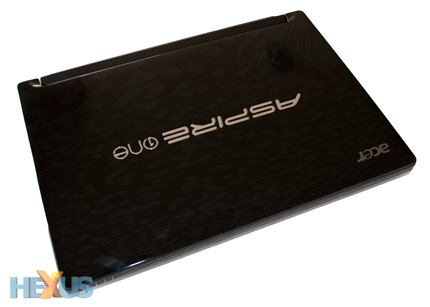 Looking far trendier than last year's D250, Acer's new model manages to come across as sophisticated with its chrome-plated logos and slimline frame.
Measuring 258.5mm x 185mm x 24mm, the D260 is fractionally thinner than last year's model, and it's marginally lighter, too, tipping the scales at 1.2kg.
We've seen some smart-looking mini PCs in recent weeks, but Acer's D260 is visually close to being the best of the bunch. Unfortunately, it doesn't feel quite as robust as it looks; the system's lid/display is surprisingly flexible, and there's a hint of flex in the machine's main body, too.
But our complaints are minor, and there's plenty to like as far as design is concerned. The D260's display hinges are suitably rigid - and located at the back of the system to ensure almost a full 180-degrees of screen rotation - and Acer's six-cell battery sits close to flush with the netbook's main body. The latter adds just a few millimetres to the rear of the chassis, ensuring a comfortable inclined typing experience without creating an eyesore.
Specification and upgrades
Top marks for exterior style, but there's little on the inside to set the Aspire One D260 apart.
Like most 2010 netbooks, Acer's machine comes equipped with a 1.66GHz Intel Atom N450 processor, 1GB of DDR2 memory, integrated Intel GMA 3150 graphics and a 10.1in, 1,024x600 LED-backlit display.
A slightly more potent configuration - equipped with a 1.66GHz Intel Atom N455 processor and 1GB of quicker DDR3 memory - is also in the offing, but this is a machine that clearly isn't going to win over the hearts of performance junkies.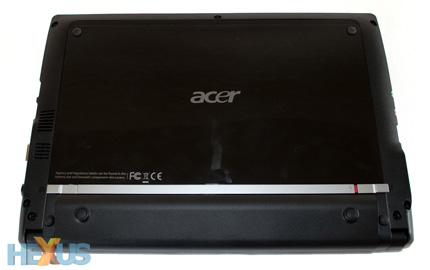 Elsewhere, the specification's well rounded and on par with rival solutions.
There's a near full-size keyboard (93 per cent, to be exact), multi-touch trackpad and built-in webcam, as well as a multi-card reader, three USB 2.0 ports, Ethernet, Wireless N, VGA out, headphone and microphone jacks, and stereo speakers.
Acer also includes a suitably-small charger dubbed the Acer MiniGo AC adapter. It features interchangeable plugs that help ensure mains-socket compatibility on your travels.
Almost everything you'd expect to find in a netbook PC, but the Aspire One D260 does fall short in one aspect; end-user upgrades.
The system's back panel, albeit nice-looking thanks to its glossy Flake finish, doesn't provide easy access to internal components. Users wanting to upgrade the system's memory or hard disk will instead have to remove the keyboard and it's a surprisingly tricky process. A series of spring-loaded clips hold the keyboard in place, and undoing them requires some skill and plenty of patience. Upgrades are doable, but the process surely could have been easier.
What is to the D260's advantage, however, is Acer's competitive pricing. Positioned at £249.99 when equipped with Microsoft's Windows 7 Starter operating system, the smart-looking D260 is cheaper than rival solutions such as the £279.99 ASUS Eee PC 1015P and the £329.99 MSI Wind U160.