Introduction
Microsoft's announcement of a 15in Surface Laptop 3 back in October didn't come as much of a surprise, but the decision to lead with an AMD Ryzen configuration certainly raised an eyebrow and could be viewed as a turning point for AMD's fortunes in the mobile space.
A genuine cause for concern over at Intel? The chip giant's supremacy has already been eroded on the desktop - where you might argue that AMD Ryzen is now the superior option - yet when it comes to laptops, Intel reckons it still holds the upper hand. To prove its point, we've been sent two almost identical Surface Laptop 3 review units for comparison purposes. The difference? One is powered by an AMD Ryzen 7 3780U Surface Edition, the other an Intel Core i7-1065G7.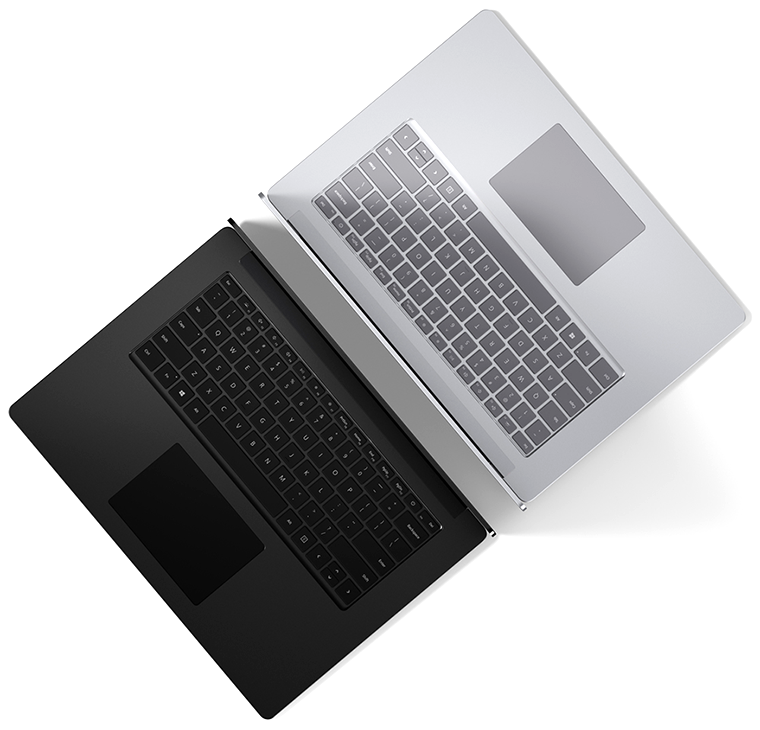 This head-to-head makes for a fascinating comparison, as plenty has been made of the AMD-Microsoft partnership. The two industry heavyweights already work closely in terms of gaming - Xbox, remember, is powered by AMD hardware - and the introduction of a Ryzen-based Surface is a major design win in a market that rival Intel has dominated for many, many years.
When The Chips Are Down
AMD describes the collaboration as "a shared vision to bring the best of both companies together to revolutionise the laptop," citing tens of thousands of hours of co-development to create a custom Ryzen mobile processor specifically optimised for Surface Laptop 3. Said chip, dubbed Ryzen 7 3780U Surface Edition, is in fact a specially-binned variant of the existing four-core, eight-thread Ryzen 7 3700U, allowing for an increase of compute units, from 10 to 11. The resulting Vega 11 IGP promises a reasonable uptick in graphics performance, yet the Surface Edition part retains familiarity with others in AMD's Picasso stable, meaning the use of a 12nm Zen+ architecture, rather than the 7nm Zen 2 currently leading the charge on desktop and server.
Over in the blue corner, Intel can't be accused of resting on its laurels as the Core i7-1065G7 is one of the first chips to be built using the firm's 10nm Ice Lake architecture. As is often the case with an iterative design, there's the promise of a deeper, wider and smarter layout featuring more cache, an increase in allocation units and execution ports, as well as an improvement in branch prediction. Said optimisations are bolstered by an accompanying Gen 11 GPU offering up to 64 Execution Units, as is the case for the i7-1065G7's Iris Plus IGP, and the 10nm package also includes baked-in support for Wi-Fi 6 and Thunderbolt 3, alongside a new memory controller supporting LPDDR4X at 3,733MHz.
Microsoft Surface Laptop 3 (AMD)

Microsoft Surface Laptop 3 (Intel)

Processor

AMD Ryzen 7 3780U Surface Edition

Intel Core i7-1065G7

Base Clock

2.3GHz

1.3GHz

Turbo Clock

4.0GHz

3.9GHz

Cores / Threads

4 / 8

4 / 8

TDP

15W

15W

Graphics

AMD Radeon RX Vega 11

Intel Iris Plus

Graphics Clock

1.40GHz

1.10GHz

Memory

16GB DDR4 (2x8GB)

16GB LPDDR4X (2x8GB)

Memory Speed

2,400MHz

3,733MHz

Wireless

Qualcomm Atheros Wi-Fi 5 QCA61

Intel Wi-Fi 6 AX201

Operating System

Microsoft Windows 10

Microsoft Windows 10 Pro

Display

15.0in PixelSense (2,496 x 1,664)

Battery

46Wh

Storage

512GB SK hynix BC501 M.2 SSD

Dimensions

340mm x 244mm x 14.7mm

Weight

1.5kg

Retail Price

£2,049

£2,129
Breaking the two configurations down into a table format suggests a closely-matched contest. We don't expect a huge gap in terms of CPU performance, and though we're intrigued to see whether or not the beefed-up IGPs can handle basic gameplay, we're more interested in overall platform refinement. AMD's promise of custom firmware and drivers for the Surface Edition processor bodes well, however Intel has the advantage of faster memory and superior Wi-Fi, and then there's the question of battery life. Whereas AMD's primary focus has been on desktop, Intel has spent years refining its mobile solutions to maximise longevity, and we suspect the Core i7 will outlast the Ryzen 7 in the upcoming battery tests.
Before we take a closer look at the laptop itself, it is also worth pointing out that the 15in Surface Laptop 3 is only available from Microsoft's consumer store in AMD Ryzen flavours. We presume this to be some form of exclusivity agreement with AMD, however those preferring the Intel option can quite easily purchase the Core i7 model from Microsoft's business store. Pricing for the two review units is similar and available colour options include platinum or black.
A Bigger Surface Laptop
As a component-focussed publication it is far too easy to devote our time to the AMD vs. Intel proposition, yet the bigger picture is a 15in laptop, and a beautiful one at that. Essentially an extended variant of the 13.5in model, the 15in Surface Laptop 3 retains the smooth, uncluttered appearance of its smaller sibling and feels suitably luxurious during use. Dimensions of 340mm x 244mm x 14.7mm are in line with our expectations of a modern 15in system, and the 1.5kg weight feels really well balanced.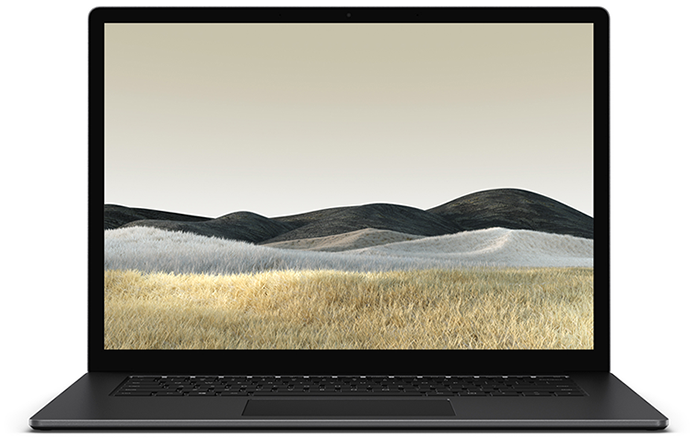 While minimal in appearance, it is the attention to detail that continues to impress on Microsoft's Surface products. The display, for example, might not have the slimmest bezels, yet you can open the lid with a single finger thanks to a hinge mechanism that feels effortless. There isn't a great deal of wobble when using the touchscreen, and the tall 3:2 PixelSense panel continues to serve as a star attraction. An unusual 2,496 x 1,664 resolution ensures the same pixel density (200 PPI) as the smaller 13.5in model, and though brightness and contrast isn't quite as epic as Microsoft's Surface Book, we continue to be dazzled by the firm's PixelSense panels; we're frankly amazed more laptop manufacturers haven't adopted a 3:2 aspect ratio that lends itself so well to productivity.
Below the display is a keyboard and trackpad combination that is easily one of the best in the business. Microsoft's backlit keyboard has an extremely quiet and likeable action, while the spacious precision trackpad is smooth and responsive while doing a fine job of palm rejection. There's no option of soft alcantara fabric - that's sadly limited to the 13.5in model - yet as a ThinkPad user, I'm willing to admit that Microsoft's keyboard and trackpad are now at least on par, if not better.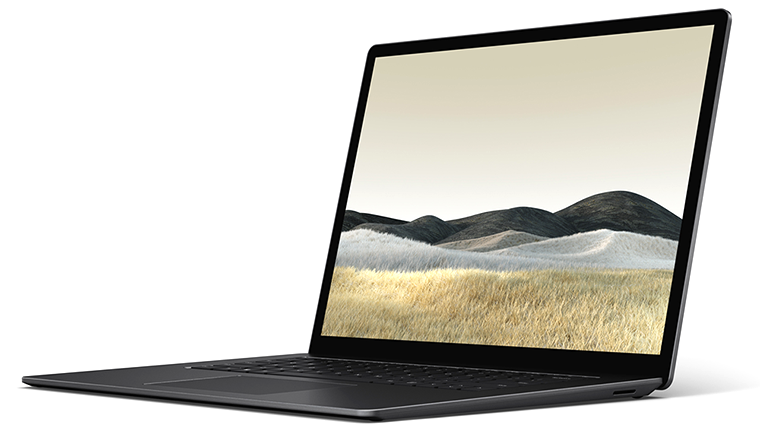 So clean is the exterior that you may be left wondering where certain features reside. The IR camera system is barely visible in the top bezel, and there aren't any speaker grilles to speak of, as Microsoft has the stereo sound system embedded beneath the keyboard. Surprisingly, there's little detriment to sound quality, with Surface Laptop 3 delivering crisp audio and enough volume to fill a medium-sized room.
If there's a disappointment, it is that Microsoft hasn't used the larger 15in form factor as an opportunity to add more I/O, or indeed a higher-capacity battery. Keeping things simple, the laptop features just four ports; USB Type-C, USB Type-A, a headphone jack and the magnetic Surface Connect charging port. There's no support for Thunderbolt 3, and while the Type-C jack can be used for charging, you might expect another USB port or perhaps an SD card reader on a machine of this size.

Surface Laptop 3 also deserves plaudits for its cooling configuration. The internal fan remains off during most tasks, making for a peaceful computing experience, and if and when it does kick in, it does so gradually, keeping noise levels down to a minimum. This is the level of refinement we expect at the premium end of the market, but during regular use, do you notice any difference between the Intel and AMD machines?
Truth be told, in a blind test we imagine most users would struggle to notice any change; they both feel fast, responsive and free of any niggling software issues. However, put them side by side and the Intel has a slight edge in terms of everyday performance. Apps tend to install that little bit quicker, and when restoring Windows 10 to factory defaults, the Intel machine completed the task a couple of minutes faster than the AMD. These are small margins, mind, so let's roll the benchmarks to find out what, if anything, sets the two configurations apart.