Introduction
Multiple displays are typically a good thing. Whether you're a desktop creator with two or more monitors, or a laptop user who likes to dock to an external panel, having extra screen real estate can be a real boon for productivity. And who can forget the dual-screen Nintendo DS? Arguably one of the most enjoyable games consoles of all time.
Point is, there are many ways to augment the computing experience with a secondary display, and for mobile purposes, you don't have to wait for next year's Microsoft Surface Neo as Asus has already shoehorned two displays into a super-sleek laptop dubbed the ZenBook 14 UX434F.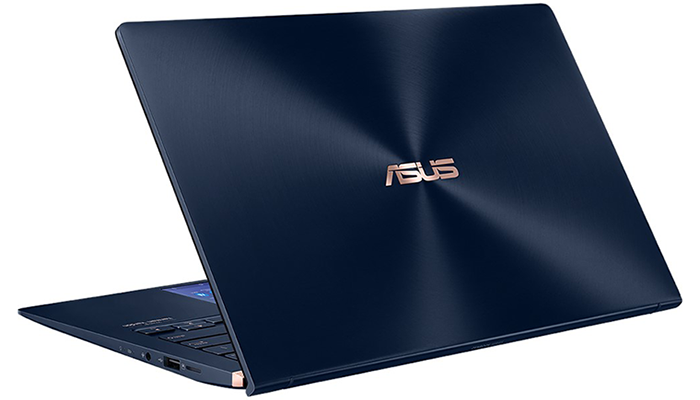 Priced at £1,499 and heading to UK stores later this month, the latest ZenBook resembles many of its predecessors by incorporating an elegant spun-metal finish on the lid. Asus reckons the navy-blue colour, with rose-gold highlights, "is inspired by the awesome beauty of a golden sunrise over the deep-blue ocean." We wouldn't quite go that far, but it sure does look handsome, and the UX434F is some 13 per cent smaller than the previous-generation model, measuring just 319mm x 199mm x 16.9mm and tipping the scales at a fraction under 1.3kg.
Stylish and Powerful
This is one of the smallest 14in laptops currently available and that feat is achieved through a NanoEdge design whose ultra-svelte bezels tout a 92 per cent screen-to-body ratio. It is a beautiful piece of kit to handle, and the sumptuous aesthetic doesn't come at the expense of durability or functionality. ZenBook 14 continues to meet the MIL-STD-810G military standard for resistance to shock, altitude, temperature and humidity, and while others have achieved thin bezels by displacing the webcam, Asus continues to keep its camera up top where it ought to be, while IR sensors are at hand for Windows Hello support.
As a regular laptop there's plenty to appreciate. In the I/O department, Asus has power, HDMI, USB 3.2 Gen 2 Type-A and USB 3.2 Gen 2 Type-C lining the left side, while over on the right there's a microSD card reader, USB 2.0, and an audio jack. A useful selection, though if we're nitpicking, it's a shame ZenBook continues to overlook ThunderBolt, and we'd really liked to have seen support for Type-C charging.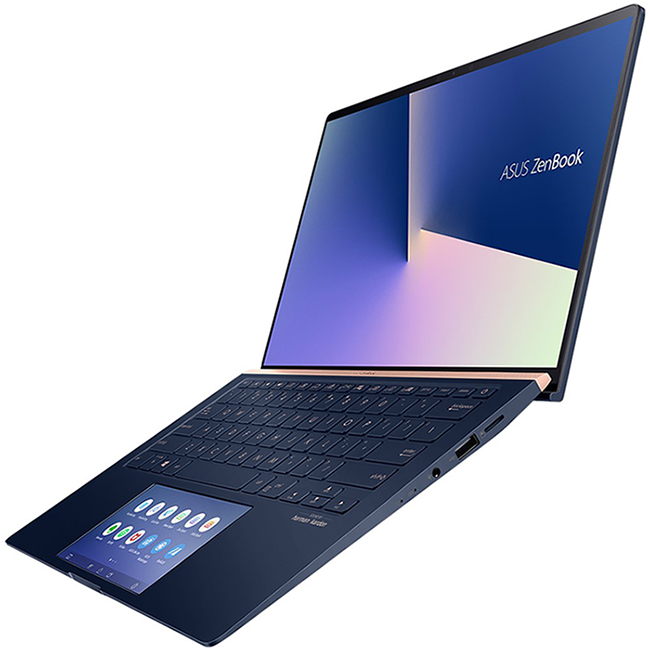 These are minor gripes and, in most areas, the UX434F manages to impress. The 1080p IPS touchscreen offers reasonable brightness, good viewing angles and decent out-the-box colour accuracy, Harmon Kardeon stereo speakers provide a punch that belies the laptop's size, and WiFi and Bluetooth support is up to date courtesy of an Intel AC 9560 adapter. If you prefer, a USB-to-Ethernet adapter is also included for wired networking. Rounding out usability, the backlit keyboard offers 1.4mm of travel and has a lovely, quiet action that feels comfortable during use; the only caveat is the power button in the top-right corner, which is far too easy to press by accident.
There's good news on the inside, too, as Asus hasn't skimped in terms of performance. Under the hood lies a quad-core Intel Core i7-8565U processor capable of speeds of up to 4.6GHz, 16GB of LPDDR3 memory, a 1TB Samsung PM981 M.2 SSD, and dedicated Nvidia GeForce MX250 graphics that takes over from the Intel UHD 620 IGP as and when needed. It is interesting to have a dedicated GPU in a laptop as portable as this, and though the MX250 is an entry-level solution, the graphics chip and spacious SSD do keep the door ajar for some casual gaming.
ScreenPad 2.0 Musings
The real talking point, of course, is the new ScreenPad that replaces the traditional trackpad and this, sadly, is where the ZenBook is a little less convincing. As a concept, ScreenPad has plenty of promise, and we like the idea of a second display that can be used for shortcuts, multimedia controls or a numpad, among other things, and the glass-covered 5.7in, 2,160x1,080 IPS panel is both crisper and brighter than the first-generation 4.8in solution on older Asus models.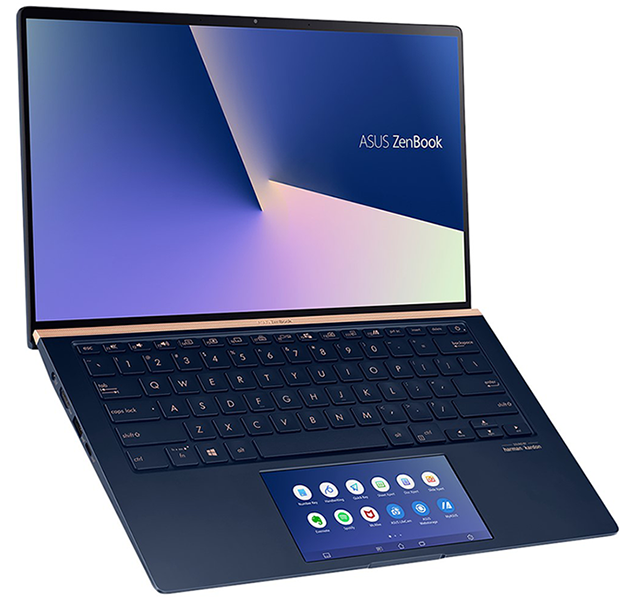 Unfortunately, there are multiple niggles that prevent the ScreenPad from being truly useful during everyday work. Firstly, there's a hint of lag that often leaves me second-guessing whether or not I've made a selection. Secondly, the ScreenPad either functions as an additional display or a trackpad; you can't do both at once, and as any regular laptop user will testify, the trackpad needs to be present at all times. And last but not least, the secondary display takes its toll on battery life. These are the obvious shortcomings, but there are others, too. The raised surround, for example, makes sense in trackpad mode where you recognise the edges, but when using the ScreenPad as a touchscreen the raised edge gets in the way when trying to press icons in the corners.
It isn't a great deal of fun to use, and try as I might, I've not been successful when attempting to incorporate the ScreenPad into my workflow. Rather than helping, it has turned out to be a frequent hindrance due to various usability quirks that originate from the display being an extension of the primary 1080p panel. This means the mouse pointer is often lost on the lower display, screengrabs take into account both panels, and as the ScreenXpert UI runs full screen on the 5.7in display, Windows 10's Focus Assist keeps hiding notifications. Heck, almost every time I boot the laptop, I go to move the mouse pointer and end up accidentally loading Spotify before I remember to manually switch the ScreenPad into trackpad mode.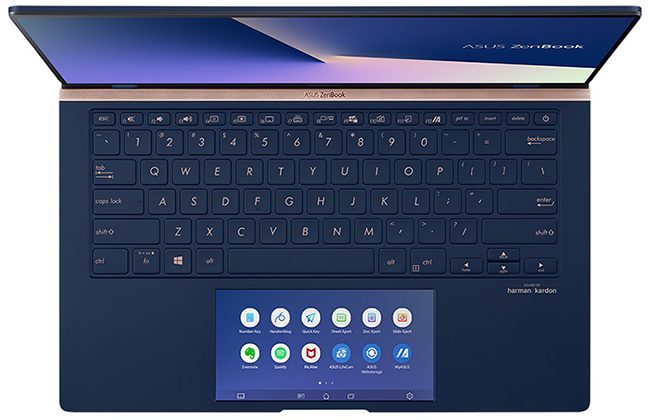 It is fair to say that the smaller, secondary display is yet to win me over, though that doesn't diminish the potential. There are things I imagine would work particularly well on a supporting panel, but while Asus's hardware implementation is tidy, the software needs plenty of work, and common apps need to be updated to take full advantage. This is a predicament facing most dual-screen devices coming to market, and though we're certain developers will find a way to make such setups as productive as possible, the ZenBook UX434F serves as a reminder that we aren't quite there yet.
The star attraction leaves something to be desired, however there's still a powerful 14in ultra-portable to test, so let's see what the benchmarks have to say before coming to a conclusion.