Introduction
AMD is on something of a hot streak. The chip company's latest Zen CPU architecture has reinvigorated the desktop space, there's genuine momentum in enterprise, 7nm Navi GPUs have brought renewed competition to PC graphics, and next-gen consoles will continue to be powered by AMD hardware.
It is a golden time for AMD fans who have patiently waited a return to form, but there is another important market segment that Team Red is struggling to crack; laptops and ultra-portables. Some might say it isn't an immediate focus for AMD, conspiracy theorists may suggest that rival Intel is preventing manufacturers from choosing competing CPUs, others may blame it on Brexit. Whatever the case, finding a genuinely competitive AMD-based laptop is easier said than done, but fear not, we reckon we've found one in the form of the Lenovo ThinkPad T495s.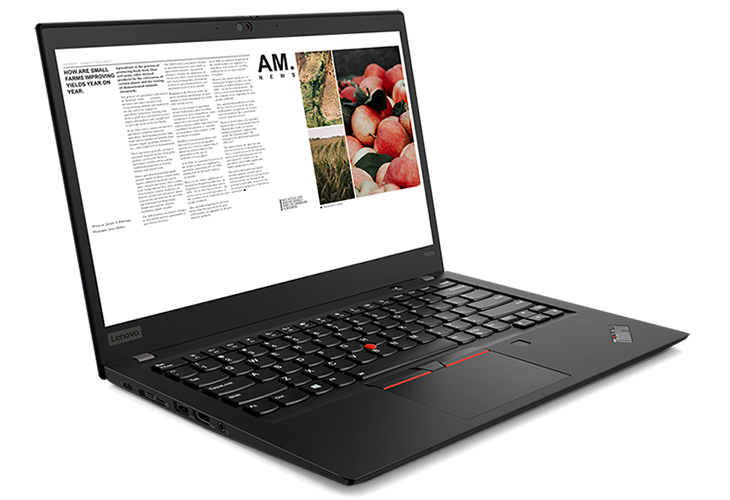 First announced back in May as one of three new AMD-based ThinkPads, the T495s is effectively a Ryzen-based alternative to the existing Intel Core-powered T490s. A safe start as the 14in T490s chassis serves as a respectable foundation, and though it would be nice to see AMD hardware in, say, a flagship X1 Carbon, the T495s is the next best thing.
Prices start at £731, making the T495s at least 20 per cent cheaper than the Intel equivalent, and the underlying hardware holds plenty of promise. Lenovo's base specification includes a quad-core Ryzen 5 Pro 3500U processor, onboard Radeon Vega 8 graphics, 8GB of DDR4 memory, a 256GB SSD and a 60Hz full-HD 14in IPS display. A Ryzen Pro CPU is a logical choice for a business-orientated ThinkPad and is differentiated from regular Ryzen chips through a raft of security enhancements. Each and every Pro chip includes a dedicated security co-processor for AMD GuardMI, a collection of hardware-based security solutions that include secure boot, support for fTPM and TPM 2.0, as well as AES encryption of system memory to help guard against cold-boot attacks. DASH manageability is at hand for enterprise management, and AMD also promises 24-month processor availability for multi-year deployments.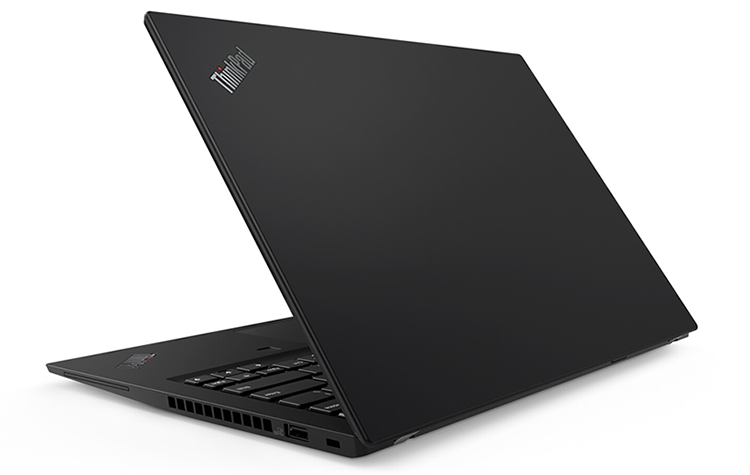 Looking at single-unit purchases, increasing memory to 16GB will set you back a further £64.80, doubling-up on storage will add another £52.80, and upgrading to a Ryzen 7 Pro 3700U will increase the total build cost by £135.60. Handy options to have, but unlike the slightly thicker ThinkPad T490, the T495s doesn't come with the choice of a higher-resolution WQHD display. At the time of writing, only three FHD options are available; a 250-nit non-touch (standard); a 300-nit touchscreen (+£51.60); or a 400-nit non-touch (+£138).
We'd ideally like to see Lenovo make available the 14in 500-nit, 2,560x1,440 Dolby Vision display that exists on other ThinkPads, but panel options aside, we're pleased to see the AMD system isn't obviously gimped in other key areas. The storage device is a fast PC SN720 NVMe M.2 SSD from WD, biometrics are catered for in the form of a responsive fingerprint reader and an optional IR webcam, and even WiFi/Bluetooth connectivity is dependable courtesy of an Intel Wireless-AC 9260 adapter. Readers who still associate Lenovo with spyware will be happy to hear there's practically no bloatware on top of the 64-bit install of Windows 10 Pro, and there's added peace of mind with the three-year warranty.
These may feel like minor victories, but a laptop is heavily reliant on multiple components working well together, and for those who have experienced sub-par AMD offerings, it is refreshing to see the T495s maintain the high standards expected of a ThinkPad. Build quality is first-rate - the T495s is tested against 12 military-grade requirements so won't quibble about being used out in the field - there's an option for a SIM-card slot if necessary, and if you're worried about battery life on an AMD-based portable, you'll be pleased, or perhaps astonished, to learn that Lenovo claims up to 16.4 hours of battery life from a single charge. Better still, the T495s adopts rapid-charge technology, which will have the battery charged up to 80 per cent capacity in around an hour.
There's mostly good news in the I/O department, too. On the right side, flanking the air vent, is a smart-card reader, one USB 3.0 Type-A and a Kensington lock slot. Over on the other you'll find a Type-C power jack, USB 3.1 Type-C, a connector for an optional ThinkPad Ethernet Extension Cable, another USB 3.0 Type-A, HDMI output and a headphone jack. The SIM-card slot, if equipped, would be stowed around back and includes support for a micro-SD card, yet while the T495s ticks most of the right boxes, the absence of a full-size SD card reader could be disappointing for some, and the lack of support for Thunderbolt might be deemed a deal-breaker for others.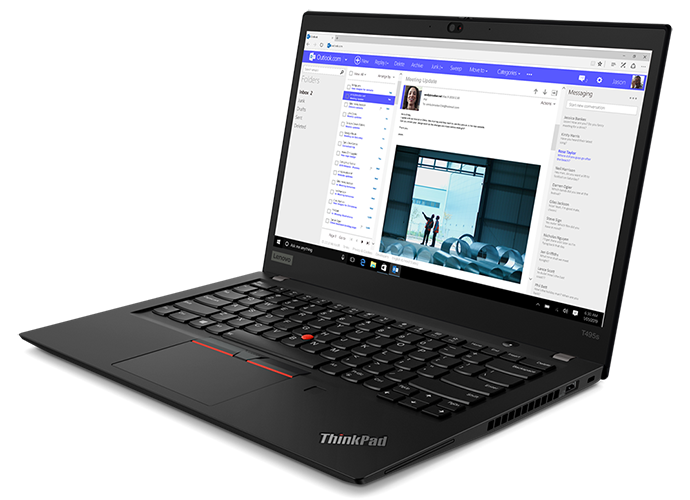 Dimensions of 382mm x 258mm x 17.9mm and a 1.3kg weight are about right for a 14in ultra-portable, and though the display bezels aren't the thinnest, we appreciate the fact that the webcam is up top, where it ought to be. Webcam quality could certainly be better - the 720p camera delivers a noticeably fuzzy picture - but sound output from the downward-firing stereo speakers is surprisingly potent and dual 360-degree far-field microphones are advantageous for conference calls or interacting with a digital assistant.
This is, without a doubt, the nicest AMD-based laptop we've used in quite some time, and of course, it comes with an excellent ThinkPad keyboard that in our estimation is among the best in the business. The Touchpad is similarly impressive, and though some find the bright-red nub offensive, I don't mind it and happen to enjoy the dedicated mouse buttons. I'm liking what I see, but can the T495s live up to expectations when it comes to performance, noise levels and battery life? The benchmarks will reveal all.