Introduction
There's no shortage of choice when it comes to thin-and-powerful gaming laptops in 2019. We've already been suitably impressed by the eye-opening Gigabyte Aero 15 OLED and the handsome Razer Blade 15, and today we have the opportunity to explore another contender in the form of the Asus ROG Zephyrus S GX502.
Priced at £2,300, the GX502 has the benefit of being up to £200 cheaper than the aforementioned competitors (a rare scenario for Asus hardware, we might add), and at first glance it looks a worthy alternative for enthusiasts wanting to take their gaming ambitions on the road.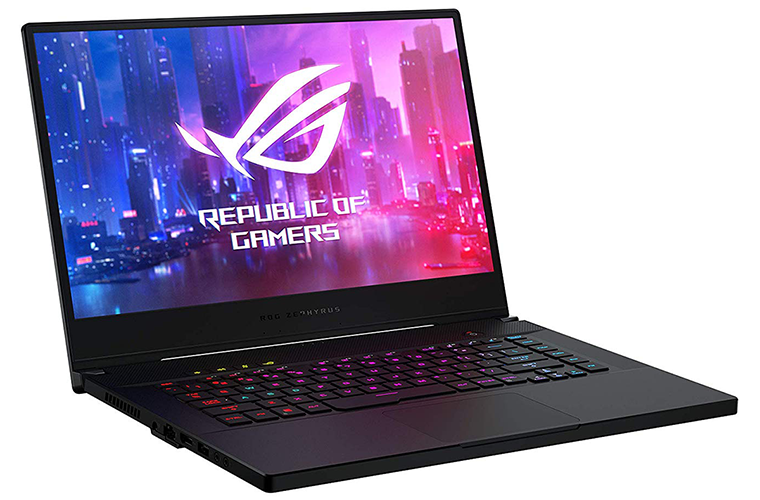 Build quality is good throughout, and like others in the category, Asus has evolved its Zephyrus range to appear less gaudy and more business-like. Save for the RGB keyboard, plus the backlit ROG logo on the lid, you wouldn't necessarily know the GX502 is a gaming machine, and that's a good thing. The matte-black aesthetic is neat, overall dimensions of 360mm x 252mm x 18.9mm are in line with our expectations of a modern high-performance machine, and the 2kg weight is in keeping with the competition.
Design and Specification
This is an aesthetically pleasant gaming laptop - second only to the Razer Blade, in our estimation - though it won't necessarily stay that way. Asus's use of a rubberised coating on the palm-rest results in a surface that feels nice and soft to the touch but also has the tendency to attract grime and fingerprints at an alarming pace. The laptop starts to look aged after just a day's use, so keep those wipes nearby.
Can you spot another caveat to the otherwise sleek design? Top marks for those who noticed the absence of a webcam. We've seen laptop vendors move the built-in camera below the display in order to facilitate ultra-thin bezels, but Asus has gone a step further by removing the webcam altogether. An odd choice, and though Asus does bundle the laptop with an external camera in select markets, not having a built-in solution in a premium machine such as this is a major oversight. There's also no fingerprint reader, so those hoping for some form of biometric security are out of luck.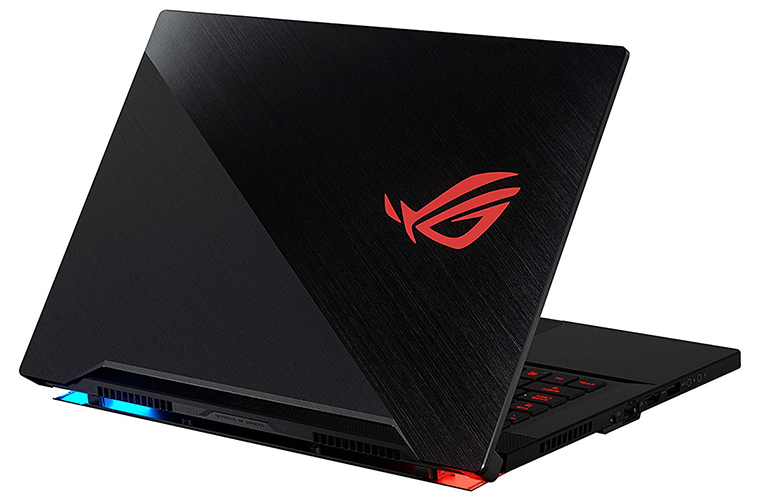 GX502 does however have something most competitors don't; an 'Active Aerodynamic System' (AAS) built into the base of the magnesium-alloy chassis. In keeping with earlier Zephyrus models, AAS raises the rear of the laptop up 7mm by flexing the bottom panel when the lid is opened. Asus reckons the end result is a 22 per cent increase in airflow for the two internal fans, and there's an added benefit in that the keyboard is automatically raised to a more comfortable incline. That's the good news; the bad news is that the opening allows fan noise to escape practically uninhibited, resulting in a laptop that's clearly audible when idle and frustratingly loud under load.
Noise levels are arguably our number-one gripe, but for enthusiasts who have come to accept the fact that powerful laptops necessitate the use of a good set of headphones, the GX502 does pack a serious amount of firepower. Beneath the hood, you'll find a six-core, 12-thread Intel Core i7-9750H processor, 32GB of dual-channel DDR4 memory, 1TB of solid-state storage and dedicated Nvidia GeForce RTX 2070 8GB graphics. Note that the GPU is a full-fat laptop variant, rather than a subdued Max-Q offering that is often featured in rival systems.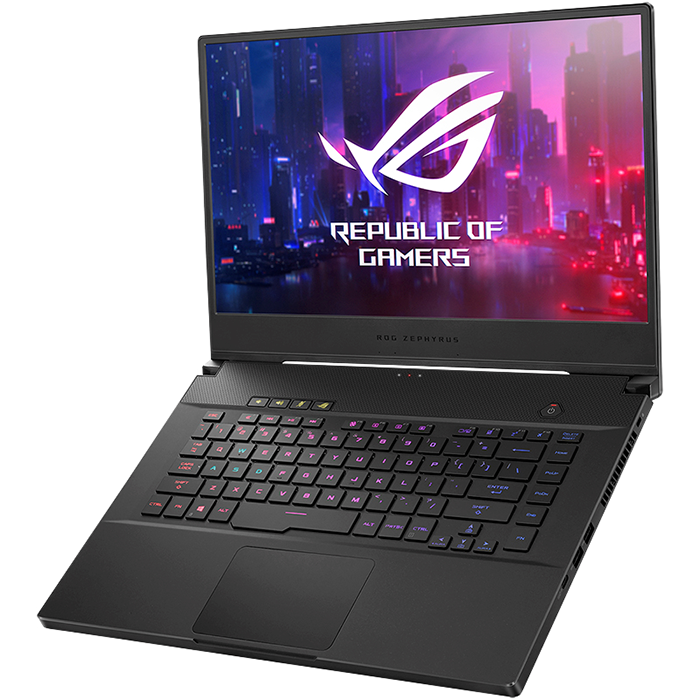 In its out-the-box state, the GX502 will dynamically switch between integrated Intel UHD 630 graphics and the discrete GeForce using Nvidia Optimus technology, but what's handy is that Asus is one of few vendors to offer a choice of Optimus or G-Sync. The two technologies tend to be mutually exclusive, however an option in the Asus Armoury Crate software lets users switch solely to discrete graphics, with the ability to then enable G-Sync framerate synchronisation. The switching process does require a reboot, but it is nonetheless a useful option for those who favour smooth gameplay over battery life, or vice versa.
Display, Connectivity and Keyboard
The combination of Core i7-9750H and RTX 2070 is tasty, and Asus has the duo plumbed to a 15.6in high-refresh 1080p IPS display. A 144Hz panel exists in some regions, but here in the UK the GX502 is outfitted with a super-fast 240Hz display as standard. Great for those who class higher refresh rates as the gold standard, though to our frustration we've been sent a 144Hz model for review, and consequently haven't had the opportunity to test the top-spec panel.
G-Sync and a fast display bode well for silky gameplay, though Asus might have done more in the speaker department, as the downward-firing stereo setup isn't as convincing as other gaming laptops. Elsewhere, in terms of I/O, you'll find a pair of USB 3.0 Type-A and one USB 3.1 Type-C with DisplayPort on the right side, while over on the left there's the power jack, Gigabit Ethernet, HDMI 2.0b, another USB 3.0 Type-A and a pair of audio jacks. GX502 has most boxes ticked, though the absence of a card reader or support for Thunderbolt 3 might be a black mark for some.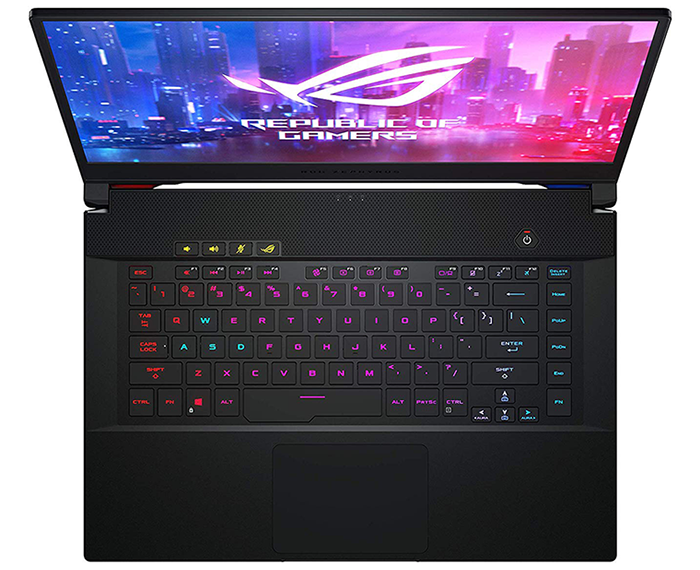 Asus hasn't managed to tick every available box, yet other than the aforementioned noise, the latest 15.6in Zephyrus is comfortable to use. We appreciate the fact that Asus has decided against a numpad in favour of a spacious layout, and the keys themselves are evenly illuminated while exhibiting enough travel to make for a satisfying typing experience. If we're nitpicking we'd prefer not to have any keys to the right of enter, but we've no major qualms with the keyboard, and the accompanying trackpad is also well-sized, accurate and responsive.
Gaming laptops are certainly cleaning up their act - our GX502 review unit isn't adorned with any stickers whatsoever - though Asus is dragging its heels in the bloatware department. Expect a handful of additional utilities, of which McAfee Security serves as the primary source of nagging prompts. There's no such thing as the perfect gaming laptop, but the 2019 Zephyrus S will attract attention courtesy of its CPU, GPU and display combination. Let's run some benchmarks to see if performance is all it is made out to be.