Introduction
HP's EliteBook x360 has served as a top-class business laptop for a good number of years, and having been impressed with earlier models, we're intrigued to see what upgrades are in the store for the 2019 refresh dubbed the x360 1030 G3. A starting price of around £1,500 is to be expected given the EliteBook's position as a premium solution, and seeing as the previous-generation model was eminently likeable, it is no surprise to find a feeling of familiarity with this year's update.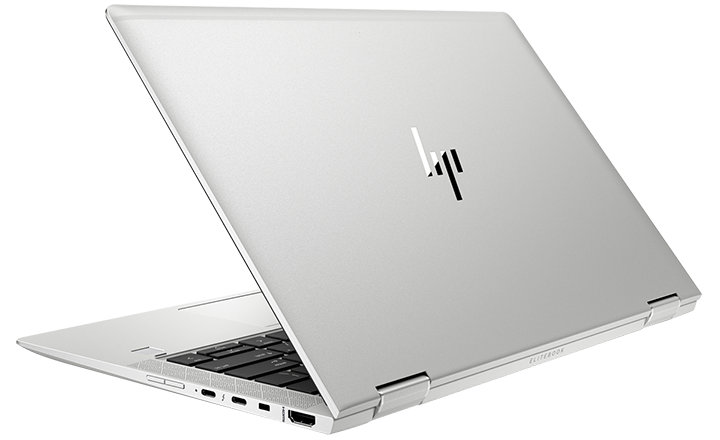 We can understand HP's decision to keep the design blueprint intact, as the EliteBook x360 remains one of the most stylish ultra-portables on the market. The aluminium unibody combined with diamond-cut edges creates a robust and elegant finish, and it isn't just pretty as the chassis is designed with military-spec MIL‐STD 810G testing in mind. For road warriors out there, that means the likes of dust, vibration and dramatic temperature or altitude fluctuations should pose little threat.
For everybody else, it's a very nicely built piece of kit and on closer inspection HP has made a handful of noteworthy improvements. Overall dimensions, firstly, have shrunk to 306mm x 205mm x 15.8mm, making the laptop roughly 10 per cent smaller than its predecessor, and screen size remains unchanged at 13.3in. This is achieved through thinner bezels - the side bezels have been trimmed by a whopping 50 per cent - yet while the chin has been made smaller, the area above the display still has room for an improved full-HD webcam and IR sensors supporting Windows Hello. Face recognition seems markedly quicker this time around, and considering that so many laptop cameras are sub-par, the 1080p solution on offer here is better than most.
As far as thin-and-light (1.3kg) convertible form factors are concerned, the EliteBook is up there with the best and, though I might be in the minority here, I actually prefer the silver finish over the darker tones of HP's consumer-orientated Spectre x360. There's an understated elegance about it, and if you appreciate the sleek design, you'll like the fact that the matte-silver paintwork does an excellent job of repelling grime and fingerprints.
Connectivity and Specs
The EliteBook is an interesting alternative to a ThinkPad, and appreciating the target audience, HP keeps connectivity reasonably well stocked. The laptop's left side is home to USB 3.1 Gen 1 Type-A, a combination audio jack, power button and Nano-SIM slot, while over on the right you'll find HDMI, a lock slot, two ThunderBolt 3 Type-C and a volume rocker. The small bundled power supply now attaches to one of the ThunderBolt ports, as opposed to a proprietary connector, and though there's no longer an SD card slot, the addition of Nano-SIM support is arguably a more pressing concern for today's business customers.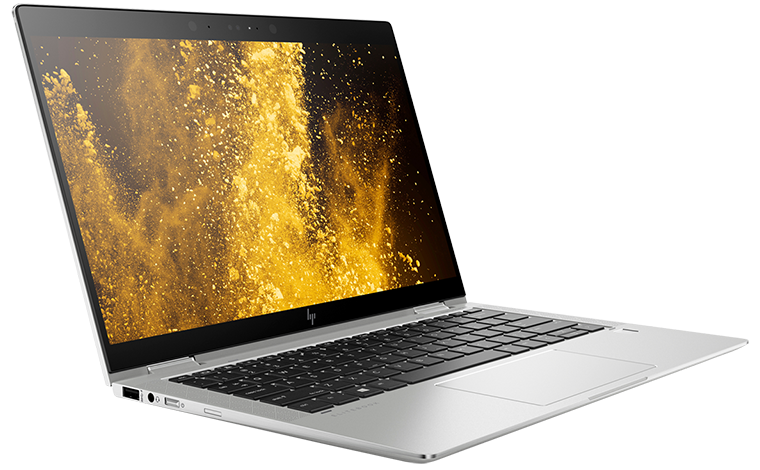 On the inside CPU choices range from the Core i5-8250U to the Core i7-8650U, each with integrated Intel UHD 620 graphics, memory configurations include 8GB or 16GB or LPDDR3 in a dual-channel layout, and storage options are said to extend up to 2TB, though we only seem to be able to find 256GB or 512GB units at retail. Our review sample, outfitted with the Core i7-8650U, 16GB of memory and a 512GB M.2 SSD retails for £1,800, and given the lofty price point, it's a shame HP doesn't include its Active Pen as standard. The optional stylus can be a useful tool and the latest model attaches magnetically to either side of the laptop and quickly recharges via USB-C (the previous version used a AAAA battery).
Where the EliteBook gets somewhat confusing is in the display specification, as HP has a total of five IPS panels to choose from. There are three regular 13.3in touchscreens; a glossy 1080p with 400-nit backlight; a matte 1080p with 400-nit backlight; or a glossy 4K UHD with 500-nit backlight. If that's not enough, there are also glossy or matte 1080p panels with 700-nit backlight and a SureView privacy screen. All five panels tout Corning Gorilla Glass 4 protection, and to our pleasant surprise, our 1080p matte SureView review sample offers a 120Hz refresh rate, ensuring smooth visuals at all times.
Privacy and Fan Noise
SureView, for those wondering, is a feature that helps set HP's business laptops apart from most of the competition. Using a proprietary backlight and a 3M light control film, the tech is toggled via the F2 shortcut key and focuses light toward the middle of the display to create a 70º viewing cone. When viewed from a wider angle, 95 per cent of visible light is reduced, meaning the person sat next to you on the train will see little more than a white screen. A clever tool if your on-screen data is sensitive, but do be aware that image quality does suffer with SureView enabled; the entire panel takes on a slightly washed-out appearance that while noticeable doesn't detract from everyday usage.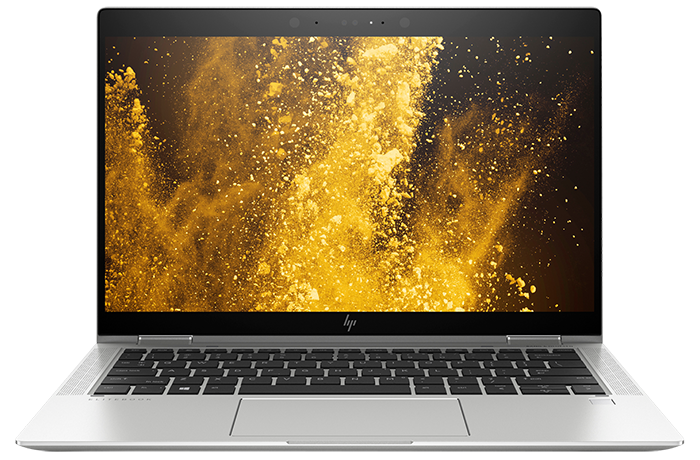 Security is one key differentiator between an EliteBook and a Spectre, and to that end there's a reliable fingerprint reader to serve as a second layer of authentication alongside facial recognition. As expected, HP also pre-loads a handful of software utilities to help safeguard certain aspects of the system. In addition to comprehensive recovery and support apps, tools such as HP Client Security offer fine-grained security options including the ability to limit USB storage devices to a pre-authorised list, and client management solutions are at hand to centrally manage hardware and BIOS settings in a large-scale deployment.
Outside of the HP utilities, the EliteBook is free of bloatware, meaning no pesky third-party anti-virus nagging you at every step. What is likely to grate, however, is fan noise. The two internal fans vent out the back of the case and are aggressively configured to keep core temperature as close to 60ºC as possible. This means a certain amount of throttling is inevitable, and when the going gets tough, the fans can become quite vocal. It is the one area of the EliteBook I find most distracting, and the performance of today's chips is such that, given the choice of a fanless Core i5 or an actively cooled Core i7, I'd almost certainly lean toward the former.
Speakers, Keyboard and Convertible
On the audio front HP's Bang & Olufsen sound system has been enhanced through the addition of two upward-firing speakers that, together with the downward-firing pair, make for a pleasant experience irrespective of whether the laptop is used in regular, tent or tablet mode. Sound quality is surprisingly good for a laptop of this size, and the new speaker grilles, lining each side of the keyboard, add another layer of visual intrigue.
Speaking of the keyboard, it is an excellent showing from HP. The backlit chiclet-style keys have a decent amount of travel and a quiet, almost cushioned action that feels great during use. I'd have no hesitation in labelling this as one of the best laptop keyboards, second only to a ThinkPad, but if you don't care for Lenovo's styling, the EliteBook's nub-less aesthetic is admittedly more modern. Business users may also appreciate the fact that the function row includes shortcuts for the likes of Outlook Calendar and Skype for Business, while the excellent precision trackpad is much like before; spacious, responsive and accurate.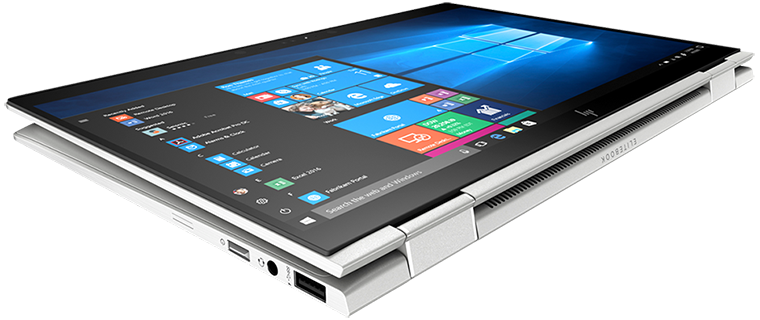 Using the EliteBook as a tablet is an improved experience as the bezels are no longer ungainly, however the 16:9 aspect ratio still feels cramped in portrait mode. We do wish more manufacturers would follow Microsoft Surface's lead with a 3:2 panel better suited to convertibles, but it's important to note that while the EliteBook has the ability to function as a tablet, it is a laptop first and foremost, and the regular usage scenario is without a doubt its primary strength. Let's now run the benchmarks and see how it fares with a Core i7-8650U at the helm.