Introduction
Producing a high-quality gaming laptop is a balancing act. Consumers tend to want lots of performance, stylish looks, low temperatures and minimal fan noise in a chassis that's barely any thicker than a regular ultra-portable. Compromises typically have to be made, but there are signs of progress, particularly where style and proportions are concerned.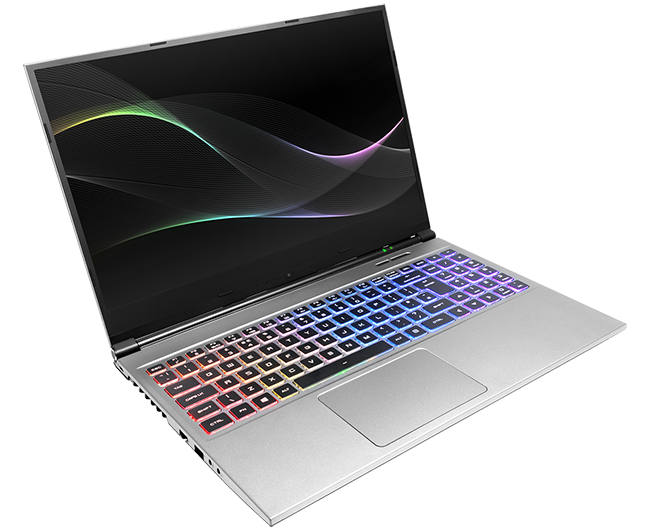 Take the PC Specialist 15.6" Fusion II for example. Measuring 19.8mm at its thickest point, and finished in a professional-looking silver, the system doesn't appear like your regular gaming laptop, yet it packs a Core i7 processor and dedicated GeForce GTX graphics inside its relatively svelte body.
Pricing starts at just over £1,000, and on paper, this seems a prime candidate for those who like to work by day and play by night. We've spent the past week getting acquainted, and as with most gaming laptops, there are pros and cons to be aware of.
Design
We've previously seen high-profile system integrators look beyond Clevo for modern, off-the-shelf chassis, and PC Specialist is the latest to branch out by turning to Chinese manufacturer Tongfang, whose GK5CM6X model serves as a foundation for the Fusion II.
At first glance it's a solid choice. The chassis is reasonably petite and modern looking, the display bezels measure just 7mm on the top and sides - though the chin is admittedly large - and the soft-touch keyboard surround has a nice feel to it. We also quite like the fact that the brush-effect silver lid has no branding on it whatsoever, giving it a clean and unfussy aesthetic.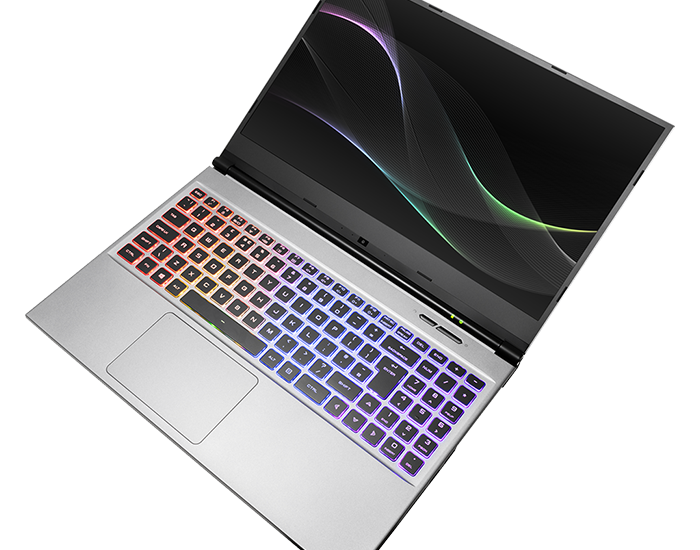 Fusion II is far sleeker than the ostentatious gaming laptops of yesteryear, however when you get the system in your hands, it doesn't quite have the aura of a premium piece of kit. There's more flex to the keyboard tray than we'd like, the power button feels particularly cheap, and on our review sample the display scrapes the hinge ever so slightly as you open it.
None of these are deal breakers in the grand scheme of things, but the small niggles do add up. The list of gripes includes the webcam - whose positioning below the screen is such that the display needs to be tilted way back in order to have a face-to-face conversation - and though it's nice to have RGB backlighting as standard, the effect is somewhat washed out and lacking in vibrancy. Some might actually prefer this subdued illumination, but to our eye it comes across as half-baked.
Don't expect luxury in all regards and you'll likely enjoy the overall experience. The 1080p display is competent, with excellent viewing angles, a matte finish and good out-the-box colour accuracy, the downward-firing speakers pack a punch and maintain good clarity at maximum volume, and both the keyboard and trackpad are perfectly fine. If we're nitpicking we'd say the keys are a tad on the mushy side, but there's nothing off-putting about the layout, and both input devices are easy to get to grips with.
Specification and Ports
The plasticky Tongfang chassis was never likely to exceed expectations, but it matches them and provides a tidy home for a bevy of modern hardware. Our review sample, priced at £1,170, packs more RAM plus superior storage, and ultimately ticks a lot of the right boxes for a 1080p gaming portable.
Headlining the build is a hexa-core Intel Core i7-8750H processor, 16GB (2x8GB) of Corsair DDR4-2400 memory and Nvidia GeForce GTX 1060 Max-Q graphics that take over from the Intel UHD 630 as and when required. Storage comes courtesy of a roomy 512GB Intel 660p M.2 SSD, an Intel Wireless-AC 9260 adapter handles WiFi duties, and a 62Wh battery ought to provide decent longevity.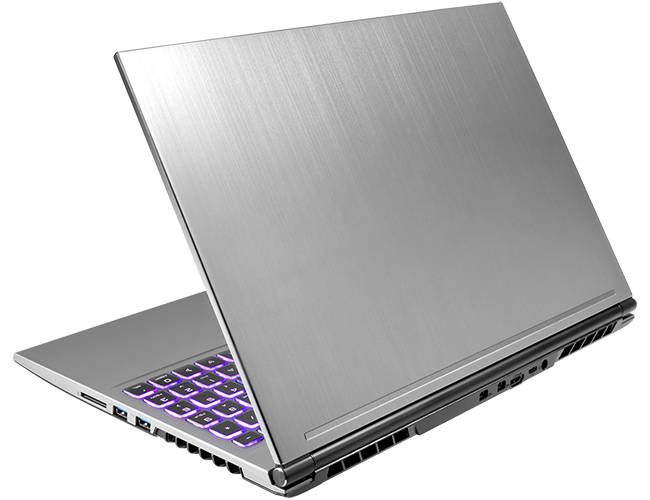 We can't think of anything we'd change in the specification at this price point - though a G-Sync display would have been nice - and Fusion II covers most bases when it comes to ports. The laptop's left side is home to a pair of audio jacks, USB 2.0 and Gigabit Ethernet. Over on the right there's an SD card reader and two USB 3.1 ports, while the back edge is home to two mini-DisplayPorts, HDMI, USB 3.1 Type-C and a connector for the bundled 150W power brick.
PC Specialist backs the unit with a three-year warranty as standard, and both upgrades and maintenance seem straightforward enough. The bottom cover is removed with minimal fuss, revealing easy access to both fans, the two occupied memory slots, and two M.2 slots, one of which is empty for slot-in expansion. Everything a full-HD gaming laptop needs? Let's run the benchmarks before reaching a conclusion.