Introduction
Is there much call for large 17in laptops these days? Smaller, thinner ultra-portables now offer more power than ever before, yet while larger laptops are becoming a rare breed, there are instances where they still make sense. A 17in laptop can be an effective replacement for an ageing desktop, there's a lot to be said for the larger screen size, and for the enthusiast, a 17in form factor remains the best bet for maximum performance.
Aorus is of the same line of thinking, and for those willing to splurge on a high-end desktop replacement, it presents the £2,999 X7 DT v8. The price tag alone will have most readers trembling in their boots, yet this is the going rate for a 17in system outfitted with top-tier parts from Intel and Nvidia, and the Aorus X7 has the advantage of being a v8 model that has benefited from various tweaks and refinements over the years. This time around, the upgrades include a hexa-core Intel processor and a full-HD IPS display supporting Nvidia G-Sync at up to 144Hz.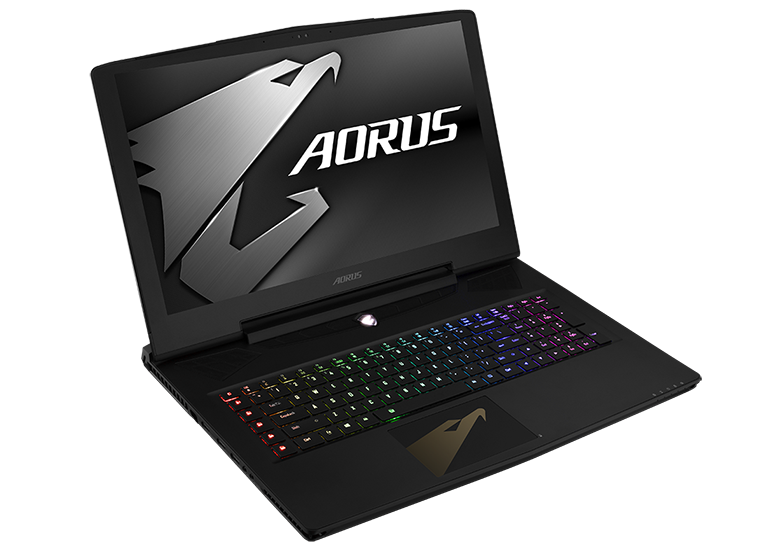 Migrating to an 8th Gen Core CPU is to be expected, yet that doesn't mean the specification is any less tasty. Indeed, the combination of a 4.3GHz Core i7-8850H processor, GeForce GTX 1080 8GB graphics, 16GB of DDR4-2666 memory and a 512GB Toshiba XG3 M.2 SSD is about as good as it gets for a gaming laptop. Note, also, that the GTX 1080 is of the full-fat variety; there's no pared-down Max-Q shenanigans going on here.
Choosing the right display is a balancing act for many manufacturers. There's no one-panel-fits-all solution, and Aorus has historically offered a choice of a high-res IPS option for creative types, or a fast-refresh TN panel for gamers. Too much choice can be confusing, and for the X7 DT v8 Aorus has its sights set firmly on gamers, with only a single panel type; a matte 1080p IPS with a lovely 144Hz refresh rate and support for G-Sync adaptive framerate smoothing. Viewing angles are excellent, the refresh rate is a real boon for gaming, and though the full-HD resolution seems basic at this price point, it's a fine fit for high-speed gaming with quality settings cranked right up to maximum.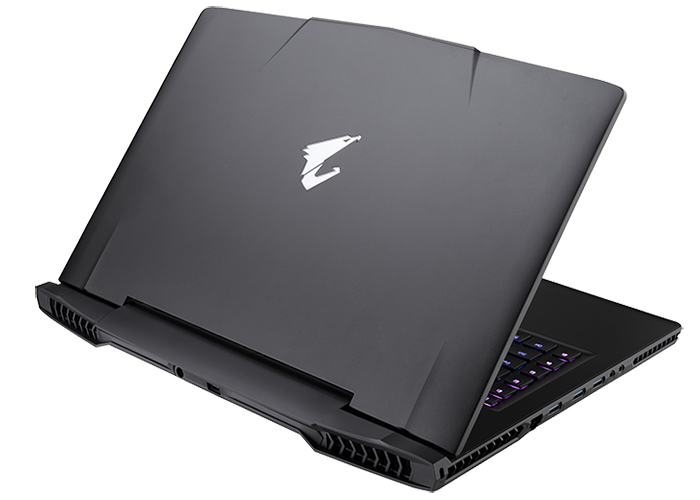 While the specification oozes speed, it's the simplicity of the configuration that we appreciate most. Those who have been following Aorus for a while will recall that the Gigabyte subsidiary arrived on the scene with eye-catching features that had the desired effect but didn't work well in practise. Fast forward to today and there's no erratic SLI configuration, it's a single SSD rather than three strapped together in RAID, and the whole machine has a more grown-up feel about it. It's not trying too hard and everything just works.
Build quality doesn't appear to have changed since the last iteration, but that's no bad thing. Aorus' 17in chassis is one of the sleekest around, measuring 25.4mm at its thickest point, and the matte-black paintwork is easy on the eye. There's enough aluminium in the construction to ensure that flex is only minimal, but the exterior does have a nasty habit of attracting dirt and fingerprints, and as you'd expect for a system of this size, a 3.2kg weight isn't easy portable. Still, the chassis is a known quantity and we reckon Aorus finds a decent balance; it's reasonably thin, isn't overly ostentatious, yet has aggressive vents that make it appear formidable. The mirrored Aorus logo on the lid is a nice touch, too, and glows white when powered on.
A laptop of these proportions ought to offer stellar connectivity, and Aorus duly obliges. X7 DT v8's left edge is home to Killer E2500 Gigabit Ethernet, a trio of USB 3.0 ports and a pair of audio jacks, while over on the right there's an SD card slot, USB 3.1 Type-C, Thunderbolt 3 Type-C, HDMI and mini-DisplayPort. The connector for the power supply is found on the back, alongside a fourth USB 3.0 port, and we like the fact that the 250W external supply is equipped with a USB port for charging other gadgets. Rounding off the connectivity options is a Killer Wireless-AC 1535 adapter, which can team up with the Killer Ethernet to provide DoubleShot Pro bandwidth optimisation.
Attempting to tick every box that matters to gamers, Aorus has an ESS SABRE Hi-Fi DAC driving the audio, and stereo speakers paired with two integrated subwoofers deliver way more oomph than your average laptop. There's plenty of good, yet some of the niggles often attributed to gaming systems are also present here. Fan noise is arguably the worst offender, as the internal blowers are always audible and become highly distracting under load. The display bezels are also chunky by today's standards, and as we'll demonstrate a little later in the review, battery life isn't great, so be prepared to keep the charger nearby.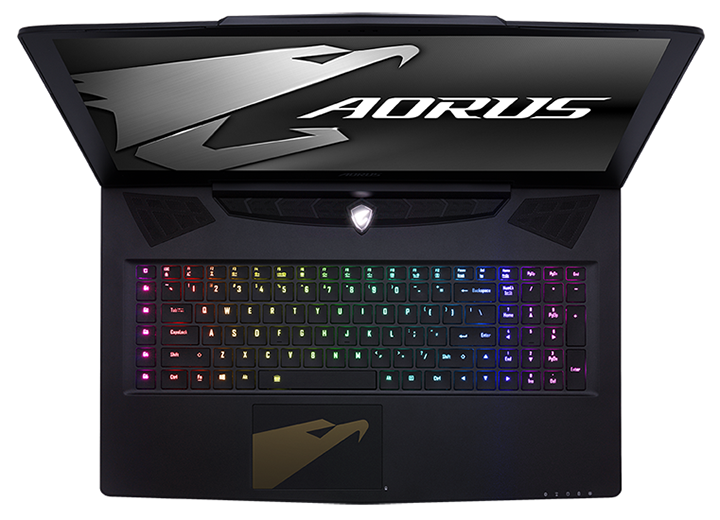 The gradual refinements are also felt in the current keyboard and trackpad. Aorus retains the dedicated column of macro keys, and the island-style keys are punched out of the chassis, giving a decent amount of travel and solid feel. The per-key RGB backlighting offers plenty of customisation, however the lighting isn't perfectly even as there are clear signs of banding when you get up close. Still, this is a decent keyboard for a gaming laptop, and it sits alongside a large and responsive trackpad that Aorus has sensibly stopped covering in glass.
It is refreshing to see a powerful gaming laptop that is neither overly complicated nor cluttered. There's little in the way of nagware on top of the 64-bit install of Windows 10, and the only obvious exception is a pop-up at boot that asks you to agree to Gigabyte collecting "non-personal information on how you and others use our notebooks." Disagree to said prompt and the pop-up will reappear at each boot. That's the pre-amble out of the way, now seeing as this is the first 17in laptop with an 8th Gen Core processor to pass through the labs, let's fire up some benchmarks.