Introduction
When we reviewed the ZenBook 3 Deluxe back in November, we came away feeling as though Asus wasn't from creating an excellent Ultrabook. The chassis is stylish, performance sound, and a few small tweaks here and there would elevate the system from good to great. Our recommendations included a touchscreen display, a better webcam, and improved battery optimisation.
The arrival of Intel's 8th Gen Core processors is an opportune moment to refresh existing laptops, and Asus has done exactly that with a 2018 model going by the same name. Say hello, again, to the ZenBook 3 Deluxe UX490UA.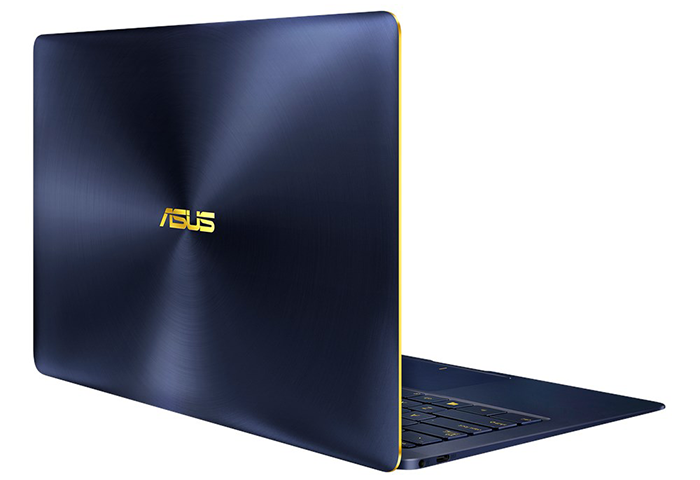 Look familiar? That's because the laptop is aesthetically almost identical to its predecessor. That's no bad thing as this remains one of the sleekest 14in chassis on the market, measuring just 12.9mm at its thickest point. The near-seamless aluminium construction has a quality feel to it, while weight is kept to a highly portable 1.1kg, and it comes in a choice of Quartz Grey or Royal Blue colour schemes. We're quite fond of the latter, and Asus continues to add extra elegance with a spun-metal finish on the lid and gold highlights on the anodised edges. The design team certainly paid attention to the details, as even the keyboard has a gold-hued backlight to accentuate the premium feel.
ZenBook 3 Deluxe looks the part yet pricing isn't overly prohibitive. The base model, featuring a Core i5-8200U processor, 8GB of memory and a 256GB SSD, carries an MSRP of £1,200, while the meatier Core i7-8550U model, with 16GB RAM and 512GB SSD, is set to retail at £1,600. Both price points are pretty much in line with last year's predecessors, but early retailer listings suggest that savings are going to be readily available this time around - the Core i5 model has already been discounted by £160 on Amazon, and if you shop around, the Core i7 variant can be found for £1,400 at the time of writing.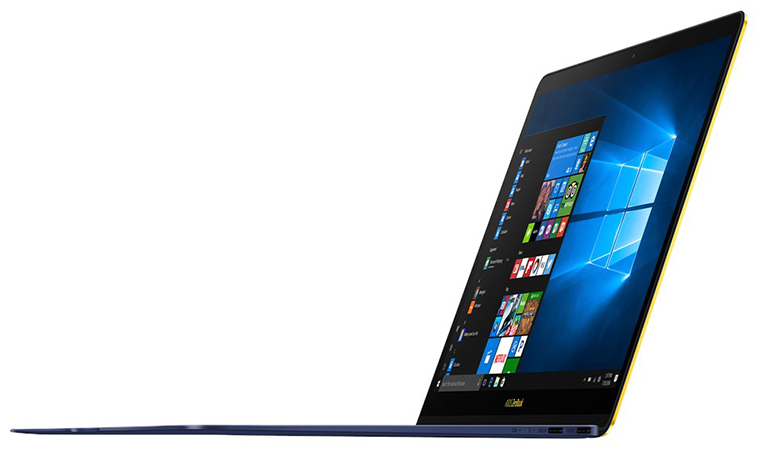 This is a seriously sexy laptop for a little over a grand, yet we can't help but feel somewhat disappointed by the limited progression of this 8th Gen upgrade. Sure, there's now a quad-core processor at the helm, but still no option for a touchscreen (a major oversight in our opinion), the integrated webcam continues to offer a poor quality 640x480 resolution (don't expect Windows Hello face recognition), and the CPU upgrade isn't quite what you'd think; as our benchmarks will reveal, there's significant throttling to be aware of.
Could Asus have done more? Perhaps, but for fans of the ZenBook 3 Deluxe, this year's iteration is, for all intents and purposes, the same laptop with a new-and-improved Intel chip. The 14in IPS panel offers the same 1080p resolution and ultra-wide viewing angles, up to 12 hours of runtime is promised from the 46Wh battery, and there are still four available ports; one headphone jack and a trio of USB Type-C. Two of the Type-C support Thunderbolt 3, while the other is limited to USB 3.1 Gen 1. What's handy is that Asus includes a Type-C adapter in the box for both USB Type-A and HDMI connectivity.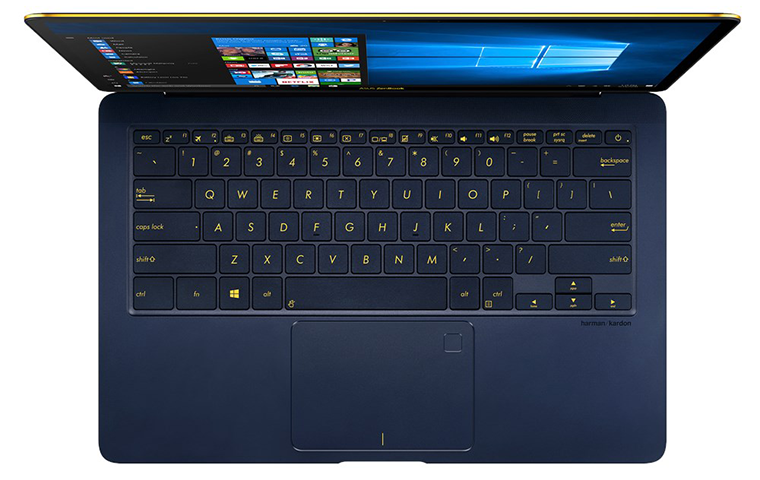 From a usability point of view, almost everything is pleasant. The keys have reasonable travel considering the laptop's thin profile, the backlight and lettering are nice and even, and about the only genuine bugbear is the position of the power button in the top-right corner - it's where delete ought to be. The Precision trackpad is also fine, though the integrated fingerprint reader can be fussy, and the quad-speaker Harman Kardon sound system is a pleasant surprise, delivering ample volume and good clarity.
It feels as though the ZenBook 3 Deluxe is close to becoming a genuinely compelling package, but this 2018 refresh still presents a few shortcomings and Asus adds another unnecessary wrinkle to the mix by pre-loading the laptop with a good amount of bloatware. McAfee Internet Security, Photo Director 8, Power Director 14, WPS Office and Asus Giftbox are just some of the apps that contrive to bog the system down, but enough of the pre-amble, let's get to the benchmarks and shed some light on the throttling we talked about earlier.