Introduction
The ThinkPad X1 Carbon is a beautiful laptop that we've been happy to recommend, but with the industry moving toward multi-purpose, convertible designs, Lenovo understands the need to offer a premium alternative. That's where the ThinkPad X1 Yoga comes in. Building on the excellent foundations of the Carbon, Yoga imbues the classic X1 design with 360º hinges in an effort to create a more versatile machine.
Seems a logical move, but given the changes, can Yoga be as effective a laptop as the X1 Carbon, and can it challenge the likes of Surface Book 2 when it comes to versatility? To find out, we've spent some time with the latest 3rd Gen variant, available now with prices starting from £1,650.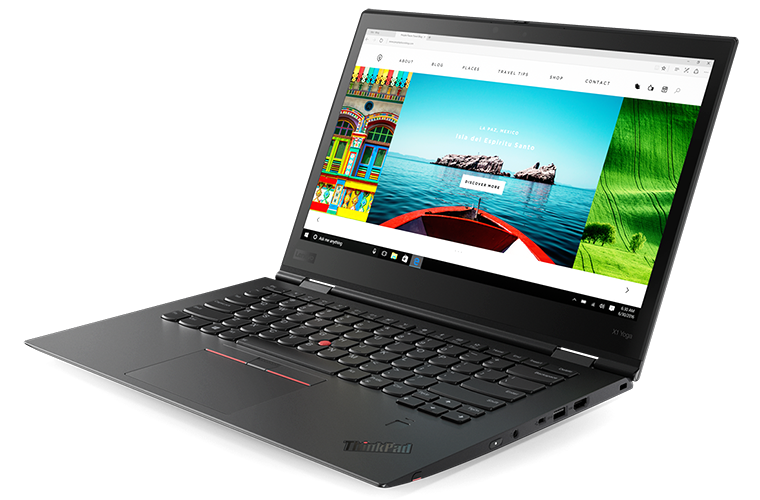 The good news for fans of the ThinkPad line is that Lenovo hasn't messed with the signature X1 aesthetic. The simple matte-black, soft-touch finish isn't for everyone, yet we've always been quite fond of the business-like appearance, and though there is a silver colour option available, we can't imagine why anyone would choose it.
X1 Yoga 3 looks like a ThinkPad and it feels like one, too, with a rock-solid chassis that is said to meet 12 military-grade requirements. We've not been able to subject it to freezing conditions or desert sands, but I can speak from experience and state that my now-retired X1 Carbon still looked like new after a good five years of regular use.
Carbon vs. Yoga
Build quality is top-notch and Lenovo's implementation of a 360º hinge is well done. There's enough rigidity in the hinge to prevent unwanted display wobble, and when you fold the panel over, the keys neatly retract into the tray to give a more uniform grip. It's a fine mechanism, however the X1 Yoga is up against some stiff competition, and though the ability to use the laptop as a tablet can be beneficial, fold-over designs, in our estimation, aren't a patch on the versatility of the detachable 3:2 display on Microsoft's Surface Book 2.
Due to addition of the hinge, X1 Yoga is both bigger and heavier than the regular X1 Carbon laptop. Dimensions of 333mm x 229mm x 17.1mm are by no means unwieldy - this remains a super-sleek system - but if you've used an X1 Carbon, you'll notice that Yoga is a fraction larger and weighs almost 25 per cent more. These are small margins - an extra 270g is hardly going to make a big difference in your backpack - but it's nonetheless worth knowing about, and while we're nitpicking, do be aware that Yoga's versatile approach results in larger display bezels; it's still a mighty attractive machine, it just isn't as downright sexy as an X1 Carbon.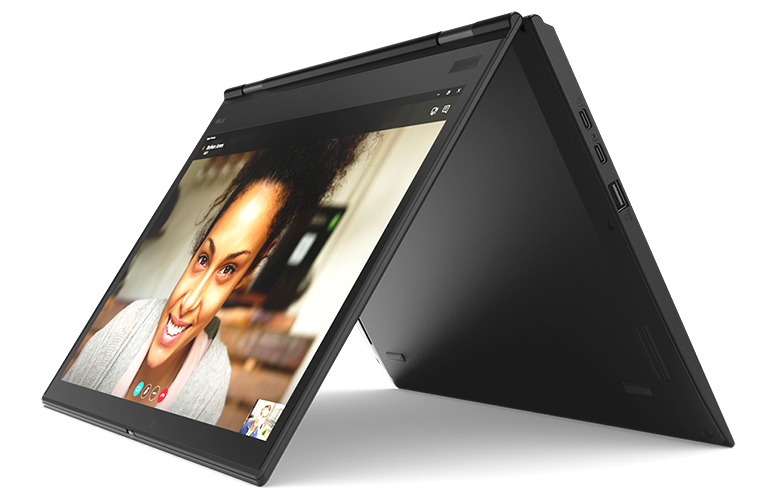 It is fair to say I prefer the regular laptop version, yet make no mistake, as far as convertibles go, the X1 Yoga remains a stellar PC with a healthy set of attractive features. Chief among these is a 14in QHD (2,560x1,440) HDR display supporting Dolby Vision with brightness of up to 500 nits. The IPS touchscreen is a genuine attraction, but as is often the case, the best features come at considerable cost; the entry-level X1 Yoga ships with a Core i5 processor and standard 1080p panel. Our Core i7 review sample touts a tastier Core i7 chip and the QHD HDR display, but fetches £2,399.
Viewing angles and colour coverage are excellent, and though there's a glossy finish, an anti-glare layer does a reasonable job of minimising reflections. We'll dig deeper into image quality later in the review and identify a couple of unexpected quirks, but let us start by saying that the 14in HDR IPS display is without a doubt one of the brightest and most vivid we've seen on a laptop. The touchscreen is also suitably responsive, and though the bundled ThinkPad Pen Pro isn't the best in the business - it supports only 2,048 levels of pressure - we like the fact that the pen is neatly stowed and recharged in a dedicated slot alongside the I/O ports.
A Powerful Convertible
ThinkPad X1 systems may be svelte, yet they tend not to overly restrict connectivity. Yoga continues that trend with Wireless AC, HDMI, combination audio jack, two USB 3.0 Type-A, two Thunderbolt 3 Type-C (one of which doubles as a port for the charger), Ethernet (via bundled adapter), a micro-SD card slot and a SIM card slot for those who opt for an LTE configuration.
Plenty to work with, but if there's a caveat it's that webcam options aren't ideal; the IR option supporting Windows Hello is only available with the 1080p display; choosing the HDR panel restricts the user to a 720p camera with 'ThinkShutter' cover for added privacy. It's one or the other and it's a missed opportunity not to be able to enjoy both HDR and Windows Hello on the same machine.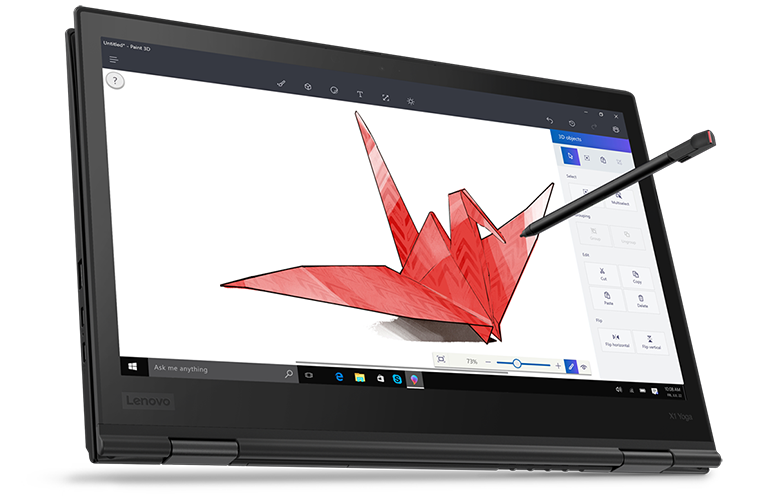 Configuration options are typically a bone of contention for ThinkPad systems, yet with four configurable base models to choose from, UK customers should be able to get close to an ideal X1 Yoga specification. Our £2,399 review sample ticks a lot of the right boxes for power users courtesy of a quad-core Intel Core i7-8550U processor with onboard UHD 620 graphics, 16GB of dual-channel LPDDR3 memory and a swift 512GB Samsung PM981 M.2 SSD.
Performance is lightning fast for just about any usage scenario outside of gaming, however Lenovo's high-speed approach does have an impact on heat and noise. During testing we found that the Intel CPU was allowed to run freely at temperatures of up to 96º before throttling kicks in. The upside is chart-topping numbers in most of our benchmarks, but the downsides are a noticeably warm chassis and an internal fan that is audible almost all of the time.
Software, Keyboard and Trackpad
Thermal and acoustic performance may change over time - Lenovo historically improves its ThinkPad products via regular BIOS updates - and after a couple of high-profile mishaps with pre-loaded malware, we're pleased to see that the firm's software configuration is now squeaky clean. There's only a single Lenovo Vantage app pre-installed on top of Windows 10 Pro, and it happens to be one of the best examples of a management utility built using the Universal Windows Platform.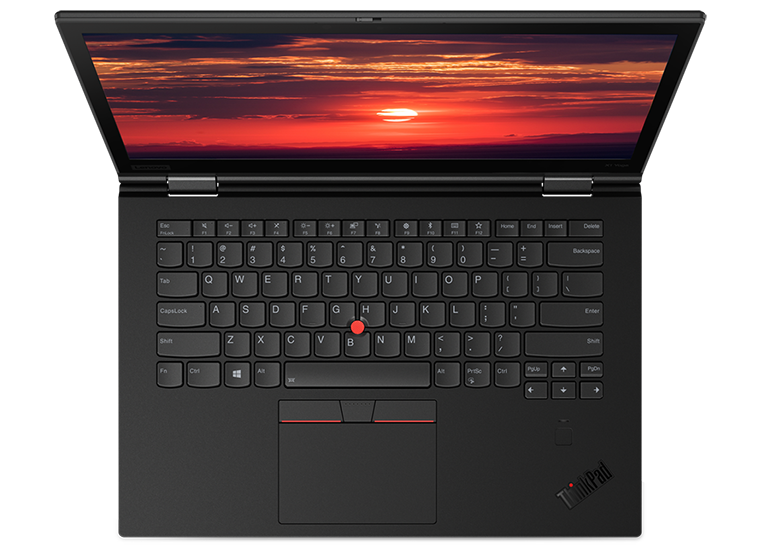 It is easy to quibble at minor issues on premium machines such as this, yet the overall picture is one of a remarkably bright display, ultra-fast performance, robust build quality and, of course, one of the best keyboards in the business. We've used our fair share of laptops, yet each time a ThinkPad crosses our path, it serves as a reminder of how comfortable the laptop typing experience can be. The size, feel and sound of the keys is about as close to perfection as we've seen, backlighting is even, and you needn't worry about the Fn and Ctrl keys being the wrong way around - they can be flipped via the Vantage app, as can the primary function of the F keys.
Laptop keyboards don't come much better than this, and though we found the fingerprint reader to be finicky, the Precision Trackpad is suitably impressive, with a large, smooth surface that reacts exactly as expected. The TrackPoint nub in the centre of the keyboard may be unnecessary, but I personally find the TrackPoint buttons to be useful and let's face it, a ThinkPad without a nub would be sacrilege.