Introduction
Taiwanese tech giant Asus offers a wide range of laptops at multiple price points, yet while the firm's high-end models are routinely given the review treatment, the more affordable units that appeal to the masses are often overlooked. We're intrigued to see if there's genuine value to be found further down the ladder, so in for review today is the Asus VivoBook S15 S510UQ.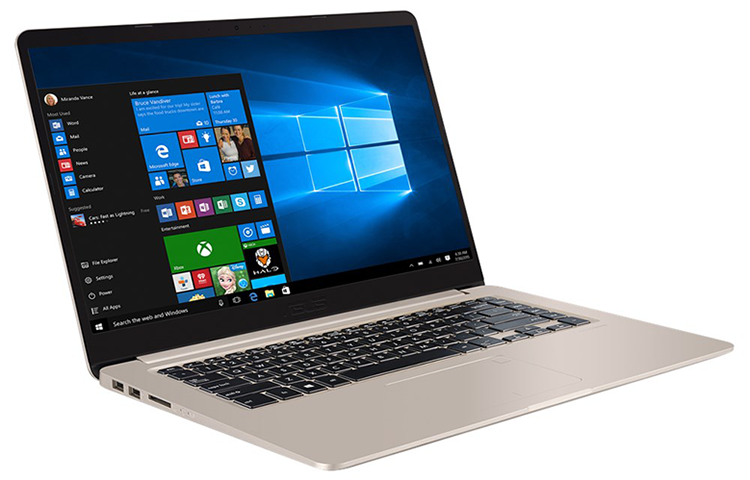 Promising "the perfect combination of beauty and performance," VivoBook S15 is interesting insofar as the 7th Gen Core i5 model (S510UQ-BQ178T) typically retails for £800 but has in the past few weeks been slashed to £620 in order to clear out stock ahead of the arrival of an 8th Gen upgrade. Sure, the newer model will offer a quad-core chip when it arrives at retail, but the current dual-core processor is no slouch for everyday computing and a £620 fee for a thin 15.6in laptop is inviting.
There are going to be compromises - we'll come to those shortly - but aesthetics isn't one of them. VivoBook S15 is a good-looking piece of kit, with a light-gold finish that makes the laptop appear more expensive than it is. Portability for a 15.6in system is also rather impressive, with Asus keeping maximum thickness to a hair under 18mm, and a thin 7.8mm bezel either side of the display ensures that the overall profile isn't that much larger than a typical 14in machine. Factor in a weight of 1.7kg and you have a tidy package that is easy to handle.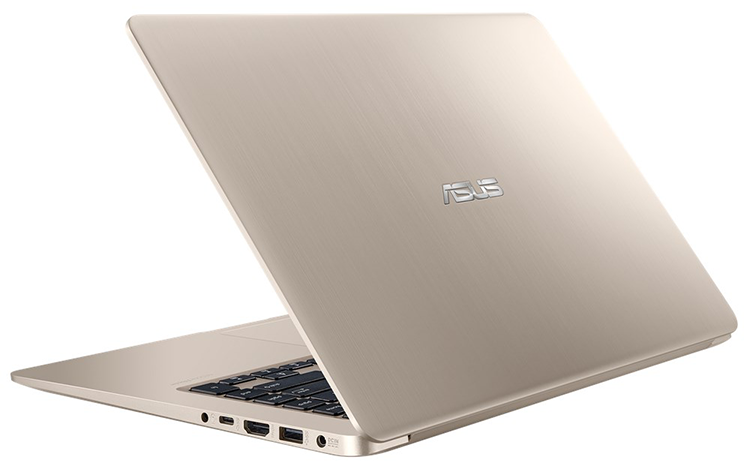 It is a sleek piece of kit, but appearances can be deceiving, and though it looks like an all-metal unibody enclosure from a distance, you realise when you handle the laptop that there is plenty of plastic involved. There's an inevitable flex to the display lid and keyboard tray, yet overall build quality is decent, with a sturdy display hinge and few outward seams to disrupt what remains an elegant profile. The balance of weight isn't ideal, mind, as we've found it extremely difficult to open the lid with one hand.
The chassis for the most part fits the bill, but the underlying components do raise some question marks. An Intel Core i5-7200U processor at the heart of the machine makes perfect sense, with the dual-core, quad-thread chip delivering speeds of up to 3.1GHz and integrated graphics in an efficient 15W package. A 256GB M.2 SSD is also a sensible choice, but 8GB of DDR4 memory in a limited single-channel configuration is a strange oversight, and we're puzzled by the addition of a discrete GPU. Intent on giving VivoBook a hint of gaming potential, Asus adds a 2GB GeForce 940MX GPU that dates back to early 2016 and is a) unlikely to offer meaningful gains over the Intel IGP and b) at odds with the thin profile.
With a single 15W chip we wonder if the VivoBook might have been passively cooled and equipped with a battery larger than the supplied 42Wh. Instead, with both a CPU and dedicated GPU in place, the internal fans can be heard most of the time, with noise levels rising depending on load. You might imagine a 10-Series GeForce upgrade is a certainty for the 8th Gen VivoBook refresh, but nope, even that machine will arrive at retail rocking the same ol' GeForce 940MX.
There's nothing fancy about the built-in VGA webcam - image quality is average and there's no support for Windows Hello - but VivoBook is reasonably well stocked in terms of I/O. The laptop's left side is home to an SD card reader and two USB 2.0 ports, while over on the right you have an audio jack, USB 3.1 Type-C, HDMI, USB 3.1 and a connector for the small external power supply. Asus has most bases covered, though if we're nitpicking it's a shame the charging LED is on the opposite end to the power connector.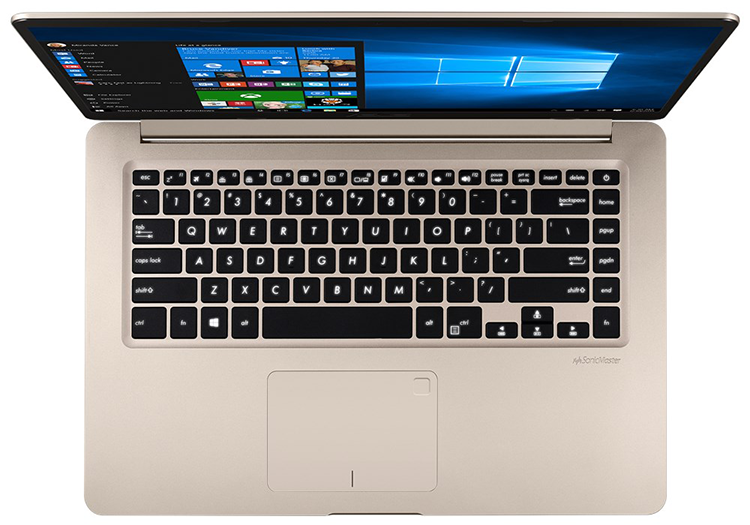 The quality of keyboard and trackpad is often decreased on more affordable laptops, and that's certainly the case here. We like that the keyboard is backlit and well-sized, however the extra row of keys to the right of enter is awkward, as is the arrow key layout, and the keys themselves feel short and spongy. The trackpad, while roomy and smooth to the touch, is also a tad fussy and tends to do things you don't want, forcing you to approach it in a gingerly fashion. It's fine for general use, but neither keyboard nor trackpad are memorable.
A fair bit of bloatware also takes the shine off VivoBook S15, however there is good news in the audio visual department. Asus has managed to squeeze a fair amount of oomph from the stereo speakers, albeit with minimal bass, and the 15.6in 1080p IPS display is quite enjoyable. It isn't a touchscreen, sadly, but the matte finish helps keep reflections at bay, viewing angles are strong, blacks are deep and out-the-box colour accuracy is decent. Is there enough to balance the scales and make this a worthwhile purchase at £620? Let's see what the benchmarks have to say.