Keyboard, Sound and Accessories
When it comes to usability, Surface Pro and Surface Laptop are arguably better suited to on-the-go use, yet if you need a proper base for serious work, Surface Book 2 is our pick of the bunch. I never thought I'd be willing to give up my ThinkPad keyboard, but Surface Book 2's input devices are tempting. Well-sized, well-spaced and with just the right amount of travel, the keys feel excellent during use and are aided by an even, three-step backlight. It is an exemplary offering, and while Surface Laptop does a good job in a smaller profile, the Book keyboard is a noticeable step up.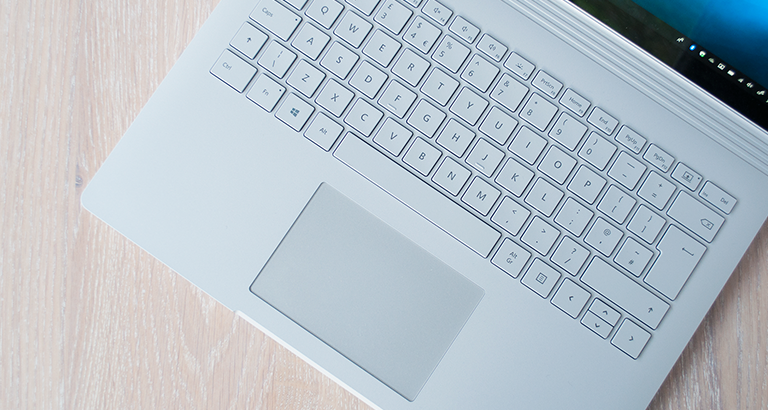 The same could be said for the Precision Trackpad. Smooth, responsive and well proportioned, it would be the best trackpad on a Windows device were it not for the overly clicky buttons. Rounding off a high-quality user experience are forward-facing stereo speakers that reside on the left and right edges of the Clipboard and deliver a surprisingly rich sound that belies their size.
Surface Book offers an impressive out-the-box experience, and there are of course a wide range of accessories to further enhance usability. Surface Pen, which sadly isn't included as part of the bundle, now boasts 4,096 pressure levels, tilt support and lower latency. Surface Dial is equally well made and feels luxurious during use, with smooth action and subtle vibration feedback, but neither feels essential to the core experience. Price tags of £100 and £90, respectively, hamper their appeal, and though creative types may be inclined to opt for the Pen, Dial's on-screen functions feel cramped on our review sample and would be better suited to the 15in Surface Book 2, or better yet a desktop Surface Studio.
Clipboard Considerations
Book's most unique characteristic is the detachable PixelSense display. Offering a 3,000x2,000 resolution on the 13.5in model, or 3,240x2,160 on the 15in, the touchscreen panel provides outstanding visuals and a 3:2 contrast ratio that favours productivity over multimedia. Exceptionally bright and crisp, the display is a strong point but Book's unconventional implementation does introduce a few quirks.
The CPU, for example, is housed in the Clipboard, meaning the display gets warm but the base does not. That's no bad thing, but it takes some getting used to as the system always feels cool when placed on your lap. Then there's the few awkward ports and buttons. Both the power switch and headphone jack are located near the top of the Clipboard; handy when using the display as a tablet, but we'd like a duplicate power button on the keyboard and a secondary headphone jack so as not to leave trailing wires when Book is used as a conventional laptop.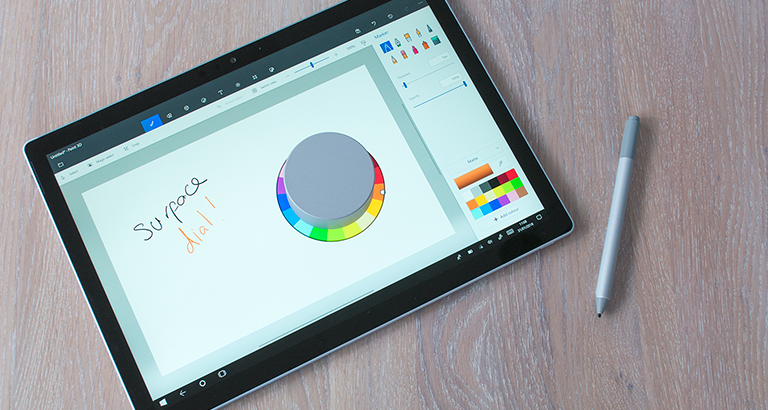 These minor niggles ultimately don't detract from the flexibility afforded by the detachable display. The release mechanism is assured, making it easy to invert the display for Studio Mode (laying flat) or View Mode (pictured), and the Clipboard as a standalone tablet is a satisfyingly useful piece of kit. The size and weight make it better to use from room-to-room, rather than from building-to-building, but it feels well balanced in the hand and includes a five-megapixel front camera supporting Windows Hello as well as a rear eight-megapixel supporting 1080p video with auto focus.
We've found ourselves using the Clipboard more frequently than we'd anticipated, though there are limitations. Book 2's battery in the entry-level spec is split across the two pieces, with an 18Wh unit in the Clipboard and 51Wh in the base. As a result, battery life is significantly stifled when using only the Clipboard, and though it can be independently charged via a Surface Connect port, it is ultimately positioned as a tool for sharing and light browsing, rather than a fully fledged tablet. This fact is reinforced by a Windows Store that, while showing signs of growth, still lacks the breadth of apps available on Android or iOS. Even Microsoft's own Surface app, which you imagine would be a showcase for the product range, is disappointingly basic.
Specification Musings
Given that Surface Book 2 is a serious financial consideration, it makes sense to evaluate which specification to go for, and the answer isn't immediately obvious. Microsoft's promise of "powerhouse performance" is certainly at odds with the entry-level spec, which for £1,499 offers only a dual-core CPU and basic integrated graphics. Yet said model isn't entirely without merit as it is the only Surface Book 2 to be passively cooled, resulting in near-silent operation at all times.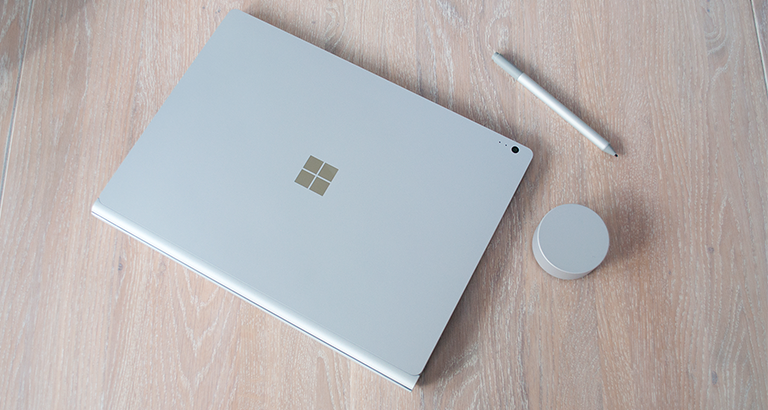 Size is also under scrutiny. While Surface Book 2 offers one of the best keyboard and trackpad combinations in a sub-14in form factor, we reckon Surface Laptop and Surface Pro are better equipped in terms of portability; their size and petite profile is easier to contend with on, say, a train or on a flight.
The new 15in Surface Book 2 has the makings of our preferred option, and we're hoping to review said machine in the near future to answer some lingering questions. How loud are the fans that exist in the more powerful Clipboard and base? What impact do a quad-core CPU and GTX 1060 graphics have on battery life? And can it deliver the performance punch expected from a machine that starts at £2,349? That remains to be seen, but for now, let's see how the fanless 13.5in machine fares in our battery of benchmarks.