Introduction
Laptops promising gaming credentials tend to come with a choice of visage. For the more bullish consumer, there are mammoth solutions touting extreme performance while laughing in the face of portability, and at the opposite end of the spectrum, reserved gamers can choose from sleeker options such as the Razer Blade and Gigabyte Aero 15.
Asus tends to play on both sides of the fence and the manufacturer is renewing its focus on the streamlined end of the market with the introduction of the ZenBook Pro UX550VD, priced from £1,200.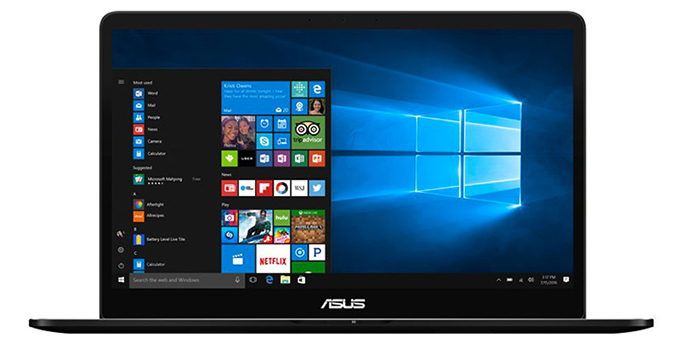 Sleek in appearance and designed to go toe-to-toe with the likes of the Dell XPS 15, the latest ZenBook Pro attempts to straddle the lines between Ultrabook, multimedia laptop and gaming PC. Available in Royal Blue or Matte Black (pictured), the Asus machine measures 365mm x 251mm x 18.9mm in size and tips the scales at just under 2kg. Said dimensions make this one of the thinnest and most portable 15.6in laptops we've tested, and the concentric circles that line the brushed aluminium lid of many ZenBooks continue to convey a premium finish.
Build quality has progressed on premium laptops in recent years, yet while the ZenBook feels silky to touch, the chassis has a tendency to attract fingerprints and isn't the most rigid. There's a bit of flex to the display, and if you prefer keyboards that are rock solid, do note that the Asus implementation is susceptible to warp, particularly near the top centre. The amount of give isn't enough to hamper the typing experience in our estimation, yet at this price point you might expect a rigid unibody design as standard.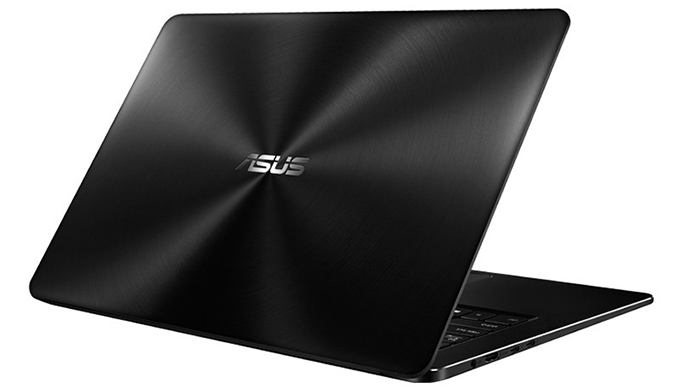 A svelte profile means that old-school 15.6in niceties such as Gigabit Ethernet or an optical drive aren't available, however Asus does offer a well-rounded selection of I/O ports. These include a power connector, HDMI output and dual USB 3.1 Type-C with Thunderbolt on the left side, as well as an audio jack, microSD card slot and two USB 3.1 Type-A on the right. There's no USB-to-Ethernet adapter in the bundle, and we'd have preferred a full-size SD card slot, yet the available ports offer plenty of flexibility.
On the inside, our £1,600 review sample, identified as model number UX550VD-BN020T, shows its multimedia ambition through the use of an Intel Core i7-7700HQ processor with integrated HD 630 IGP, 8GB of DDR4 memory, dedicated Nvidia GeForce GTX 1050 GPU and a 512GB Micron M.2 SSD. Nvidia Optimus technology is used to switch between Intel IGP and Nvidia GPU as and when necessary, meaning we can expect a reasonable run time from the 73Wh battery, although the presence of two processors in a slim chassis does present a thermal problem that Asus chooses to solve by keeping the two internal fans running at all times.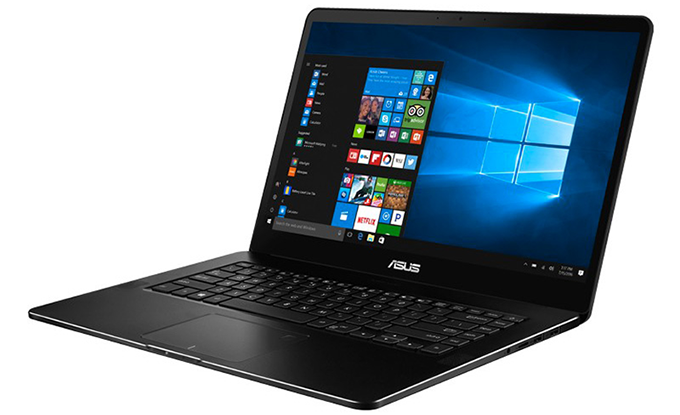 Nvidia's entry-level GTX 1050 isn't geared for ultra-high-resolution gaming, so it makes sense for Asus to stick with a 1080p display on this model. The CMN15E8 IPS panel offers a matte finish to help minimise reflections and provides excellent viewing angles in all directions. Asus's implementation is good, with reasonably narrow bezels and no obvious sign of backlight bleed along the edges, and as our benchmarks will show later in the review, this is a competent 15.6in screen.
What's missing is a lack of configuration options. UK availability of the UX550VD is sketchy at best, and there doesn't appear to be a choice of a higher-resolution panel, nor a touchscreen, in any region. Though Asus does advertise an optional fingerprint sensor, it isn't present on our UK-spec review sample, meaning no support for Windows Hello, and though we expect retail availability to improve in the weeks ahead, the ZenBook Pro isn't likely to be as configurable as the rival Dell XPS.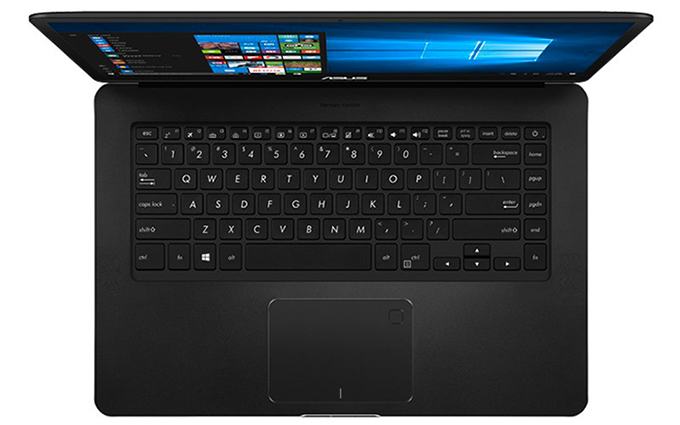 We'd like to see the option of a GTX 1050 Ti or GTX 1060 GPU, yet if the default specification tickles your fancy, the ZenBook Pro is an enjoyable place to work. The keyboard is quiet and comfortable with a good amount of travel (note that the UK model does feature double-height Enter), while the trackpad is both roomy and responsive. There are criticisms - I'm not keen on having keys to the right of Enter, and the trackpad buttons are overly clicky - so while the ZenBook Pro input devices are no match for a business-class ThinkPad or EliteBook, it is more than adequate for everyday use.
Arguably the laptop's strongest feature is the four-speaker Harman Kardon sound system. Two speakers sit either side of the keyboard tray, with the other lining the bottom-front edge, and the quartet combine to create one of the best audio experiences available on a 15.6in machine. There is a shortage of bass, yet sound is well defined and even at 50 per cent there's enough volume to fill a good-sized room. Top marks in audio, though Asus does inevitably drop points in software as Windows 10 is pre-loaded with a few pieces of nagware such as McAfee LiveSafe and Asus Product Registration.